The new Hino 300 Series features an upgraded Hybrid power train with reduced battery weight and improvements in the automatic gearbox. Though at the launch in July, representatives from Hino admitted that they don't expect an increase in sales from the current model which averages 50 units per month.
According to Hino, organisations that choose a hybrid trucks aren't just looking at the fuel savings, they are also understand the reduction in CO2 and how it helps their organisation achieve their environmental goals. Unfortunately, there aren't many of these in the transport industry.
It was also indicated at the launch that the long term goal of Toyota Motor Corporation is hydrogen powered cars and trucks. So hybrid vehicles are a stepping stone on the way.
The new 2020 Hino 300 Series Hybrid features a series of changes to the hybrid system aimed at improving fuel efficiency and reducing emissions.
"The Hino 300 Series Hybrid is Australia's only light-duty hybrid electric-diesel truck, and is now the first Japanese-manufactured light-duty truck in Australia to meet Euro 6 exhaust emissions standards," said Daniel Petrovski, Manager of Product Strategy for Hino Australia.
"The updated Hino Hybrid delivers an even cleaner, more efficient transport solution for customers.
"The extensive model line-up is a direct reflection of our customers' changing needs – our Australian customers are increasingly demanding more environmentally friendly options, and the Hino 300 Series Hybrid is an excellent solution that reduces fuel consumption and their carbon footprint."
Hybrid models are available in four variants from the 616 Standard and Wide Cab car-licenced models through to the 716 Wide Cab and the 916 Wide Cab, which has a maximum Gross Vehicle Mass (GVM) of 8.5 tonne.
First With Euro 6 Emissions
"Euro 6 emissions standards are achieved by using a combination of the well-proven and reliable Exhaust Gas Recirculation (EGR) and Hino Diesel Particulate Active Reduction Filter (DPR) system, combined with the Hino Selective Catalytic Reduction (SCR) system," said Mr Petrovski.
"This combination of established exhaust emissions solutions is already found in our larger Hino 500 Series Standard Cab models, where it has proven its reliability while also reducing engine exhaust emissions."
Updated Hybrid System
The new Hino 300 Series Hybrid includes an updated hybrid system, with changes to hardware and operational software that are aimed at improving fuel efficiency and reducing emissions. The battery itself has been reduced in size but retains its 6.5 Amp Hour (AH) rating.
The Power Control Unit (PCU), which encompasses the battery, inverter, Engine Control Unit (ECU) and DC-DC Converter, has been redesigned for lighter weight and smaller packaging, resulting in a PCU weight of 85kg, down from 113kg.
The Hino Hybrid retains its parallel electric diesel design and continues to use the Toyota Group-sourced nickel metal hydride battery, which has been used in over 15 million hybrid vehicles worldwide. The engine and transmission have been improved with the aim of further fuel consumption reductions.
The Hino N04C-WR four cylinder common-rail injected turbo-diesel engine produces 150hp (110kW) and 470Nm of torque which is delivered in combination with the electric motor from a very low 1000RPM.
"When maximum torque is available at such low rpm, fuel use is minimised," said Mr Petrovski. "The revised automated transmission is now a six-speed instead of the five-speed in the previous model and is coupled directly to the electric motor."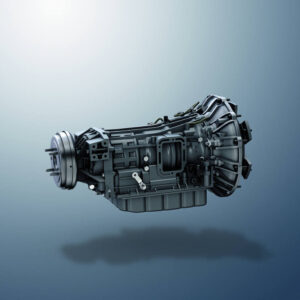 The additional gear and the wider ratio spread enable the engine to spend longer in its most efficient rpm, resulting in maximum driving efficiencies.
"The hybrid system continuously seeks to supplement the diesel power delivery with electric power into the driveline. It is constantly switching between diesel engine drive only; a combination of both electric motor and diesel engine drive; and can also utilise electric drive only in certain situations."
When the hybrid system is delivering drive from both the N04C-WR engine and the electric motor, the power delivery is balanced by the hybrid ECU.
"Charging the Hybrid batteries from the regenerative braking system in the 300 Series Hybrid is key to the success of the Hino Hybrid," said Mr Petrovski.
The charging of the batteries through kinetic energy capture also acts as an effective auxiliary brake and slows the vehicle.
"The auxiliary braking of the Hino Hybrid dramatically increases brake pad life and further reduces whole of life costs of the truck."
The electricity which is stored into the battery is then used on the next take off and/or acceleration.
"Hino Hybrid light-duty trucks have been assisting customers to not only save money but also reduce their carbon footprint in Australia since 2007, with now more than 600 Hino Hybrids in operation on local roads," said Mr Petrovski.
"Applications are varied and include dry van and refrigerated delivery applications, many of which are in high duty cycle applications operating in city and metro areas on a two driver rotating shift. There are also Hino Hybrids operating in city and regional council vocational applications such as rear loader waste, parks and gardens service, and tippers.
"A major advantage of the Hybrid Electric Diesel truck is that customers can improve their fuel efficiency immediately.
"It only requires diesel fuel, so there are no special refuelling or operating restrictions – operation is basically the same as a conventional diesel truck, only with reduced operating costs.
"In both independent and Hino local testing of the previous model, the Hino 300 Series Hybrid has proven fuel efficiency improvements of 21 percent when compared to its diesel counterpart.
"This equates to a direct greenhouse gas reduction of 21 percent in favour of the Hybrid, and importantly means a 21 percent reduction in the fuel cost to operate the vehicle," said Mr Petrovski.
Class-Leading Safety
Like all new Hino 300 Series vehicles, the Hybrid models feature Hino SmartSafe, a comprehensive safety package with advanced driver-assist technology that takes an active focus in protecting the life of drivers, passengers and other road users.
"Hino SmartSafe includes a Pre-Collision System (PCS) with Autonomous Emergency Braking (AEB), Pedestrian Detection (PD) and Lane Departure Warning System (LDWS)," said Mr Petrovski.
This is in addition to the vehicle's already existing safety package that includes Vehicle Stability Control, dual SRS airbags, four-wheel disc brakes, UN ECE R-29 cab strength certified and easy start.
As with all Hino trucks, the new Hybrid models are equipped with a Reverse Camera which offers wide view, high definition vision, along with infrared night vision on the 6.5-inch high definition multimedia unit.
The highly intelligent unit is also capable of connecting an additional three multi-position cameras and supports AM/FM radio, DAB+ digital radio, Bluetooth music streaming and mobile phone connectivity with voice dialling.
The unit features an Android operating system with Wi-Fi connectivity and the benefit of over-the-air software updates.
The new Hino 300 Series Hybrid is now available at Hino dealerships nationwide, with more information available at www.hino.com.au.