– By Marc Sibbald – 
Have you ever wanted a car with red Brembo brakes and sports car suspension but had to compromise with a family car? Well the new Hyundai Santa Fe SR could be the answer to your boy racer desires and the kids taxi reality.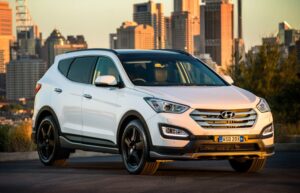 I know its a Hyundai. But's that the good part. I want the looks, the great price and the other benefits that come with buying a Hyundai. It's the perfect novated lease vehicle with some hard core street cred.
The Santa Fe SR joins the acclaimed Veloster SR Turbo, i30 SR and Accent SR in Hyundai Motor Company Australia's range of sport derivative model variants enhanced and tuned specifically for local conditions.
It comes with a full sports bodykit, 19-inch OZ Racing alloy wheels shod with high-performance Michelin tyres, Brembo brakes and H&R Performance springs. And the great part (for my taste), it is based on Santa Fe Highlander so it comes highly specified with technology and a long list of standard equipment.
Santa Fe SR is based on the Santa Fe Sports Package formulated by Hyundai Motor Corporation's Customising Team in South Korea. However, the local SR has undergone significant locally-focused development work by Hyundai Motor Company Australia's respected in-house chassis and suspension tuning division led, by General Manager Product Engineering, Mr Hee Loong Wong (aka 'Wongy').
To better suit Australia's more challenging roads and unique road surfaces it has has been fitted with H&R Performance Springs front and rear (six percent and 11 percent stiffer respectively). And the beefier springs are matched to the highly respected Korean-made Mando dampers used on other Australian-specification MY15 Santa Fe model variants.
Dimensions of the Santa Fe SR's Oz Racing wheels are unchanged over the standard alloy wheels available on the Santa Fe Highlander. However, the new Santa Fe SR's alloys offer better caliper clearance than the standard wheels.
"For us, it wasn't about the wheels being bigger and wider, or having a different offset, but about spoke design and the required caliper clearance," says Hyundai Motor Company Australia's Senior Manager Product Planning, Andrew Tuitahi.
So if your novated lease checklist has seven seats, luxury features, a great warranty and roadside assistance as the mandatory items, and the boy racer styling as 'nice to have', then the Santa Fe SR is the car for you.