– By Rod Fuller – 
When you need a job done, and done right, you need the right tools to do it. And this vehicle, the Nissan NP300 Navara RX, should meet the demands of any job or large project.
I recently had the pleasure of driving one. And to be honest it feels more like a 'truck' than a 4×4 or SUV. It's big and bold in every way and that's exactly what was great about it.
It's tough, yet very comfortable and easy to drive. It's rugged, yet has all the creature comforts for driver and passengers alike. It's a weekday workhorse and load lugger, but will comfortably double as the family wagon or adventure machine on the weekends.
I drove the 4×4 pick up with the 2.3 litre intercooled turbo diesel and optional seven speed automatic transmission (which made the vehicle really easy to drive in traffic). The engine is plenty powerful with 120kwh and 403nm of torque under your foot, which is needed for a vehicle with a 1.8 tonne payload and 3.5 tonne braked towing capacity.
Being a 4×4 the ease in which you change from two wheel drive to four wheel drive and back again is quite important. The simple to operate switch in the console made this a breeze.
It's a big step up into the cab (especially with no standard side steps on the RX), but sitting up in the driver's seat, you have an excellent 'high up' view of the road ahead, with copious amounts of head and legroom (you could literally swing a small cat) for both the driver and passengers.
On the road once you get used to the size its just like a car to drive. Yes the diesel engine note and bouncy ride means you know it's a truck. Though it gives you that comfortable, 'King of the Road" type of feeling.
Nissan has provided an impressive array of safety features on the Navara RX such ABS, EBD, Traction Control, front and side airbags, SRS side curtain airbags and many more. But disappointingly no reversing camera. You can get the reversing camera on the ST and ST-X models but not on the RX.
A reversing camera should be standard on vehicle of this size as a safety feature. It shouldn't be treated like an optional extra or purely the preserve on the upper spec models. And I must admit, that due the size of the Navara RX and its height, it made rearward vision (especially in close to the rear) very difficult. I found myself avoiding reversing wherever possible, due to the lack of visibility. A reversing camera would solve this issue for any driver.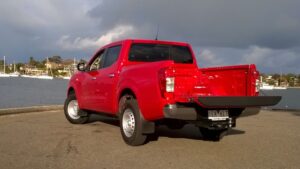 Interior features in the RX are great for a base model, with air conditioning, cruise control, Bluetooth, steering mounted controls, power windows all round (as well as a power sliding rear window panel, which is great, but I just don't understand what its for). There is tinted privacy glass for the rear passengers and storage compartments are plentiful with many of spaces to hide away all of your gear.
If you like your drink while on the move and cup/bottle holders are your thing, you won't be disappointed. There are six in the front and four in the rear.
Similarly, there plenty of power outlets to charge you phone or iPads with two in the front and one in the rear (I especially like the power outlet on top of the dash, perfect for a windscreen mounted Sat Nav or phone). There is even a 12V power outlet inside the rear tray. A great option for charging you cordless tools or even your phone if you are working outside near the vehicle.
Nissan has put a lot of thought into the design of the NP300 Navara, even with something as simple as the tailgate. The top of the key lockable tailgate on the pick-up models is flat and about 80mm wide, with a type of "grip tape" on it, meaning somewhere to put your coffee when working outside – clever.
The RX rides on steel rims with 205R16C Bridgestone H/T tyres fitted, complete with a full sized spare. These tyres are perfect for the tradie and commercial on road use, offering very long wear life. If you are looking to go off road you may wish to look for an A/T tyre in a wider fitment.
It's a vehicle that's big enough for any job and comfortable enough to live with every day of the week.