– By Rod Fuller –
Mazda's 'Top of the line' large SUV, the CX-9 Azami, provides the best that Mazda has to offer, with all the bells and whistles in a luxury seven seater, that is both easy on the eye and a pleasure to drive.
Last year I drove the mid-range CX-9 Touring and was impressed by how well it drove and the level of appointments it had. So how does the range topping Azami compare?
CX-9 Azami has the same 2.5 litre 16V Turbo engine (170kW 420Nm) and six speed auto transmission as the rest of the CX-9 range. It rides comfortably on 20 inch (rather than 18 inch) wheels with 255/50R20 105V Falken tyres. The big wheels suit the CX-9, filling the wheel arches nicely.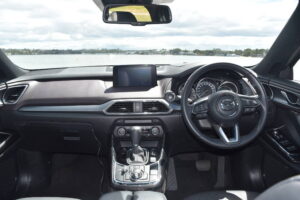 Features and inclusions are what set the Azami apart from its siblings. Yes it gets more chrome trim, leather seats, and a sun roof that make you feel good; but also gets additional features that are not only convenient, but add to vehicle and driving safety as well. Radar Cruise Control, Smart Brake Support, Lane Keeping Alert and Assist, Driver Attention Alert and adaptive LED headlights are exclusive to Azami.
Azami as on other CX-9's also feature Blind Spot Monitoring, reverse camera with Rear Cross Traffic Alert and front and rear parking sensors. However, the Radar Cruise Control and Smart Brake systems on Azami are amongst the best systems I've driven. They are well calibrated and seamless in their operation.
Driving north on the F3 out of Sydney I had need to pull over to one of the rest stops. Cruise control set at 110km/h, I pulled into the left lane preparing to exit the motorway behind a 'B' double truck. The car immediately adjusted speed to keep a safe distance behind the truck. The truck was also leaving the motorway at the same exit and as I followed it, the Azami kept the same distance behind the truck as it braked without myself having to touch the brakes once. All the way down to 30 km/h when our paths diverged. Brilliant.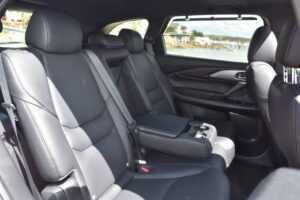 Even though it is the top of the line, Azami still misses out on a full sized spare tyre and Mazda is yet to embrace Apple Car Play / Android Auto technology.
Of course all the little extras and niceties are what makes the Azami just 'feel better' than the other models in the range. Whether it's the ambient interior illumination, projected 'heads up' display, auto up/down on all power windows, 12 speaker Bose stereo or LED DRL's. Azami has a quality look and style about it that, well, just make you smile every time you drive it.
And that is the point of a 'Top of the line' model isn't it. It just feels good. I've never known anyone (accountants aside) to get a new car and then proudly tell their friends and family "Yes! I bought the base model!"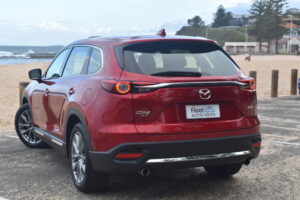 So if you are in the market for a seven seater for your next novated lease. And if your budget will allow, the CX-9 Azami the 'Top of the line' luxury CX-9, is a vehicle that should at the top of your list. Go ahead, lease a little luxury in your life.
What does it look like as a Novated Lease?
| | |
| --- | --- |
| Make  |  Mazda |
| Model | CX-9 |
| Variant | Azami (AWD) |
| Body | SUV |
| Fuel | Petrol |
| Trans | Auto |
| Performance | 170kw |
| RRP (including GST) | $64,790 |
| On-road Cost | $68,182 |
| Amount Financed | $62,927 |
| Residual Value | $28,326 |
| Monthly Rental | $1,687 |
| Annual Savings with a Novated Lease | $3,441 |
This data is from the 2018 Novated Leasing Guide produced by Fleet Auto News.