– By David Brown – 
It might seem unusual to review the latest Subaru WRX for an audience that manages fleet vehicles, but the new model (available as a sedan or wagon) has a number of features that may make it appealing.
Its image could be a stumbling block. WRX stands for World Rally Xperimental so named when it was introduced some 30 years ago to showcase Japanese technology in a very competitive form of motor sport with a relatively small turbo charged hot sedan with all-wheel drive.
It won the champion ship in 1995, 2001,and 2003.
Along the way it became associated with the "boy racer" image and a very good bang-for-your-buck performance for the younger drivers. Some thought it gave the WRX an immature image.
But while it has that heritage, it has moved with the times, particularly in this latest model. Providing for a variety of customers is a key theme in their approach.
Amanda Leaney, Subaru Australia's General Manager of Marketing said that, "Whilst purchasing ownership is still the lion's share, we need to think about things like leasing and subscription and renting and sharing because that's how people are. Living their life, you know, your technology and the way people consume other products. In the market it is something we need to learn from and need to provide for."
The sedan, especially as the only model with the manual gearbox option, still has a punch-in-the-back feeling, and is more likely to appear on a novated lease from an enthusiast than part of a general fleet.
But with a CVT automatic and with the wagon version the WRX has moved into a more mature part of the market.
For a start there is very little increase in power output in the one engine option. It has 202kW (up 5kW) and unchanged torque of 350Nm. Still credible but as there will not be a more powerful STI version, it is no longer a standout power figure compared to some of its opposition.
The engine is now 2.4 litres but not overworked (it is red lined at 6,000 rpm) and does not sound stressed or much different at 4,000 or 6,000 rpm. Part of the reasoning might be to ensure the fuel consumption is not increased. Fuel consumption has not been a strong point of the Subaru boxer engine and the new WRX is rated as follows:
| | | |
| --- | --- | --- |
| Combined l/100km | 9.9 | 8.5 |
| Urban l/100km | 13.8 | 11.2 |
| Extra urban l/100km | 7.7 | 7.0 |
Subaru has emphasised the improvement in its handling. To test it for the performance lover, Subaru gave us the opportunity to drive it around the Winton Racetrack. It is certainly more predictable and grips incredibly well so you can concentrate on picking the line of a corner without too much fear of the car letting go.
But apart from the track, the sure footedness was a comfort when driving through the twisting sections on secondary roads in the highlands of Victoria. From a fleet safety point of view, it means that if you do misjudge a situation, it is likely to help you cope. It would take extremely aggressive driving to try and find its limit.
Another good feature is the quiet ride that reduces the tiring effect of driving, especially long distances.
Previous WRXs have had a certain raw feel in the cabin with digital screens aimed at giving you performance information. The latest WRX gets the large 11.6 inch infotainment screen first seen on their Outback model.
Comprehensive and comprehendible once you get used to it. I have just started up a team of experts from academia and industry to look more closely at the human/machine interface in cars. The Subaru, like most cars, warrants getting used to the controls and the information that you can get, before you start driving.
Unusual for most cars, the screen layout is in portrait style.  With features like the Satellite Navigation map the road in the direction you are traveling is show for a long distance, rather than the surrounding landscape. But if you are trying to assess the road ahead when it takes large sweeping changes in direction, the layout can take the road off the screen. But this is a minor point although Subaru's new electric SUV, the SOLTERRA, that they gave us a sneak peek at during the WRX launch and is due out next year, is back to landscape dimensions.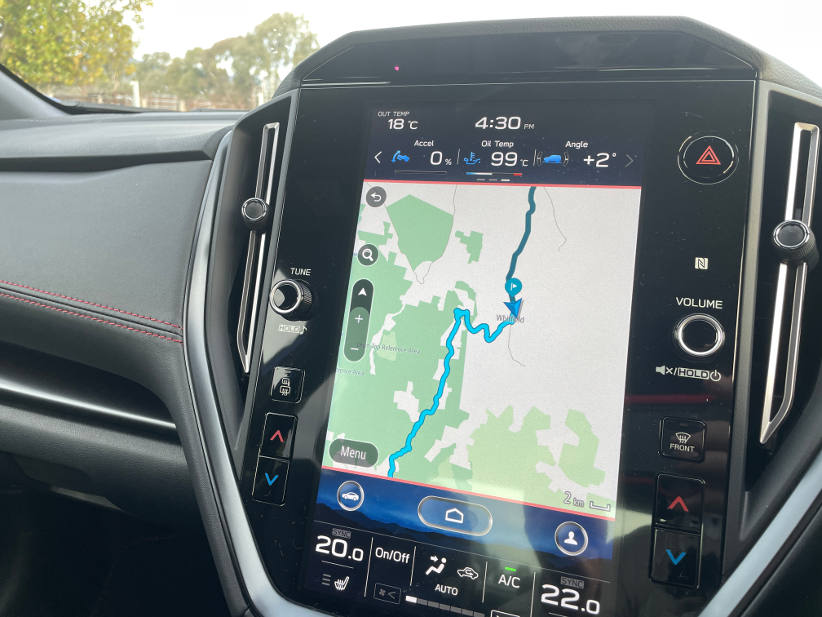 The lane keep assist is good on good quality roads, making smooth corrections to keep you in the lane, but on secondary roads it failed to clearly identify some line marking that I thought it should have detected. In that case the system turned itself off.
The WRX does not have a full heads-up display, but a series of small warning lights are projected onto the bottom of the screen indicating lane departure and other situations. There are seven lights altogether and sometimes they flash or just turn on. This is another area to become familiar with before you start using the car.
Information in front of the driver is set out in an unclutter way.
The interior room especially in the wagon is very functional and would suit fleets that needed to carry up to five people (although the fifth would make it a bit of a squeeze) and/or materials and equipment.
2022 Subaru WRX manufacturer's list price before any fleet discounts or on-road costs are:
| | |
| --- | --- |
| Sedan | |
| WRX AWD Manual | $44,990 |
| WRX AWD Sport Lineartronic® | $48,990 |
| WRX AWD RS Manual | $50,490 |
| WRX AWD RS Sport Lineartronic® | $54,490 |
| WRX AWD tS Sport Lineartronic® | $56,990 |
| Sportswagon | |
| WRX Sportswagon AWD Sport Lineartronic® | $49,990 |
| WRX Sportswagon AWD GT Sport Lineartronic® | $55,490 |
| WRX Sportswagon AWD tS Sport Lineartronic® | $57,990 |