– Article/Photos by Rod Fuller –
This car is an absolute weapon! Precise, comfortable and positively brutal; it's a luxury high performance sedan that exceeds expectations; ticking boxes, you didn't even know needed ticking. Simply put, GS F is an amazing car to drive.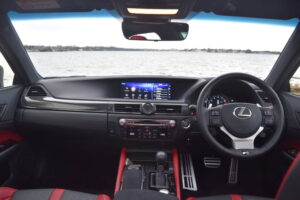 Attractive looks and a hunkered down stance hint at its potential. Luxurious leather interior and ambient cabin lighting confirm its credentials. Then, you start it and a magnificent orchestral symphony of the 351kW/530Nm 5.0lt V8 erupts into life with a satisfying and somewhat menacing growl – yeah! I swear, you will smile every time you start it.
An eight speed transmission (complete with manual mode and paddle shifters) provides a beautifully smooth and comfortable drive for this 'high end' luxury sedan. Four drives modes (Eco, Normal, Sport and Sport+) and three differential settings (Standard, Slalom and Track), allow you to tailor your drive experience, from a comfortable tourer to all-out attack. And attack it does, the power of the GS F is awesome! It's a big powerful car with phenomenal V8 sound track (reminiscent of the F1 pace car) pumped back into the cabin via the Accelerated Sound Control and 17 speaker stereo. But a degree of 'self-restraint' is required, as succumbing to the GS F's temptations, can see you in licence shredding territory in seconds.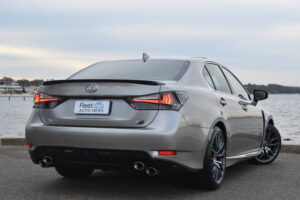 GS F is a serious high performance sedan with power not only to go, but also to stop. Massive ventilated Brembo disc brakes with slotted rotors (six piston fronts and four piston rears) bring the GS F's 1800+kg's to a halt in quick time in all conditions with superior control. Fuel economy isn't a major concern in a car of this type, but considering its size and power (and if you behave) I saw GS F return a figure of 11.6lt/100km – impressive.
Driving GS F is a purely pleasurable experience; it's a delight to tip into corners at speed, and for a car of its size and weight, it has no business handling as well as it does. There is a quality and precision feel about GS F, making it feel like it drives and corners "like its on rails". Steering response is fast/light and the chassis is beautifully balanced with minimal body roll and superb ride control and compliance, even when pushing hard. GS F rides on Michelin tyres, 255/35R19 front and 275/35R19 rear. No spare tyre is provided, only a tyre Inflator kit.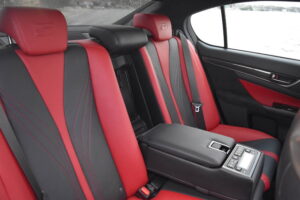 Inside GS F is exquisite, with heated leather seats all round (ventilated and power adjustable in the front), leather touch surfaces and heated steering wheel. Tri-zone "moisturising" climate control air conditioning comes with rear seat controls, plus there's a Moonroof and electric rear sun shade. Inexplicably though, the rear seats don't fold down. Instead, a 'lockable ski port' allows long thin items to protrude through the rear seat into the passenger cabin.
The infotainment system has a 12.3" display, with Sat Nav (including speed camera and school zone alerts), Bluetooth and DAB stereo. The system is very good (despite no Apple Car Play), but complicated and the mouse controller difficult to operate on the move. Other driver assistance features include: Colour Head Up Display, Adaptive High Beam, Lane Keeping Assistance, Radar Cruise Control, Tyre Pressure Warning, Blind Spot Monitoring and Rear Cross Traffic Alert.
GS F comes with a four year 100,000km warranty and membership to the Lexus Encore Privileges Programme. At more than $167K on road, GS F is the 'Top of the line' sedan in the Lexus world, comes fully loaded and is as good as if not better, than its german competitors at less cost. Big, brutal and blisteringly quick, if GS F doesn't please you – nothing will.
If your mission is for a four door high end performance sedan, and the RAAF won't loan you one of their "toys" then, GS F is sure to be your weapon of choice.
What does it look like as a Novated Lease?
It looks really good. Though we thought we should provide you the details of a more likely daily drive.
| | |
| --- | --- |
| Make  | Lexus |
| Model | NX300 |
| Variant | Luxury |
| Body | SUV |
| Fuel | Petrol |
| Trans | Auto |
| Performance | 175 kw |
| RRP (including GST) | $54,800 |
| On-road Cost | $57,692 |
| Amount Financed | $52,710 |
| Residual Value | $23,719 |
| Monthly Rental | $1,469 |
| Annual Savings with a Novated Lease | $3,085 |
This data is from the 2018 Novated Leasing Guide produced by Fleet Auto News.