Proving that it was worth the wait, the highly anticipated Hino 300 Series 4×4 is surpassing its targets in its first full six months on sale.
Launched in November 2017 following three years of real-world Australian field testing, the 300 Series 4×4 was always going to be a popular choice in the mining and emergency services industries but the versatility and capabilities of the truck have afforded Hino new areas of opportunity.
"In terms of trucks delivered, we have captured almost 20% of the light duty 4×4 market in only six months, a result we are proud of but not surprised by," said Mr Bill Gillespie, General Manager Brand and Franchise Development for Hino Australia.
"The real story is in our customer order intake – at the end of April, we increased our orders by 71% on our April year to date target.
"In the west, our dealerships are meeting the demands of customers including mining and rental companies that want a light duty 4×4 truck with more power, more torque, more standard safety, more gears and more comfort."
The Hino 300 Series 4×4 is the safest Japanese-built truck in its class, with standard features including driver and passenger SRS airbags, cruise control, 4-wheel-disc-brakes and rear air conditioning in Crew Cab models. Plus, it's the only 7,500 Gross Vehicle Mass (GVM) 4×4 truck in Australia with Vehicle Stability Control and reverse camera as standard features.
"Interestingly, our regional dealerships have had strong sales from farmers who are trading in their light commercial vehicles for the 300 Series 4×4 due to its superior 7,500kg GVM and 4×4 capabilities.
"Whilst we have gained success in known markets, there has also been considerable interest from the agricultural and forestry industries.
"This 4×4 segment of the light duty truck market is expected to finish between 800 and 900 units at the end of 2018, which is an increase of over 33% from 2017.
"Market interest and customer orders of the 300 Series 4×4 have been so strong that we have accelerated our forecasts for the next two calendar years significantly to meet market opportunities," concluded Mr Gillespie.
The Hino 300 Series 4×4 is available in single cab and crew cab configurations, both powered by a 165hp (121kW), 464Nm, 4 litre diesel engine mated to a six-speed manual overdrive transmission and a dual range 4×4 transfer case – this driveline combination offers exceptional flexibility and efficiency both on and off-road.
The Hino 300 Series 4×4 is available from Hino Australia's extensive network of dealerships and comes with a 3 year/100,000km warranty (whichever occurs first).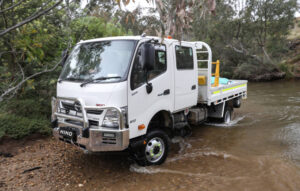 For more information, visit www.hino.com.au