– By Rod Fuller – 
Mazda's CX5 has been around since 2012 and its Australia's top selling SUV. This year's next generation release sees the CX5 grow in size, weight and the number of model variants and engine/transmission combinations.
Manual/auto/DCT, 2.0 or 2.5 litre petrol/2.2 litre turbo diesel, FWD and adaptive AWD are all available. But has this next gen release of the top selling SUV improved it? After driving it, three words I would choose to describe this new generation CX5 – Bigger, Bolder, Better!
The new styling linking the CX5 to other Mazda's in the range is very attractive, instantly recognisable as a Mazda and make it distinctly different from any of its competitors. The entire CX5 range features the MZD connect system for the infotainment functions including Sat Nav (on Maxx Sport models and higher), Bluetooth connectivity, DAB, Pandora and audio functions.
Surprisingly though, no Apple CarPlay or Android Auto which seems to be an oversight. Also, all of this can be controlled from the rotary command dial or the seven inch touchscreen. I find the command dial easier to use when driving as it is very tactile and easy to operate with one hand. I feel it is a better and safer option than having to reach over to touch the screen when the vehicle is moving, allowing you to keep your line of vision up and forward, rather than concentrating on the touchscreen to make sure you're pushing the correct button.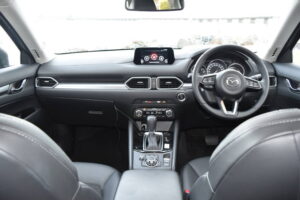 The CX5 is very roomy with plenty of head, leg and shoulder room for all. I drove the CX5 Touring with the 2.5lt petrol engine and six speed auto transmission AWD combination. This model is just so comfortable to drive, highway, freeway, city or country, whether you are driving it for eight minutes or eight hours, it is just comfortable. Good seat height and adjustability in combination with the steering wheel and excellent visibility all round; and being an SUV you just step in and step out of it.
The Skyactiv-G 2.5lt engine (140kW and 251Nm) is very responsive and has very good power and drive characteristics allowing the CX5 to effortlessly flow along the freeway as well as having the power on tap when needed for overtaking. For a vehicle that weighs 1633kg, it only sips at the fuel. I averaged 7.5lt/100 while I drove the vehicle, helped no doubt by the i-stop system which would have to be the smoothest and most unobtrusive restart of any similarly equipped vehicles I have driven this year.
The CX5 Touring rides impeccably on 17" alloys and 225/65R17 Yokohama tyres (only a temporary spare with steel rim is provided) and always feels in tune with the roads. Ride disturbance is minimal and the cabin seems generally free from audible road noise.
On the inside the CX5 Touring is certainly 'punching above it's pay grade', with the 'leather like' seats and faux leather trims, it presents a vehicle that feels more luxurious than it actually is. There is dual zone climate control air conditioning, electrically heated and auto-folding exterior mirrors and key less entry.
Additionally there is also a heads up display with Traffic Sign Recognition (TSR) and speed limit display. All very high tech and right up there on the "dazzle me with tech-o-meter", but for some reason the TSR only recognised the occasional "STOP" sign and the speed limit display didn't take into account the time of day for school zones, the way that the same system had in a Mazda 2 GT I had driven earlier.
CX5 comes with a three year unlimited km warranty, 10,000km/12 month service intervals and 24hr 365 day roadside assist.
The class leading CX5 was a very good example of a mid-sized SUV. Now with this new generation of CX5 released, I would say that it is the best example of a mid-sized SUV on the market today.
The CX5 Touring has all the practicality and versatility of an SUV, with all the creature comforts and drive characteristics of a sedan. Just about everything it does and the way it does it is – magic. One could say it is – Practical Magic.
What does it look like as a Novated Lease?
| | |
| --- | --- |
| Make  | Mazda |
| Model | CX-5 |
| Variant | Akera (4X4) |
| Body | Wagon |
| Fuel | Petrol |
| Trans | Auto |
| Performance | 140 kw |
| RRP (including GST) | $46,990 |
| On-road Cost | $49,492 |
| Amount Financed | $45,220 |
| Residual Value | $20,349 |
| Monthly Rental | $1,324 |
| Annual Savings with a Novated Lease | $2,938 |
This data is from the 2018 Novated Leasing Guide produced by Fleet Auto News.