– Article/photos by Rod Fuller – 
Hilux has always been one of our favourites here in the FAN office. And now with the exciting news of the arrival of a NEW Hilux, we thought we'd share of a few thoughts on the now outgoing Hilux (which I'm sure your local Toyota dealer will be happy to do a deal on) which blazed Hilux all the way to Number one.
Hilux is Australia's top selling vehicle, holding the number one spot for the last four and a half years (until last month, when it was pipped by RAV4). It's tough as nails, uncompromising and unbreakable delivering everything that it promises. First released in 2015, I've had the pleasure of driving several models of the eighth generation Hilux, SR & SR5 as well as the Rogue and Rugged X which were released in 2018.
The 2015 HiLux's success lay in introducing new high-torque turbo-diesel engines, advanced six-speed transmissions, a thicker and more rigid frame, beefed-up suspension/brakes and expanded off-road ability; backed by a six-year program by Australian engineers producing the new rugged suspension package, enhanced underbody protection and electronic control systems tuned for more effective operation on gravel and off-road driving.
The tough as ute became more SUV-like, with a more compliant ride, quieter cabins and higher levels of comfort and convenience. Customers took to this Hilux like never before buying it in droves and taking it to #1 in 2016. And it is easy to see why, they drive well, are well appointed and comfortable, have ample power (2.8lt four cylinder turbo diesel 130kW/450Nm) and towing capacity, plus every model variant of Hilux fits its target market just about perfectly.
The biggest seller of course was the SR5, which was the 'top of the line' for Hilux until 2018 when the Rugged X was released. Priced from $57,290 (MSRP) SR5 4×4 comes with all the bells and whistles, optional leather seats (heated in front), 18" alloys (265/60R18 tyres), stainless steel sports bar, climate control, sat nav, seven inch touch-screen, DAB radio, six-speaker stereo, LED DRL's fog and headlights, keyless entry and start and a cooler box. There's also the choice of 4×2 Hi-Rider or 4×4 drive trains and six speed manual or auto transmissions. Hill descent control features on 4×4 SR5's.
Toyota's Safety Sense system features across the Hilux range including:-
Pre-collision safety system with pedestrian and daytime cyclist detection
Active cruise control
Road sign assist
Lane departure warning and steering assist.
SR5 drives exceptionally well both on and off road. Once off road, SR5 4×4 is fitted with a rear differential lock as well as low/high range 4WD and has good underbody protection. Approach angle is 31⁰ and departure angle 26⁰, meaning SR5 will get you pretty much any place you need to go. It's easy to see why it was number one.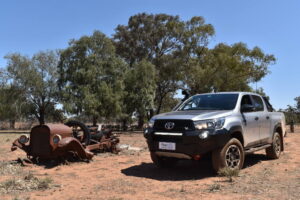 My favourite though is the Rugged X. Tough and aggressive looks, with the performance to match. No options needed with the standard hoopless steel bullbar, functional sports bar (200kg tie down rated), snorkeland the brilliant LED headlamps/120W LED light bar. It's got all the creature comforts on the inside that SR5 has to make life comfortable, even when belting along a bush track, working out in the paddocks or cruising through town. It's a phenomenal ute.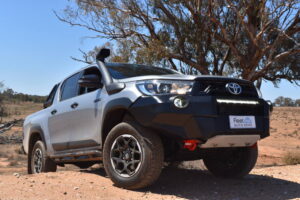 Hilux comes with a five year unlimited km warranty and five star ANCAP rating.
We've loved the Hilux since it was first released in 2015, it's a fantastic 4×4 ute that drives like a car, tows like a truck, goes pretty much anywhere and still has the looks to steal the show wherever you are. It's pretty much all things to all people that are looking for a 4×4/SUV lifestyle. No1 in Australia – deservedly so.
Now with the new Hilux here, we can't wait to get our hands on one. Maybe if we promise Toyota not to get it too dirty, they will let us have one soon.