– By Rod Fuller – 
Toyota's new HiLux carries on the tradition of past HiLux models as tough uncompromising workhorses for the tradie and fleet driver alike. Recently I drove the new SR 4×4 Extra Cab and would say it's a step up, if not ahead of other similar vehicles.
The SR 4×4 Extra Cab is only available as a pick-up with six speed manual transmission and features a 2.8 litre DOHC turbo diesel engine rated at 130kw producing 420nm of torque, yet returns average fuel economy of 7.6 litres per 100 combined. Pretty impressive numbers, then you drive it, WOW!
After driving this ute for a while, enjoying a manual gearbox in city traffic again with 'Hill start assist control', I noticed the gearbox was equipped with economy and power mode switches. I am used to such switches on an auto box that don't do a thing. In the HiLux I selected the Economy mode – a little light came on in the instrument display, not much else happened – typical. Then I switched it into POWER mode and HOOLY DOOLY did it get up and GO!
The SR Extra Cab certainly has the power and I am pleased to say it has the looks as well. Its one tough and stylish truck and has an impressive presence on the road.
The SR Extra Cab comes with Bridgestone A/T tyres and 'blacked out' 17" wheels which really look the business. I said before that this Hilux was a step up, and on the SR, Toyota has supplied the step, with side steps standard on the SR which makes every day use of the vehicle a bit easier.
The Extra Cab and the brilliant addition of 'suicide doors' allows easy access behind the seats, meaning you can easily lock away that esky or toolbox in the cab, without having to push/pull/shove it in behind the seats.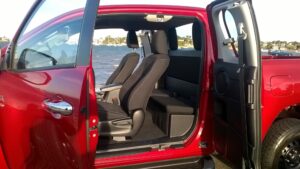 Toyota has provided rear seat belts and stuck headrests to the rear window to take advantage of the ease of access, but seriously, only small children would be able to sit in these 'seats' and then not for very long periods. So if you have a need for a second row of seats go for the Double Cab.
Inside the SR Extra Cab is very well appointed for the mid-range model, with all the usual features such as Bluetooth, cruise control, steering wheel mounted controls for the phone and stereo which has a large easy to read and operate touch screen, that doubles as the display for the REVERSING CAMERA which provides real 'peace of mind' when reversing such a large vehicle.
Plenty of space also to put all your bits and pieces away with a large console bin, dual glove boxes and numerous bottle/cup holders. Basically, if you can't find a space to that something in, you haven't looked hard enough.
When unloaded, the heavy duty suspension is too tough providing a very 'bouncy' uncomfortable ride with every bump from the road surface felt inside the cab. Off-road or when the vehicle is fully loaded the suspension is right to match the task.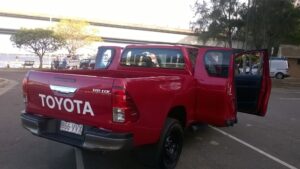 The Hilux SR 4×4 Extra Cab Pick Up comes with a three year 100K warranty, capped price servicing up to 60K, a braked towing capacity of 3.5 tonnes and a payload capacity of one tonne.
Priced from $49,600 drive away, the Hilux SR Extra Cab is pretty much Unbreakable, certainly Uncompromising and definitely Unforgettable.