– Article/Photos by Rod Fuller – 
The biggest selling cars in Australia today are utes. Big utes! So big, that they really are trucks! And are now the new vehicles of choice for tradies and fleets alike.
Traditional Falcon & Commodore utes have been consigned to history, replaced by these 'dual cab' behemoths, offering more space, power, comfort and versatility, combining work rest and play activities, better than the two door load luggers ever did.
Recently I drove three of these utes back to back, and was surprised, not only how different each was, but also how alike and good they were to drive.
Quick Comparison Table

 
Triton GLS
Hilux Rogue
BT50 GT
Engine
2.4lt 4 cylinder turbo diesel
2.8lt 4 cylinder turbo diesel
3.2lt 5 cylinder turbo diesel
Power/Torque
133kW / 430Nm
130kW / 450Nm
147kW / 470Nm
Transmission
5 speed auto
6 speed auto
6 speed auto
Fuel Economy (combined)
7.6lt/100km
8.5lt / 100km
10.0lt / 100km
Payload
980 kg
826 kg
1095 kg
Towing#
3100 kg
3200 kg
3500 kg
Tray size
1520 x 1470 mm
1569 x 1645 mm
1549 x 1560 mm
Service Intervals
12 month/ 15,000km
6 month / 10,000km
12 month / 15,000km
Warranty
5 year / 100,000km
3 year / 100,000km
5 year unlimited km
Comparison Price (Driveaway)
$43,080
$63,990
$51,990
# – Braking towing capacity.
2018 MITSUBISHI TRITON GLS – Tough and Tender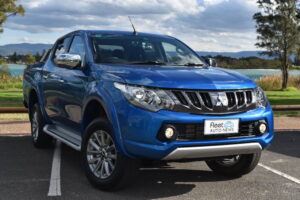 Even with the new model Triton due early in the new year, the current Triton is still the most attractive and best priced of the of the three trucks. Sweeping lines, grille accents and chrome highlights make it the 'looker' in my book. But don't be fooled its' got it where it counts when it comes to performance and capacity.
A 2.4lt 16V MIVEC Intercooled turbo diesel (133kW/430Nm), has enough grunt to pull 3100kg and carry 980kg. It is smooth and effortless to drive, but the five speed auto is showing its age in this group. Still with reduced weight with an all aluminium cylinder block, Triton's fuel economy measures a very respectable 7.6lt/100km.
Triton GLS features Mitsubishi's Super Select II 4WD system, offering four drive modes (2WD, full time 4WD and High and Low range 4WD with locked centre diff), to provide the grip needed for all conditions on or off road.
17 inch alloys with 245/65R17 Bridgestone tyres provide a quiet and comfortable ride about town or on the highway, and when it comes to 'off road' the Triton will get into the most rugged of places with generous clearance angles (30⁰ approach and 22⁰ departure).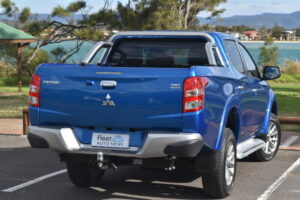 On the inside the Triton GLS has all the comforts, dual zone climate, seven inch touch screen as well as Bluetooth connectivity and reversing camera, but no Sat Nav. Apple Car Play/Android Auto is provided and is so much easier to use than the voice control through Bluetooth.
Life is comfortable and easy in Triton, with the Double Cab having enough room for everyone. Rear seat passengers though, do sit very upright and miss out on 12V/USB outlets and rear air vents.
Triton has a five star ANCAP rating and has safety features such as seven airbags, ABS, traction control/vehicle stability assist, hill start assist and trailer sway control. Mitsubishi offer a five year/100,00km warranty, roadside assistance and three years capped price servicing on Triton, at 12 month or 15,000km intervals.
2018 TOYOTA HILUX – Going Rogue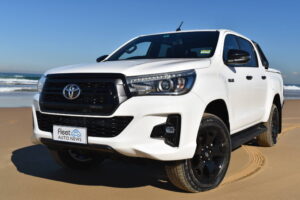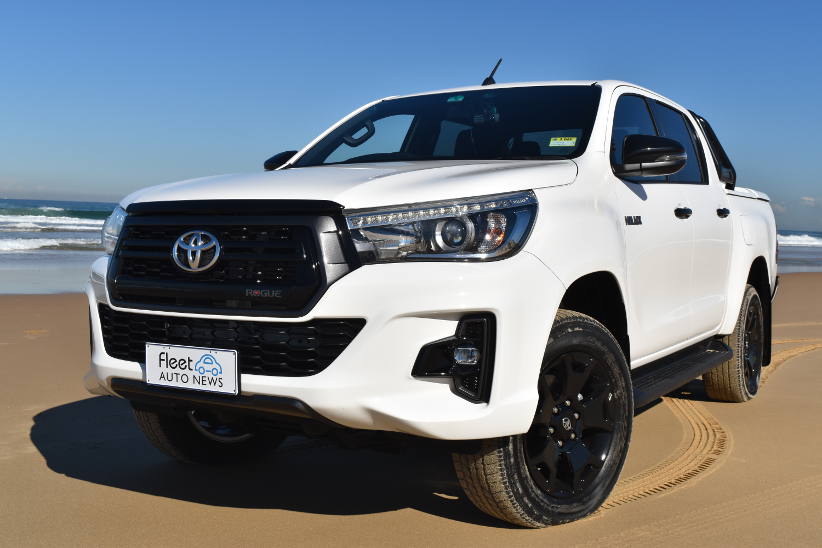 Hilux remains the number one selling vehicle in Australia and with good reason. It is tough, dependable and as Toyota says 'Unbreakable'. Hilux Rogue is one of three new variants released this year into the top end of the Hilux range and brings with it more style, comfort and sophistication. Offering all of Hilux's 4WD capabilities combined with luxury features and sporty looks.
Its' got the look! The 'Black out' treatment, black 18"wheels (265/60R18 Bridgestone tyres), black sports bar, black running boards, black door handles/mirrors/rear bumper/seats and trim, even the roof lining is black! The only chrome I could find on the vehicle was the tow ball and the Toyota badge! It's a refined yet tough looking ute that encapsulates the sporty outdoor lifestyle.
A 2.8 litre (130kW 450Nm) four cylinder turbo diesel engine is the heart of Hilux Rogue, powering you into your life's adventures via the six speed auto transmission and 4WD drivetrain. The engine performance is good and it drives equally well either on or off road. Select the 'Power' mode on the transmission and the engine response 'livens up' considerably, giving it much more punch than you would normally expect from a dual cab diesel ute. Fuel economy is good, listed at 8.5lt/100km.
Towing capacity for Rogue is 3200kg and load capacity is 826kg. Clearance angles for Rogue are approach 30⁰ and departure 20⁰, the latter affected by the standard towbar fitment.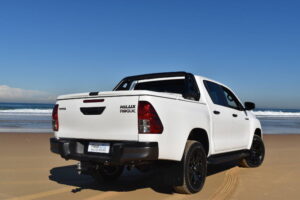 As a 4WD ute, Hilux Rogue is surprisingly comfortable to drive. Ride quality, handling and comfort are all superior to what you would normally expect from this type of vehicle. Inside leather seats (heated in front), climate control, and a six speaker stereo/infotainment system complete with seven inch touchscreen/reverse camera display, to control audio and Sat Nav functionality. Bluetooth and voice control help keep you connected, but Toyota is yet to embrace Apple Car Play/Android Auto.
Hilux Rogue offers storage galore inside with dual glove boxes (the top one is actually a 'cooler box' for your bottled drinks), large console bin and cup/bottle holders for all, plus two 'pull out' cup holders from the dashboard. Two 12V sockets and a 220V outlets are provided for front seat occupants as well as a single USB, but rear seat passengers miss out on these.
In the back, protection for your goodies is a feature of Rogue, with the cargo tub being lined with marine grade carpet; the lockable hard tonneau cover is linked to the vehicles central locking and has additional dust protection measures. The black sports bar isn't just for looks and features a 200kg 'tie down' load rating as well as attachment points for recreational equipment.
Toyota offers a three year 100,000km warranty and capped price servicing at 10,000km or six month intervals.
2018 MAZDA BT50 GT – A new face for a solid performer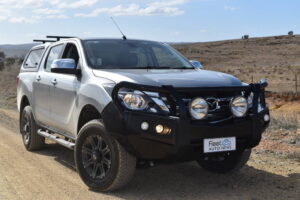 The long awaited facelift for the BT50 has come, giving it a brighter and attractively styled front end that makes the vehicle look wider and the front lower with its' new front grille/styling updates.
Not that I could tell from the test vehicle I had. It had been fitted with the factory specified bullbar, complete with a massive pair of driving lights! All very good and practical options from the Mazda parts bin for your use in regional Australia, but it kind of hides all the styling updates of the new model.
From other new BT50's I have seen though, the styling upgrade works very nicely providing a fresh new face for the BT50 and is a vast improvement over the previous model. Having said that, the factory option bullbar and driving light package does give the BT50 a very aggressive and tough look. Which you will appreciate even more should you be unfortunate enough to have a close encounter at speed, with one of the furry members of our coat or arms, answering to the name, Skippy.
BT50's 3.2 litre five cylinder turbo diesel (147kW 470Nm) is one the most powerful in the class and certainly the leader of the three vehicles listed here. Coupled with a six speed auto transmission and 4WD drivetrain it is a solid performer that is the equal of any competitor in this class. The extra power of the engine does come at a price with slightly less fuel economy at 10.0 lt/100km.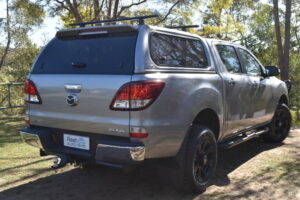 Driving BT50 you notice how comfortable it is with very complaint ride control and balance. Heading about town, out onto the open road or off into the scrub, BT50 is not only comfortable and tough enough to take where ever you want to go, but also to bring you back! And if the road has disappeared altogether, it has quite generous clearance angles (28⁰ approach and 26⁰ departure) to cope with the toughest terrain.
On or off road BT50 is well credentialed offering a host of electronic aids to tackle all road (or lack of road) conditions. Including:-
ABS
Emergency Brake Assist and Brake Force Distribution
Dynamic Stability Control and Traction Control
Hill Descent Control and Hill Launch Assist
Locking Rear Differential
Roll Stability and Trailer Sway Control
Towing a large caravan or boat? Towing capacity of 3500kg and a payload of 1095kg, is the best in class. BT50 GT has 17 inch alloy wheels fitted with 265/65R17 Dunlop A/T tyres.
Inside BT50 GT, like the outside, it's big and comfortable will plenty of head, shoulder and leg room and leather seats for all occupants, plus a lumbar support and eight way power adjustment for the driver's seat. Dual zone climate control, DAB radio, auto folding and heated mirrors and Sat Nav complete the interior.
Mazda now offers Apple Car Play/Android Auto as part of its' infotainment system with an eight inch touchscreen. Apple Car Play is as usual very simple to operate, but the rest of the infotainment system seems overly complex compare to the MZD system. All functions have to be operated via the touchscreen (as only volume and track change buttons are steering wheel mounted).
USB and AUX connections are mounted high in the dash above a storage tray, giving you somewhere to put your phone – clever. There are two 12V in the front, one for rear seat passengers, and even one in the load area as well. Also so you don't "drop" the tailgate down, it has a gas strut to control it.
Mazda offers a five year unlimited km warranty, capped price servicing at 12 month or 15,000km intervals and roadside assistance programs are also available.
THE VERDICT
All three vehicles here are winners, each offering different strengths and some short comings in their value proposition.
The Triton is excellent value for money, but isn't as well equipped as the others (although, it will be interesting to see what the 2019 model offers).
Hilux Rogue, stylish and all the comforts (except Apple Car Play), is quite dearer, and only a three year warranty with six month service intervals.
Finally, the facelifted BT50, better looking than before, with the most power and best payload/towing in the class, together with five year unlimited kilometre warranty, is the winner in this comparison for me.