– By Steve Nuttall – 
By 2017 local passenger vehicle manufacturing in Australia will cease. There has been much debate about the impact this will have on the local economies that have been dependent on the industry for over 100 years.
But what impact will these changes have on the fleet market? Are Australian corporate fleet buyers going to be spoiled for choice with even stronger competition keeping prices affordable? Will imported vehicles be suitable for Australian conditions? And what about those fleets whose policies or preferences are to buy locally manufactured vehicles – will the end of local production be a game changer? Will new markets open up for the OEM brands, such as Hyundai, that have traditionally found the corporate fleet market a tough nut to crack? Finally, will the new world spell good news for the leading suppliers of fleet management services who should be able to offer a broader range of vehicles to the market?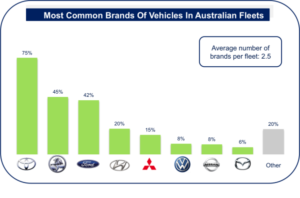 In anticipation of this change, ACA Research recently asked 220 corporate fleet managers about the brands of vehicles in their fleets, whether choice of brand is determined by having a policy on sourcing locally manufactured vehicles, and the impact of the end of local manufacturing on their purchasing policies.
As expected, Toyota, Holden and Ford are currently the leading brands in the Australian fleet market. But will they be the dominant brands post 2017?
Around a third of fleet managers, said that the end of local manufacturing will have some impact on their purchasing policies. Of these, most are not sure what the impact will be at this stage. One in ten fleet managers said they would buy from other manufacturers and 7% said they expected to wait longer for new vehicles to be delivered.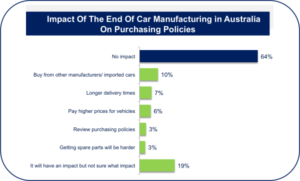 The biggest impact is likely to occur in the Government, Health and Education sectors. Procurement rules in State and Federal Government agencies and departments require fleets to buy locally manufactured vehicles wherever possible and most of the Government fleets we interviewed confirmed this was their policy.
The verbatim comments made by fleet managers that are likely to be impacted by the end of local manufacturing are revealing. Some said they would continue to purchase the same brands, with a few identifying the exact model. Most said they would be keeping an open mind and comparing prices. Several fleet managers have already decided that the removal of local manufacturing would predicate a shift in their brand choice, with one or two identifying the new brand they would choose.
For the majority of fleet managers, considerations around fleet composition in 2017 are not a top priority, but it is evident some are already making plans and weighing up their options. Toyota, Ford and Holden will not give up their position of dominance easily. For these manufacturers the opportunity is to globally source and deliver a wider range of models that meet the needs of the market once they are no longer tied to supplying their locally made vehicles.
The key considerations for organisations when selecting passenger vehicles for their fleet include safety, suitability to the task and value (a combination of whole-of-life cost, fuel efficiency and purchase price). Provided imported vehicles continue to meet these core needs, we expect the fleet market of the future to be highly competitive. All of which must spell good news for the savvy fleet buyer who will be firmly in the drivers' seat.
ACA Research is a full service market research consultancy with expertise in customised research and multi-client studies. We specialise in all aspects of the automotive industry, including passenger vehicles, heavy commercial vehicles, the aftermarket and automotive finance. For more information, please visit our website: http://www.acaresearch.com.au/