– By Rod Fuller –
The new vehicle market these days is awash with choice for fleet managers with a never ending sea of small and mid-sized cars to choose from. So it takes something a bit different or extra, to stand out from the crowd and Malibu's distinctive coupe like styling, especially the Camaro-esq taillights, give it a presence on the road that sets it apart from other mid-sized sedans.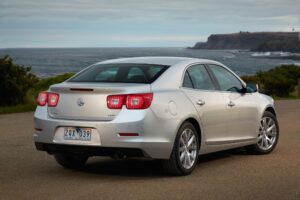 Driving a Malibu CDX recently I couldn't help but appreciate what a comfortable car for the driver it is. From its keyless entry and push button start to the eight way adjustable leather seats (CDX model only) and kick ass stereo, the Malibu is just comfortable and a vehicle that you can effortlessly clock up the kilometres in.
At night the Malibu has one of the best illuminated cabins I have driven recently, with subtle trim lighting around the dashboard and front doors that give the car a very sophisticated feel. The instruments and controls are all well illuminated and in easy reach, plus are simple to operate.
The MyLink system easily connects to your phone, allowing easy operation of it hands-free via the touch screen or steering wheel controls. There is even a storage compartment behind the MyLink screen to put your phone out of sight and reach. So no excuses for touching your phone on the road (a great feature for safety minded fleets).
The 7" colour touch screen is quite easy to operate controlling all the climate control, stereo, phone and Satellite Navigation (CDX model only) functions. The screen also doubles as the display for both the Satellite Navigation and reverse camera and the large display provides for clear easy viewing as well.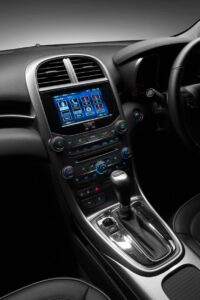 For a mid-sized sedan the interior is quite roomy, but taller passengers in the rear seat may not be as comfortable with not as much headroom as I would have expected. Even getting in and out through the rear door was difficult with the lesser headroom.
On the road the car rode impressively well on its 18" alloy wheels (17" wheels on the CD model) with 245/45R18 Bridgestone tyres and felt very sure footed on both wet and dry surfaces. The car I had was equipped with the full size spare wheel option, although it is only a 17" steel rim with a 225/55R17 Kumho tyre.
The 2.4 litre engine provided quite good economy both around town and on the freeway, but was not as responsive as I would have hoped, particularly under hard acceleration, like making that gap to merge onto the expressway. Don't get me wrong, it gets there, its' just that I found myself several times, foot flat to the boards waiting and watching for the speedo needle to rise.
Storage and boot space in the car to me is a little wanting when compared to some other mid-sized cars out there. The boot seemed shallow and while the rear seat is a 60/40 split fold and there are enough cup/bottle holders and door bins for everyone as well as seat pockets for rear seat passengers.
In the front seat without opening the centre console, glovebox or that great little compartment behind the MyLink display, I couldn't find anywhere to put some coins or my pen. Which when you are working on the road all day a pen needs to be somewhere handy a customer calls and you need to note something down.
Priced from $25,990.00* drive away for the Malibu CD including a five year warranty period and lifetime capped price serving, the Malibu with its extensive list of features and inclusions, driving comfort and economy represents great value for a car that should please both fleet managers and drivers alike.
*Pricing offer accurate as at 20/09/2015