The Holden Commodore SV6 was different things to different people. For many it was family transport disguised as a sports car to help men transition into a new stage of their lives and leave the 'hooning' to the next generation. And the desire for fathers to hold onto their youth and maintain some suburban driveway pride made the SV6 a popular novated lease and fleet vehicle.
Sporty versions of volume sellers attract new buyers to the brand, allow manufacturers to increase margins and satisfy fleet buyers through active residual value management. The SV6 achieved these objectives for Holden and helped build a large fleet and novated lease market share in the years before the GFC hit.
As we were reading the specifications list on the all-new Hyundai Sonata N Line we were reminded of the SV6 and Calais variants from Holden.
While large sedans are no longer volume sellers, and only have niche market appeal, the coupe-like four-door styling combined with futuristic technology, advanced safety and an all-new 2.5 Turbo engine should attract some fathers that need the room for baby seats and prams but still want to look cool.
The 2021 Sonata brings Hyundai's Sensuous Sportiness design concept to life, reimagining the classic sedan silhouette as a low and wide four-door featuring the aggressively sculpted curves and crisp lines of a coupe. Sonata N Line is the first Hyundai model in Australia to feature the all-new Smartstream 2.5-litre Turbo engine, teamed with a new eight-speed dual-clutch automatic transmission. Inside Sonata N Line is a sleek, modern cabin rich with premium touches, state-of-the-art technology and advanced SmartSenseTM safety.
"Sonata is a pillar of the Hyundai range, and the model's evolution over eight generations into the stylish, all-new 2021 model represents our commitment to creating the ideal medium sedan," Hyundai Motor Company Australia Chief Executive Officer, Jun Heo said.
"Striking coupe-like styling, a premium cabin, advanced safety and technology, and a powerful all-new 2.5 Turbo engine ensure the all-new Sonata N Line is our best Sonata yet," he said.
2021 SONATA RANGE OVERVIEW
2021 Sonata is offered in a single highly equipped N Line grade.
Sonata N Line
Smartstream G2.5 T-GDi
8 DCT (Wet friction Dual Clutch Transmission)
The all-new 213kW Smartstream 2.5-litre Turbo GDi engine makes its Australian debut in Sonata N Line, paired with a new wet-friction eight-speed dual clutch automatic transmission featuring shift-by-wire pushbutton gear selection as well as paddle shifters.
Also making its debut in 2021 Sonata's suede and Nappa leather-trimmed cabin is a futuristic, crisp and clear 12.3-inch LCD high resolution colour instrument cluster display, which is complemented by a 10.25-inch touchscreen satellite navigation multimedia unit.
Comforts include heated and ventilated, power-adjustable front seats, heated outboard rear seats, dual-zone climate control air conditioning, and a panoramic glass sunroof.
A Surround View Monitor, wireless smartphone charging, and Bose Premium Audio are among the convenience and luxury technologies.
A standard suite of SmartSenseTM technologies includes Forward Collision-Avoidance Assist with Junction Turning Assist (FCA-JT) function, Driver Attention Warning (DAW) and Blind-Spot Collision Avoidance-Assist (BCA) systems.
2021 Sonata also features Rear Cross-Traffic Collision-Avoidance Assist (RCCA) and Lane Following Assist (LFA) systems, and Smart Cruise Control (SCC) with Stop & Go.
An N Line Sports body kit, LED headlights, DRLs and taillights, and 19-inch alloy wheels wrapped in Continental tyres ensure a stylish look for 2021 Sonata.
EXTERIOR
An N Line cascading grille spans the front of 2021 Sonata to create a bold first impression. The grille extends between distinctive LED headlights that feature an eye-catching new lighting architecture, while an exclusive N Line bumper design completes an aggressively sporty visage.
Crisp chrome trims give definition to the daylight opening, before flowing along the bonnet edge to the front of Sonata N Line, where they make a sharp turn to underline the headlights, complete with integrated LED daytime running lights.
In profile, a low roofline and shallow glasshouse give 2021 Sonata a sleek, coupe-like image, while voluminous character lines and striking 19-inch alloy wheels convey a confident road presence.
At the rear, LED taillights are tied by a LED strip to create a sense of width as well as a striking night-time impression, with twin tailpipes integrated into each side of a diffuser-style lower treatment.
Four paint colours are offered for 2021 Sonata:
White Cream – Mica (standard colour)
Hampton Grey – Metallic (cost option)
Flame Red – Metallic (cost option)
Midnight Black – Mica (cost option)
INTERIOR
Spanning the width of the cabin, 2021 Sonata's slim dashboard is headlined by a first-in-class 12.3-inch high-resolution TFT-LCD digital instrument cluster. The futuristic cluster is complemented by a 10.25-inch HD infotainment interface and a Head-Up Display. A minimalistic centre console design featuring shift-by-wire gear selection buttons brings convenience as well as space.
Black Nappa leather and Suede upholstery and exclusive N Line badging complete a classy cabin ambience.
CHASSIS AND TUNING
2021 Sonata N Line is among the first Hyundai models to benefit from a new tuning approach that has evolved as a natural progression from the local tuning program employed by HMCA engineering for more than a decade.
The new approach sees HMCA involved early in the development of a model, providing HQ with their input on hardware specifications to achieve the 'flavour' of the tune required for the Australian market.
Then, vehicles are put through the gruelling testing and scoring system developed by Hyundai Australia to evaluate and sign-off a tune, which incorporates the full spectrum of challenging city, highway, country and gravel roads.
"Our aim was for Sonata to be a great cruiser; an excellent tourer that could cover ground comfortably and quickly, and I think we've achieved that," Hyundai Motor Company Australia Product Planning and Development Specialist Tim Rodgers said.
"Sonata utilises high-performance monotube rear dampers, which typically bring big advantages in response and handling in general. By using monotube dampers, we could make the response in the car quite rapid. We could make it a lot more nimble than you might expect for its size," he said. "Yet, the balance the engineers have tuned within the damper make it lovely to drive daily.
"These dampers helped us to really hone in on that dual nature that we like our cars to have, even though they're technically quite an aggressive, sporty damper," he said. "We're incredibly happy with the tune. Sonata drives confidently, like a large sedan should, yet it's also quite dynamic; quite playful.
POWERTRAIN
2021 Sonata is the first Hyundai to feature the powerful, all-new Smartstream Petrol 2.5-litre Turbo GDi engine. The new 213kW, 422Nm Smartstream T-GDi four-cylinder utilises high-efficiency combustion, and optimised Integrated Thermal Management System (TMS) cooling.
To provide more efficient engine performance, with lower emissions and fuel consumption, the 2.5 T-GDi engine features a number of clever technologies including:
Variable separate cooling of the cylinder block and head
Integrated exhaust manifold in the cylinder head
Electronically controlled continuously variable-capacity oil pump
Water-to-air intercooler
Active Air Flap (AAF) for the radiator
Sonata N Line's new, eight-speed dual-clutch transmission (DCT) integrates advanced technology, such as an oil-cooled, hydraulically controlled dual-plate clutch, to provide optimal fuel economy and superb driving performance.
The DCT features a rev-matching function for downshifts, and will select the suitable shifting pattern depending on the driving mode, providing an enhanced sense of acceleration in the sports modes.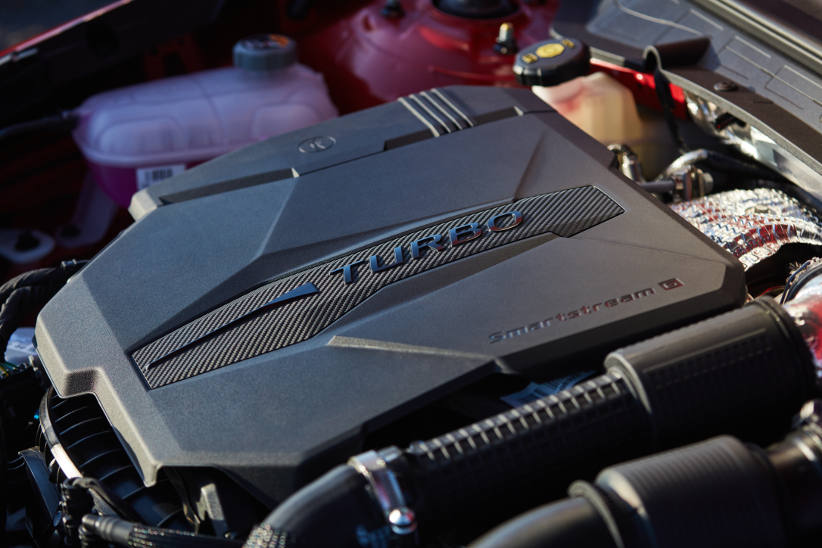 Drive modes
A Drive Mode system provides a choice of normal, sport, sport+ and custom modes according to the driver's tastes and the road conditions. Selection of each brings mode-specific graphics for the instrument cluster, which also offers a central performance gauge in the sport modes, which allows the monitoring of vitals such as engine oil temperature, torque and turbo boost pressure.
SMARTSENSETM SAFETY
In addition to its superb passive safety and six airbags, 2021 Sonata features a comprehensive standard suite of advanced SmartSenseTM technologies.
Blind-Spot Collision-Avoidance Assist (BCA)
The Blind-Spot Collision-Avoidance Assist (BCA) system comprises two functions – Blind Spot Collision Warning (BCW) and Active BCA.
If a vehicle is present in Sonata's blind spot, BCW displays an alert in the exterior mirrors. If the driver proceeds to activate the corresponding indicator lights, a flashing visual warning is provided and an alert is sounded.
BCW uses the windscreen-mounted camera to monitor Sonata's positioning within the lane, and radar sensors on either side of the rear bumper to detect vehicles next to and diagonally behind Sonata. The system operates at vehicle speeds of 30 km/h and above.
The system also scans for vehicles approaching from the rear, and uses the same warning measures to alert the driver to the presence of rapidly approaching vehicles that may soon enter Sonata's blind spot.
The Active BCA function can initiate an active avoidance measure to help avoid a collision with an approaching vehicle, next to or behind Sonata, which it deems as being at a high risk of contact due to its proximity.
The system uses the Electronic Stability Control (ESC) system to apply a gentle braking force to the wheels on the side opposite to the potential collision point, to steer Sonata away from the other vehicle, reducing the likelihood of collision and/or mitigating damage.
Active BCA is operational at vehicle speeds between 60km/h and 180km/h.
High Beam Assist (HBA)
High Beam Assist (HBA) scans the road ahead of Sonata using the windscreen-mounted camera, monitoring for street lights, as well as the headlights and taillights of vehicles. Upon detection, the system automatically adjusts headlight range, switching between high and low beam.
HBA is active at vehicle speeds of 45km/h and above, and operational once the light switch (on the indicator lever), is placed in the Auto position and the lever pushed away from the driver. 
Rear Cross-Traffic Collision-Avoidance Assist (RCCA)
The Rear Cross-Traffic Collision-Avoidance Assist (RCCA) system monitors for traffic approaching on either side of Sonata when reversing out of perpendicular parking spaces. Should RCCA detect a vehicle approaching, a warning is sounded, and a visual warning is displayed on the dash cluster and multimedia screen, and in the corresponding exterior mirror.
The system uses the BCA system's radar sensors, and functions at vehicle speeds of 10 km/h and below.
In the event the driver does not act on the warning, the system may activate the Electronic Stability Control (ESC) system to apply braking force and help avoid a collision with the approaching vehicle.
Approaching vehicles will be detected if they are travelling at speeds between 8km/h and 36km/h.
Driver Attention Warning (DAW)
Driver Attention Warning (DAW) recommends breaks as required, based on travel time as well as indications of driver fatigue. DAW uses the windscreen-mounted camera to monitor the vehicle's position within the lane, while tracking steering and braking inputs, and time since last break.
Should the system detect careless driving, such as sudden steering or braking inputs and/or inability to keep within a lane, the 'Attention Level' indicator on the cluster will continually decrease.
Should the level decrease to a certain threshold, the DAW system will recommend that the driver takes a break. DAW operates at vehicle speeds between 60km/h and 180km/h.
Lane Keeping Assist (LKA) System
The Lane Keeping Assist (LKA) system comprises two modes – Lane Departure Warning (LDW) mode and Lane Keeping Assist (LKA) mode.
LDW uses the windscreen-mounted camera to detect lane markings and monitor the vehicle's position in the lane. Should the vehicle stray from the intended lane without the indicators being activated, audible and visual warnings will be issued. LDW operates at vehicle speeds of 60km/h and above.
LKA helps prevent the vehicle from straying from the lane by providing steering intervention should the driver not respond to warnings from the LDW system. The system can be activated at speeds of 60km/h and above where lane markings on both sides of the vehicle are detected.
Both LKA and LDW are momentarily deactivated when the indicators are in operation. In addition, the driver must maintain control of the vehicle at all times by holding the steering wheel.
Lane Following Assist (LFA)
Lane Following Assist (LFA) uses the windscreen-mounted camera to detect lane markers on the road, and provides steering assistance to ensure the vehicle stays in the centre of the lane. When the system is activated, the indicator on the cluster will illuminate. The colour of the indicator will change depending on the condition of LFA system. Green indicates that the system is 'enabled' and white indicates that the system is 'ready'.
Safe Exit Assist (SEA)
The Safe Exit Assist (SEA) system reduces the risk of occupants exiting Sonata when the surroundings make it unsafe to do so. The system works in conjunction with the radar sensors on either side of the rear bumper to detect vehicles approaching from the rear. When the vehicle is stopped and SEA is active, the system scans Sonata's rear path.
If a door is opened while an approaching vehicle is detected, the system will sound an alert and display a warning in the instrument cluster, advising that the exiting occupant should 'watch for traffic'.
The electronic child safety lock system provides and additional layer of protection, by allowing the driver to lock the rear doors via a switch, to prevent children seated in the rear of Sonata from opening the doors.
Additionally, the electronic child safety locking system works with the SEA system to prevent the unlocking of the rear doors when it is not safe to do so, providing an additional message advising that the exiting occupant should 'check surroundings then try again'.
Forward Collision-Avoidance Assist (FCA- Car/Pedestrian/ Cyclist)
Sonata features the City/Urban version of the Forward Collision-Avoidance Assist (FCA) system, which monitors vehicles in front of Sonata using the windscreen-mounted camera.
If a potential collision is detected, the Forward Collision Warning (FCW) function will sound a warning chime and display a warning in the Supervision cluster. FCW is active at vehicle speeds between 10km/h and 180km/h.
Additionally, Forward Collision-Avoidance Assist (FCA) – City/Urban works in conjunction with FCW to automatically apply the vehicle's brakes when a collision is imminent and driver intervention in response to a FCW system warning is not detected. FCA – City/Urban is active above a vehicle speed of 10km/h, and will attempt to bring the vehicle to a complete stop if activated up to speeds of 65km/h.
Forward Collision-Avoidance Assist-Junction Turning (FCA-JX)
The FCA-Junction Turning system is designed to reduce the risk of collision by detecting and monitoring oncoming vehicles. When Sonata is turning right at a junction, the front camera and radar register oncoming vehicles and display warning messages or alarms corresponding with the level of collision risk.
Smart Cruise Control (SCC) with Stop & Go
Smart Cruise Control (SCC) detects the speed and distance of vehicles ahead of Sonata to maintain a safe following distance. The system can function with a pre-set cruise speed between 10km/h and 180km/h when there's a vehicle ahead, or up to 180km/h when the road is clear.
The Stop & Go function operates in stop/start traffic, bringing Sonata to a stop when appropriate, and then automatically accelerating it back to the original set speed. If the vehicle is stationary for more than three seconds, SCC will prompt the driver to continue cruise conditions using the steering wheel switches.
COMFORT AND CONVENIENCE TECHNOLOGY
Blind Spot View Monitor (BVM)
When a turn signal is operated, Blind-Spot View Monitor (BVM) displays live video of Sonata's blind-spot zone on in the 12.3-inch LCD dash cluster, from cameras in the exterior mirrors. The system assists the driver in making safer lane changes, by increasing the field of vision compared with conventional mirrors.
Surround View Monitor (SVM) w/ Rear View Monitor and Parking Guidance 
Sonata gives the driver a bird's eye view of the car's exterior, from four exterior cameras, to allow confident manoeuvres into and out of parking spaces.
In addition, a Rear View Monitor (RVM) system allows the rear camera to remain on continuously during driving if required, so that the driver can monitor the road conditions behind the vehicle. A Parking Guidance function displays guide lines on the camera display that swivel automatically as the steering wheel is turned.
Manual Speed Limit Assist (MSLA)
The Manual Speed Limit Assist (MSLA) function allows the driver to pre-set a maximum speed that the vehicle will not accelerate past (unless full throttle is applied), as well as providing a warning should the vehicle speed exceed the set limit. MSLA is activated via the cruise control steering wheel switches and allows pre-set vehicle speed limits of 30km/h and above.
Electronic Parking Brake (EPB) with Auto Hold
Sonata comes equipped with an Electronic Parking Brake (EPB), complete with an Auto Hold function that automatically maintains braking pressure after the vehicle is brought to a stop, ensuring that it will not creep forward or roll backward even with the brake pedal released. The brakes are then released when the driver presses the accelerator.
Head-Up Display (HUD)
The Head-Up Display projects onto the windscreen. When activated, the HUD will show the vehicle speed, navigation commands, speed limits and traffic sign info, as well as alerts from Sonata's active safety and driving assistance systems. The HUD lets users select the information that is displayed, as well as the height, rotation and brightness of the display, to ensure excellent readability across a range of lighting conditions.
10.25-inch satellite navigation system
A 10.25-inch touch-screen satellite navigation multimedia unit integrated into the top of Sonata's dash provides a crisp and clear overview of navigation, audio, and other information, with the option of wide panoramic map or split-screen views. Smartphone connectivity (via Apple CarPlayTM or Android AutoTM) allows connected users to interact with their favourite apps, access navigation, use voice command for text messages and more, all in a safe manner via the touchscreen.
Bose Premium Sound System with CenterPoint
Sonata N Line's Bose premium audio system surrounds the occupants with 12 evenly-spaced speakers; three up front, three on each side, and three in the rear. The system features CenterPoint surround technology, which splits music into multiple channels, to fully immerse occupants in a surround sound experience.
Electrically adjusted driver's and passenger's seats
Sonata provides optimal levels of driver comfort with an electrically adjustable driver's seat offering a total of 12 adjustment settings, including 2-way lumbar support and 2-way power bolster adjustments. Front passengers can also get comfortable with a 4-way electrically adjustable front passenger seat.
Heated and ventilated front seats & heated rear seats
Three-stage heating for Sonata's front and outboard rear seats warm the seat surface quickly for cool-weather comfort. Sonata also features three-stage ventilation fans that blow a gentle stream of cooling air through the perforations in the front seats, to keep occupants refreshed on hot days.
Power sunroof
A large dual-panel panoramic glass sunroof is standard for 2021 Sonata. It features a power tilt and slide front panel, as well as a motorised sunblind to provide shade for occupants when desired.
Wireless smartphone charging
A wireless charging pad in Sonata's centre console allows users to charge a compatible Qi-enabled smartphone without the use of a cable. For non-compatible devices, users may be able to purchase a third-party smartphone accessory (such as a Qi-enabled phone case) to allow the use of wireless charging.
Personalised driver profiles
A personalised profile function allows the storing of multiple driver preferences, for settings such as seat and side mirror positions, HUD and driving mode settings, navigation history, and active Bluetooth device and radio station settings.
Climate control air conditioning with Smart temperature comfort control system
A climate control air-conditioning system ensures maximum comfort and convenience for occupants by automatically maintaining the set temperature. The system also features a smart temperature comfort control for the driver's seat.
When the system registers the need for rapid cooling or heating in the cabin, based on the climate control setting, the ambient temperature in the cabin and other inputs, it will activate either the seat ventilation fans, or the steering wheel and seat heaters. In addition, three levels of airflow intensity can be selected when in the 'auto' air conditioning mode.
Shift by Wire
2021 Sonata N Line features neat and futuristic electronic shift buttons, which use shift-by-wire technology to replace the shifting movement of the gear-lever. A small storage space takes the place of the gear-lever housing. The shift-by-wire system allows selection of park, reverse, neutral and drive by the simple push of a button, with the brake pedal depressed, providing a convenient and unique user experience.
A failsafe built into the system will prevent drive or reverse from being engaged if a door is not fully closed. If the need arises, this can be over-ridden by pressing drive or reverse multiple times.
Paddle shifters behind the steering wheel give the driver the option for sequential manual shifts through the transmission's eight forward gears.
12.3-inch LCD cluster
A new, crisp and clear 12.3-inch LCD high resolution colour instrument cluster display makes its debut in 2021 Sonata. It features speedometer and tachometer dials with enhanced colours and crisp image quality that makes driving information highly readable, as well as graphics that change with the selected driving mode.
Vehicle information is displayed in between the gauges, including status and alerts from SmartSenseTM safety systems, satellite navigation route guidance steps and trip computer data.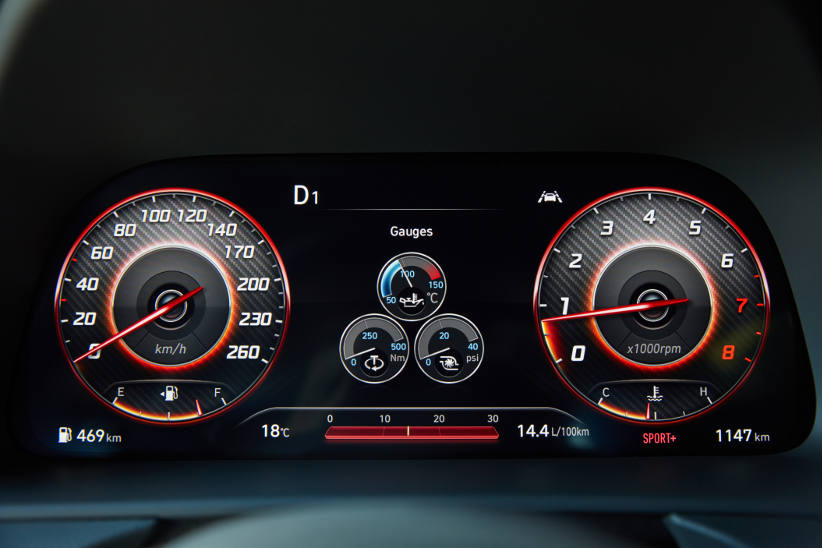 HIGH PERFORMANCE FEATURES
Launch Control
Launch control is a function that helps to achieve optimal acceleration from a standstill through modulating the control of the engine and transmission. When the accelerator is fully depressed, the system maintains the engine at the speed at which it exerts maximum torque, to maximise performance.
N Power Shift
N Power Shift is a transmission function designed to deliver a fun driving experience in Sport and Sport+ driving modes, by controlling the engine speed when upshifting. During hard acceleration, the function increases the throttle opening during upshifts to push occupants back into their seat, as they would be during quick gear shifts in a manual transmission vehicle.
PRICING AND AFTERSALES
| | | |
| --- | --- | --- |
| Engine | Transmission | N Line |
| SmartStream 2.5 T-GDI | 8 speed Dual Clutch (wet) | $ 50,990 |
| | |
| --- | --- |
| Option pricing | N Line |
| Metallic / Mica paint | $ 595 |
Note: All prices are Manufacturer's List Price. Price excludes dealer delivery and on road costs.
iCare
With Hyundai iCare, the joy of buying a Hyundai will stretch well beyond the showroom. This leading customer care program offers a comprehensive suite of owner benefits including; Lifetime Service Plan, 5 Year Unlimited Km Warranty, complimentary Roadside Assist for 12 months on new vehicles, 1,500km complimentary first service, a dedicated Customer Care Centre, and myHyundai – an exclusive owner website. When servicing with Hyundai, customers will also receive a Roadside Support Plan for up to 10 years, a 10 Year Sat Nav Update Plan, and more.
2021 SONATA N LINE SPECIFICATION OVERVIEW
| | | |
| --- | --- | --- |
| Sonata N Line  |   | SmartStream 2.5 T-GDI |
| Key specifications: |   |   |
| Suede & Nappa Leather Interior | Blind-spot Collision – Avoidance Assist ( BCA) | Front and Rear park assist system  |
| 10.25″ satellite navigation  | Smart Cruise Control (SCC) with Stop & Go | 12.3″ Full LED Supervision cluster |
| Bose premium audio system  | FCA – Junction Turning Assist | Dual LED headlights w/ LED DRL |
| Integrated Memory System (IMS) on driver's seat | Forward Collision-Avoidance Assist (FCA- Car/Pedestrian/ Cyclist) | Power rear windshield curtain with manual rear window blinds |
| Heated Front & Rear outboard seats | Rear Cross-Traffic Collision-Avoidance Assist | Power child locking system |
| Ventilated Front seats | Lane Following Assist (LFA) | Rear combination LED lights |
| Dual zone AC  | Blind-spot View Monitor (BVM) | Wireless smartphone charger |
| 19" alloy wheels w/ continental tyres | Driver Attention Warning (DAW) | Electronic Heated folding mirrors |
| 12 way power driver's seat  | High Beam Assist (HBA) | Deluxe cloth upholstery |
| Aircell type driver's seat bolster support | Shift By Wire (SBW) | Panoramic glass sunroof |
| 4 way power passenger's seat  | Electronic Parking Brake  | Surround View Monitor (SVM) |
| Premium Sports bucket seats  | N Line Sports Body kit  | Electro chromatic rear view mirror |