– Article/photos by Rod Fuller –
Due to launch in Australia in coming months, Hyundai's exciting new eco-friendly hatchback IONIQ is a car which 'normalises' low to zero emission vehicles, offering comfortable practical motoring that potentially may change the market's perception of what an EV is and what it offers.
A small sized hatchback with a stylish and aerodynamic design (class leading Cd of 0.24) IONIQ, in a world first offers three electrified powertrain options, Hybrid, Plug-in and Electric.
Driving the Hybrid Elite, what really impressed me about this car and the whole concept of IONIQ is how much it is about being, a normal car, not about what powers it. It looks like a normal car, drives like a normal car, has all the comfort, space and features you would expect from a car this size.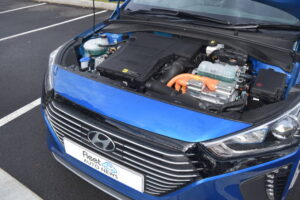 IONIQ Hybrid has two engines (petrol, 4 cylinder 16V DOHC 77kW 147Nm and electric 32kW 170Nm) combining for a total engine performance rating of 104kW 265Nm driving the front wheels via a six speed DCT transmission. Fuel economy is rated at 3.4l/100km combined and has a range of nearly 1000km.
As a Hybrid, IONIQ seamlessly selects the best combination and use of the two motors for any given driving situation. It does give the choice of 'Sport' or 'Eco' modes and I found in 'Sport' mode that engine performance was quite spirited and combined with the six speed DCT (rather than the "rubber band-like" feel of some other Hybrids) offers a quite dynamic drive experience.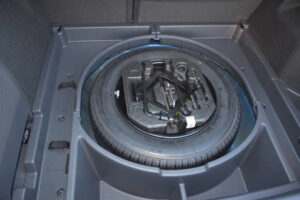 IONIQ Hybrid Elite is a quiet comfortable drive, riding on 195/65R15 Michelin 'Energy Saver' tyres (and a 'Full size' spare) with stylish 'Aero Flow' wheel covers. The driver's seating position is good with a height/reach adjustable 'flat bottom' leather steering wheel, but driver's seat lumbar support is reversed for the Premium model.
IONIQ's forward visibility is excellent, however, looking in the rear view mirror you are constantly reminded of the split window design of the hatchback (which actually increases visibility to the rear), as you just keep seeing it. Over the week I had the car, I noticed it less and less, eventually getting used to it and simply seeing through it. But for many drivers the initial impression of limited rear visibility may remain a concern.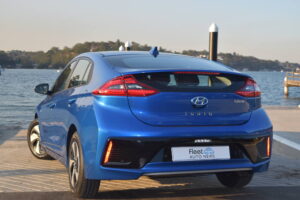 Steering is light and responsive and all the handling characteristics are in line with normal expectations of small hatchback. That said, the local suspension tuning Hyundai Australia conducts for all its locally released cars, serves IONIQ very well when tackling our vastly varying road conditions.
IONIQ offers all the creature comforts, dual zone climate control air conditioning, Apple Car Play/Android Auto, simple Bluetooth connectivity, Sat Nav and a quality sound system with an excellent DAB radio. Numerous storage compartments (even under floor in the boot) and cup/bottle holders are provided also. I found head and leg room in the rear seat a little constrained, but it is a small car. Rear seat passengers also miss out on charging points as the two 12V and single USB point are located in the front.
Safety features and driver aids abound with Hyundai's Electronic Stability controls and SmartSense standard on all IONIQ models. Including:-
Autonomous Emergency Braking with pedestrian detection
Blind Spot Detection
Forward Collision Warning
Lane Change and Lane Keeping Assist Systems
Rear Cross Traffic Alert
Smart (Radar) Cruise Control.
Hyundai is yet to announce pricing for IONIQ, but is anticipated to enter the market at a price point between Toyota's Corolla Hybrid and Prius.
IONIQ is an exciting vehicle which 'normalises' new EV technologies and encapsulates them into an everyday vehicle that looks, feels and drives just like a normal car, because it is one! A new 'normal' is coming and it is IONIQ.