Whether you're shopping for one bag of pebbles to fill a gap in your front yard, or for a major construction project requiring 30,000 tonnes of sand, Newcomb Sand and Soil (NSS) is a one-stop shop for all landscaping supplies. And especially in the current COVID-19 climate, which has seen an increase in landscaping activities, NSS said they're keeping busy with their deliveries, having seen a 25 per cent increase in demand for their products.
NSS Managing Director, David Dunoon, said that it all comes down to people being at home.
"We're in quite a fortunate position right now, it seems that with everyone at home they've decided to begin those gardening projects they've always wanted to. So right now, we've been the busiest we have been in recent memory," said David.
Of course, COVID-19 safeguards have had to be put in place.
"Sanitary measures have been implemented as part of our daily operations… We've prohibited public access to our facilities now, we have cleaners coming in everyday, and on top of social distancing, the drivers sanitise their trucks after every delivery," David said.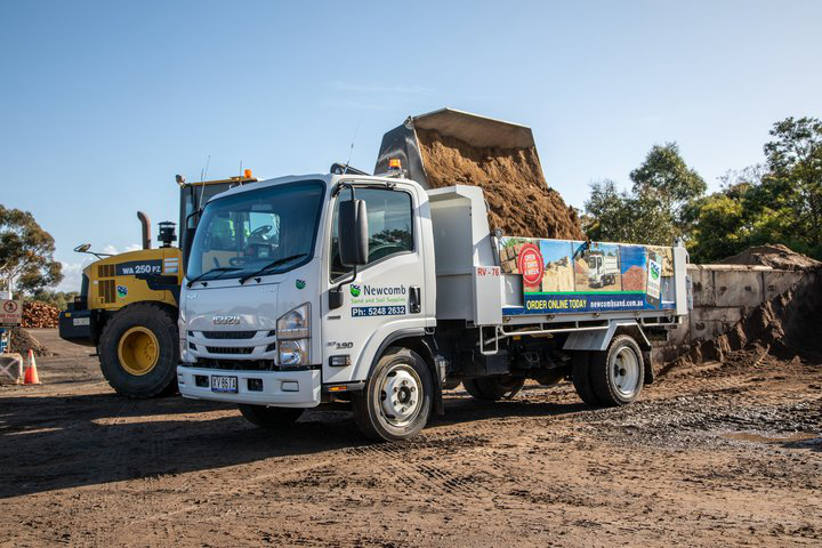 NSS is based at three sites, Moolap, Point Henry and Torquay, enabling them to deliver throughout the Geelong coast, as well as the Bellarine and the Surf Coast regions, and going as far into Werribee and Melbourne.
Some of the business's accomplishments include delivering 3,000 tonnes of turf soil to Geelong Racecourse; 7,000 tonnes of turf sand to the Point Lonsdale golf club; and a whopping 13,000 tonnes of turf sand to Mossfiel Reserve in Hoppers Crossing.
With upward of 80 deliveries needed per day between 1 and 40 tonnes of sand and soil, NSS saw a need to expand their fleet of 11 Isuzus, which spanned from light-duty NLR 275 (NLR 55-150) trucks to medium-duty FVR 950 (FVR 165-300) tippers.
And to meet the increased demand—as well as customers' growing desire for almost instantaneous delivery—David bought a new NQR 87-190 AMT Tipper, with 8,700 kg GVM and 12,200 kg GCM, from Isuzu's pre-bodied Ready-to-Work range.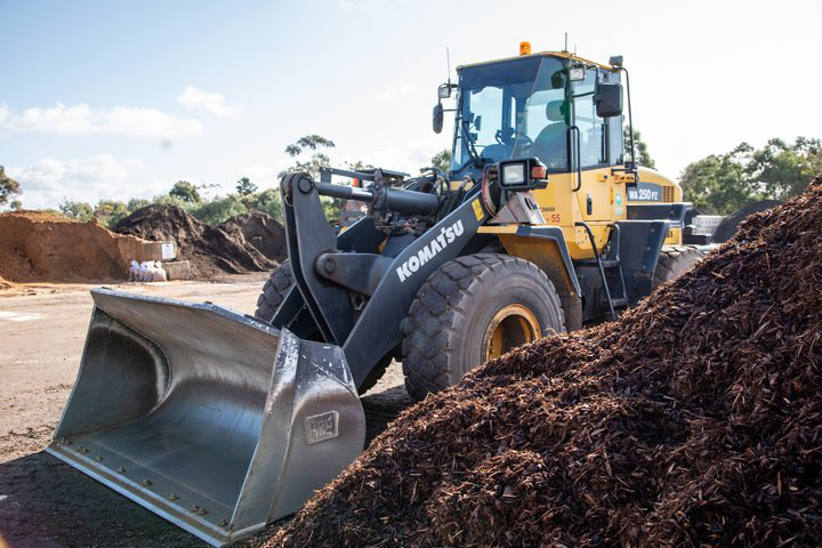 Almost instantaneous delivery?
David explained and said, "The industry is changing. Years ago, the usual was to order materials two or three days in advance. These days, the expectation is same-day delivery, like if you were delivering a pizza. And businesses have to adapt to changing situations and expectations. Now, with coronavirus changing the industry even further, we've remodelled into a mainly online operation."
And the NQR 87-190 AMT Tipper helps NSS with that. The truck is the perfect blend of being fast and nimble enough to get to customers and different job sites quickly and efficiently, and being strong and powerful enough to transport and deliver up to 4 tonnes in rocks, soil or sand—which means the NSS crew can get the goods to their customers promptly and with the least amount of hassle.
For NSS, tight timelines are not the only challenge; hard-to-access sites with minuscule driveways and limited access points, especially in modern day suburbia, can indeed prove testing.
David said, "Houses are not getting any larger; they're getting smaller. For many driveways, you'd be lucky if you could get two cars up them. So most of the time, we've got to go off-road and squeeze through small gaps in fences to get material to where contractors need them.
"And we've found that the NQR AMT Tipper works so perfectly in such situations, being compact and with great manoeuvrability, but without compromising on strength and payload."
At the end of the day for NSS, it's about getting the job done—done right, done well and done efficiently.
And not only does the NQR help the NSS crew get in and out of tight areas, it also helps making going up and down hills easy. With Isuzu's smooth two-pedal automated manual transmission (AMT), combined with 140 kW @ 2,600 rpm and 513 Nm @ 1,600–2,600 rpm, it makes for easy driving for the Newcomb crew.
And for David, there's no worry about his crew being late to jobs or having unnecessary downtime. David knows delays caused by vehicle malfunctions is not something he has to stress about.
"The Isuzu trucks are reliable, and I know because I've had more than 35 years' relationship with Isuzu's trucks," David said. "Every morning when we pre-check them before putting them to work, they just keep starting up."
Their local dealership is Winter and Taylor, and David couldn't be happier with their service personnel.
"If we ever happen to have challenges with a vehicle, I'm more than confident that the guys at Winter and Taylor will help us out pretty much immediately and get the vehicle back on the road in no time."
But besides expert support from their dealership, what keeps the NSS team going, day after day of demanding work?
David said that it's important to him to look after his staff, who collectively drive around 600–1,000 kilometres per week in metropolitan and country areas.
"We go above and beyond to look after our staff and make sure they're comfortable while they're working. This means we put them in good equipment, such as the Isuzus," David said.
Their new NQR 87-190 AMT Tipper is a good example of that. With not only AMT to ease the fatigue of driving in traffic, the NQR Tipper also comes with driver suspension seat, power-assisted recirculating ball steering, Isuzu Electronic Stability Control (IESC), cruise control and cornering lamps, driving in the Isuzu truck is almost like driving a car.
Not only that, but the Isuzu truck cabins are perfect for David and his crew. David said, "There is loads of cab space for the crew and our smaller tools. Including the driver, we can typically fit a total of three people in the standard cabs. The Isuzu cabs fit their purpose. They do what they need to do, and you don't need anything more."
When asked about the biggest thing the NSS business thrives on, which their Isuzu truck fleet helps them achieve, David's answer was simple, but clear.
"Dependability. Simple dependability," David said. "I've been purchasing Isuzu trucks for 35-plus years, and I continually recommend them to others because I genuinely think they're good trucks. And if I didn't think that, we wouldn't be having this conversation right now."