Earlier this year the City of Perth came alive to the roar of competitors participating in the FIA sanctioned Targa West rally. One silent achiever, Gemtek EV Racing, entered the Tesla Model 3 Performance, owned by Jon Edwards and driven by multiple FIA/CAMS event winning husband and wife team Jurgen and Helen Lunsmann.
Covering a distance of over 1000 km in 4 days of racing, the Tesla Model 3 Performance + entered the Challenge Class, for non-roll caged, production cars.
Backing up its win at Targa South West in August in the town of Pemberton, Western Australia, the team won the Targa130 class convincingly ahead of its nearest competitor by over 8 minutes. They even finished 4 minutes faster than the Targa165 class, even though being speed restricted to 130km/h.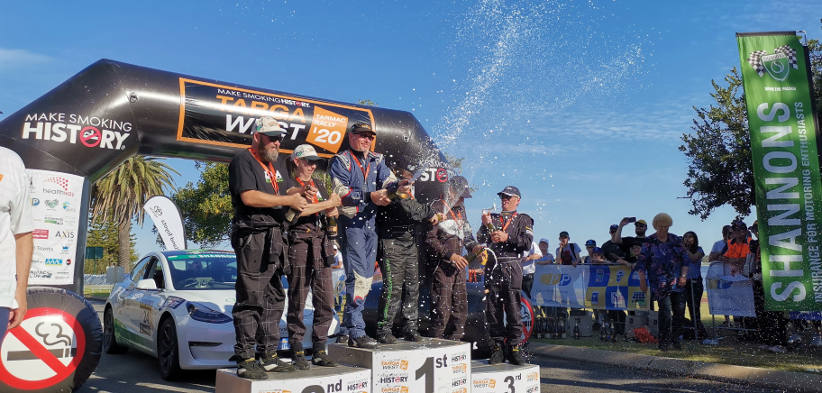 Critical to their success was the custom-built charging systems and strategy which the team have developed together with Perth engineer Jon Edwards for a number of years. Assisted by around 15 dedicated volunteers from the local Tesla and Electric Vehicle community, the team used a number of innovative technologies to ensure that the race car was kept charged above 75% during the 1000km long event.
With support from WA utility Western Power and sponsors including ABB, Schneider Electric, Tritium, the Motor Trade & National Electrical Contractors Associations, McDonalds and others, Gemtek EV Racing have entered Targa West since 2016 in a variety of Electric Vehicles, for R&D purposes as well as engaging the WA motoring community and organisations such as DFES and first responders with EV's.
Becoming the world's first FIA sanctioned Tarmac Rally EV Class winner in 2018 in a Tesla Roadster, Gemtek EV Racing have proven beyond doubt that Electric Vehicles have the capability to not just reduce emissions, but to take it up with the best of them when it comes to performance driving.
To prove this even further, local Tesla owner Nigel Ball placed 2nd in the morning's Targa City Sprintagainst a field of 60 street racers.
The team is now looking forward to complete the 2020 Targa Cup campaign at the Targa Bunbury Sprint in December before looking at other national events and potentially tackling the Modern Competition Class in 2021, by installing a roll cage.