Eleven of Australia's leading road safety programs have been recognised for their efforts setting new road safety and driver excellence benchmarks from an impressive field of 55 finalists.
Presented by Caltex Australia, the winners of the 2016 Australian Road Safety Awards – the only national awards of its kind – were announced at a special gala luncheon in Melbourne last week to coincide with the Formula 1 Grand Prix.
Transmax Pty Ltd, a division of the Queensland Department of Transport and Main Roads & Public Safety Business Agency, took home top honours at the Australian Road Safety Awards for their Emergency Vehicle Priority Project, winning both the State Government category and the prestigious Founder's Award for Outstanding Achievement.
The project demonstrated a significant reduction in travel times for emergency service vehicles across the controlled road network operating in Bundaberg, Sunshine Coast, Gold Coast and Brisbane.
Among the category winners were PCYC's 'Breaking the Cycle' (QLD) for its community program, Safety Sense and Young Driver Safety Concept school-based 'Positive Choices Program' (VIC) while the Kidsafe Australia 'Matt Moran's Unconventional Oven' (VIC) was recognised for its innovative campaign highlighting the dangers of leaving children unattended in hot cars.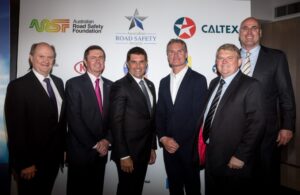 The Indigenous road safety category was awarded to 'Licenced and On the Road' by ACE Community College (NSW), Moreton Bay Regional Council's 'Learn, Drive, Survive' (QLD) received the Local Government award and the GIO 'Motor Vehicle Risk Management Program' in Western New South Wales took out the corporate fleet award.
In addition to seven category awards, three road safety programs were highly commended for their efforts. Winners of the esteemed Encouragement Awards included Sanofi Consumer Healthcare's Road Safety Program, Moreton Bay Regional Council's Safer School Travel Program and Stabilcorp's ShoulderMaster program.
Australian Road Safety Foundation CEO Russell White said the impressive calibre of winners and finalists demonstrated the positive impact organisations, both big and small, were having on their local communities and in some instances, their workforce.
"We started the Awards in 2011 to not only recognise the achievements of life-saving road safety programs, but also to provide a powerful motivational tool for corporate organisations, community groups and individuals to continue to create safe roads and encourage a culture of positive driving behaviour," Mr White said.
"Reducing the number of lives lost on roads can only happen with the concerted and combined efforts of all road users, and we applaud the efforts of all road safety advocates, not just our winners recognised today," Mr White said.
Caltex Executive General Manager Commercial Bruce Rosengarten, said the Awards were an important initiative, celebrating the achievements of those who've championed road safety in Australian communities.
"As Australia's leading fuel supplier, safety is at the core of everything we do at Caltex. We share the roads with our customers, suppliers and neighbours and believe the importance of road safety can not be underestimated," Mr Rosengarten said.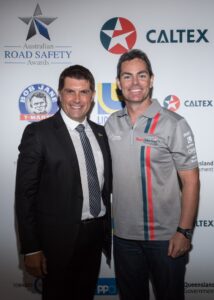 "These awards highlight the progress made in making our roads safer. I hope they encourage others to participate and make even more progress as we strive for safer and incident free roads."
"As an enduring sponsor of the Australian Road Safety Awards, we're proud to help recognise the hard work of those who are making a difference to safety on our roads."
The Australian Road Safety Award winners were announced at a gala luncheon at The Carousel, Albert Park, Melbourne and hosted by Channel Seven's Sports Commentator Mark Beretta. This year, special guest speakers included Formula1 Driver and Grand Prix winner David Coulthard MBE and V8 Supercars Champion and Caltex brand ambassador Craig Lowndes OAM.
To learn more about the 2016 Australian Road Safety Awards visit: www.australianroadsafetyawards.com.au
Please see below for a full list of Australian Road Safety Award Winners:
Community Programs Presented by KIA
Queensland Police-Citizens Youth Welfare Association – PCYC Braking the Cycle Program
School Programs Presented by Bob Jane T-Marts
Safety Sense – Young Driver Safety Concepts Pty Ltd – Positive Choices Program 2015
Innovation Presented by Licensys
Kidsafe Queensland – Matt Moran's Unconventional Oven
Local Government Presented by Transport for NSW
Moreton Bay Regional Council – Learn, Drive, Survive: Drives for Learners in the Moreton Bay Region
Corporate Fleet Programs Presented by TAC
GIO Motor Vehicle Risk Management Pilot at Western New South Wales Local Health District– GIO Motor Vehicle Risk Management Program
Indigenous Road Safety Presented by CALTEX
ACE Community College- Licensed and On the Road
State Government
Transmax Pty Ltd, Department of Transport and Main Roads & Public Safety Business Agency – Emergency Vehicle Priority Project
SPECIAL AWARDS:
Encouragement Awards Presented by Queensland Government
Stabilcorp Pty Ltd – ShoulderMaster – The Future of Road Safety
Sanofi Consumer Healthcare – Sanofi Consumer Healthcare Road Safety Program
Moreton Bay Regional Council – Safer School Travel Program
Founders Award:
Transmax Pty Ltd, Department of Transport and Main Roads & Public Safety Business Agency – Emergency Vehicle Priority Project