– By Marc Sibbald –
I know. This is a strange questions ask. And it's not the opening line to a joke. It was a real 'first world' dilemma that I faced recently when planning a weekend away in Orange.
The trip was planned several months in advance so I organised a Lexus LC500 to drive through the winding back roads of the Blue Mountains. It's a beautiful V8 coupe that is as luxurious on the inside as it's appealing on the outside. A real supermodel. Then four days before I left, Matthew Morrison from Holden rang to let me know he'd organised a Calais V Tourer for me to try. The Calais offered V6 AWD comfort – and a massage function in the driver's seat.
So you can see the problem I faced. Take the supermodel and feel young and alive with the beautiful song of a five litre V8 in my ears as I cruised along the Bells Line of Road. Or, acknowledge that I'm almost 50 and the massage function would be the perfect partner on a four hour drive out to the country.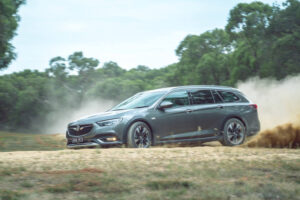 I had three days with the Calais before I picked up the Lexus so I had to decide which car to take. The Calais Tourer is an SUV that isn't raised as high. It sits higher than a Commodore sedan and runs a Continental SUV rated tyre. There's plenty of space in the front and rear plus a proper sized boot. As an AWD V6 the drivability and handling are excellent (similar to the previous model and different to the front wheel drive Commodore sedan or wagon).
My wife was pushing the case for the Holden. It's the only car I've had in the last two years that she's been happy to drive.
I remember the Calais of my youth being the sporty luxury version given to the middle manager as a company car. Something a state or national sales manager would drive and the sales representatives would aim to achieve. The 2019 model Tourer lives true to this memory. Heated leather seats front and rear with every passive and active safety option ticked. Apple CarPlay to manage the entertainment and a terrific sound system that made you forget that it was a wagon.
Each morning I was discussing the pros and cons of each vehicle at the local coffee shop. The baristas are in their early twenties and their cars are more than 15 years old. They were happy to borrow the car I didn't take just to experience the a new car smell for the first time.
Then I picked up the Lexus – decision made.