For Valley Earthworks owner and co-director, Mark Mitchell, making decisions about purchasing vehicles can be distilled down to dollars and cents. What's going to make the most money for the business?
The Northern New South Wales' civil construction firm approaches the trucks they run like any other piece of capital equipment – they're determined to get the best return on investment from the vehicles they put to work.
According to Mark, Valley Earthworks isn't shy about throwing its trucks into some hard yakka. The company has a diverse range of projects underway at any given time – meaning their heavy vehicles are almost never gathering dust in the depot.
"We're a multi-faceted company that does a wide range of civil construction activities, from sub-divisions to carparks to bulk land cut and fill areas," Mark said.
"Part of that is having graders, rollers, bobcats and floats so you can move gear to and from the site. We also do road construction, bulk earthworks, forestry maintenance, marine rock walls and national park roads.
"We have a full range of services, and we've got 60 working bits of equipment to service all the jobs we'll have on the go at any given time.
"From the 60 pieces of equipment we operate, 10 of those are Isuzus – not just the Giga tippers we recently bought but also some single-axle tippers and other vehicles – all of which have been good, reliable and competitively priced," he said.
After adding six Isuzu Giga CXY 455 trucks to the Valley Earthworks stable of machinery in June, Mark said the vehicles were a valuable asset the moment they were out on the road.
The Isuzu edge
"The Gigas were well priced, and their specifications are very reasonable. For similar specs in a lot of other brands you'd need to buy a more expensive truck, so what we were getting for the money worked out – and negotiating to buy six at a time, we were able to get an even better price," Mark said.
The spec advantages came in handy when Valley Earthworks headed out to work on the Grafton jail and Pacific Highway upgrades.
The Gigas were tasked with pulling super dog trailers, which they handled comfortably thanks to their GCM of 57,000 kg and the workhorse 6-cylinder, 24-valve SOHC SiTEC Series II 455 engine.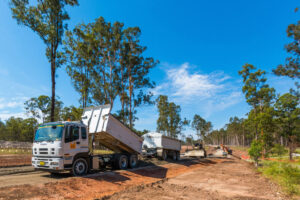 Smooth operator
In Mark's eyes, capital equipment revolves around a simple equation. "If your machinery doesn't work, you don't make money – our trucks have got to be working to make money."
He says reliability is paramount to this – and the new Gigas have proved themselves adept at handling any challenge Valley Earthworks throws their way.
Knowing the company's drivers are going to be able to get on with the job gives Mark additional confidence when tendering for government and council work.
"Everything is very price driven. As you get into more government and council work it does become all about the ability to deliver. You need to know your equipment is up to task.
"And we've been quite successful over the past couple of years in delivering on the service levels we have promised," Mark said.
A shared approach
When he approached his local Isuzu dealer, Northern Rivers Isuzu, Lismore, looking to bolster Valley Earthworks' heavy-duty truck fleet, Mark was glad to find they mirrored his no-nonsense approach to conducting business.
"It was about getting the best deal possible. And the contact we had with the salesmen at the dealership was helpful," Mark said.
"Even when we weren't looking for a new vehicle they were still doing little things that helped us out and just putting the extra yards in."
Mark said that, during the purchase negotiations, dealership staff demonstrated the same work ethic that has been integral to Valley Earthworks' success. Namely, promising quality and meeting deadlines no matter the circumstance.
"Northern Rivers Isuzu, Lismore has been very helpful, particularly with the timelines.
"Everybody in our region's very busy now, there was a lot of equipment that was wiped out when the Lismore floods happened so everyone's after new equipment, but Northern Rivers Isuzu have met the delivery dates for our trucks."
That has allowed Valley Earthworks to stick to their work schedule and put their six new Gigas straight to work, generating income for the business.
Mark said the Gigas were the right fit for Valley Earthworks. So much so, the company is awaiting the delivery of a seventh Giga. In the company director's eyes, they are proving to be an effective and efficient business solution.
"They're well priced and working with a dealer to get a good resale price meant the Gigas were a logical choice for us," Mark said.