– By Henry Bailey – 
In the early nineties Subaru combined a wagon with a 4X4 to create the first generation Subaru Outback. At the time it looked big and awkward with the increased ground clearance compared to the traditional motor car. It didn't take long to become the popular new kid and novated lease buyers loved it.
Crossover vehicles gained some traction as manufacturers and motoring journos tried to describe it to the curious public and Fleet Managers. As the market started to enjoy the higher seating position and all-wheel-drive performance, Sports Utility Vehicle (SUV) was added to lexicon and almost 25 years later it is the biggest new car segment in Australia.
As I jumped into the latest model Outback, launched earlier in 2021, I couldn't help but think of it as a wagon. It's a large vehicle with plenty of room for a family or multiple large dogs. It has the legendary boxer engine which has been redesigned, and the off-road capabilities provided by the Symmetrical All-wheel Drive that attract novated lease buyers to the Subaru range. But it doesn't seem to fit the current SUV mould.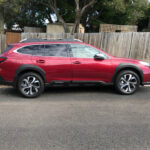 I think it's the roofline and silhouette that suggest wagon rather than SUV. In the VFACTS sales report it's included in the SUV Large segment and outsold the market leading Toyota Prado in March 2021. And Subaru call it an SUV. So I guess it's just me.
Anyway, how does it drive? In one word, beautiful. But this doesn't mean perfect.
We spent one week in the Outback Sport in autumn green with matching interior colours (which did make me like the exterior colour more than I thought I would). And another week in the Outback Touring which provided a higher level of luxury and some nice extras that I missed in the Sport version.
At first the steering felt too light a low speeds; almost jittery between the lanes. My wife made the same comment after her first drive but it was something we got used too after a few trips. The car is actually very stable on the road at low and high speeds. Both models were a joy to drive during the two weeks.
For a novated lease I would spend the extra money for the Touring model. With two regular drivers the dual memory driver's seat and fold in mirrors are little extras that can save a marriage.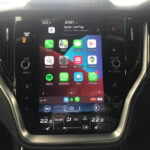 In all Outback models you get the very large 11.6 inch HD screen. It's big and provides a wow factor when you first see it. Subaru has used the screen to replace buttons to create a clean and attractive interior design which I think it achieves. Unfortunately, I found that buttons would have been easier and less distracting when trying to activate some controls.
And replacing buttons didn't seem to be a design criteria for the steering wheel. There were almost too many buttons compared to the current design trend in other new releases. But we think is part of the Subaru DNA – better to be safe with more.
Safety is the central theme of the Subaru Eyesight system found on most models in the range. The first 30 minutes in the Outback took some adjustment. The Eyesight system doesn't just assist you, it's like a partner that's with you on the journey.
The first warning I got was, "Keep your eyes on the road". How? Who? What? Wasn't I looking at the road! How did it know?
Driving a Subaru fitted with the Eyesight system is like waking up to a blaring alarm at 5am instead of a gentle caress to let you know a new day has arrived. And it works. You become more conscious of your driving and other road users.
When considering a large SUV for your novated lease you should definitely consider a Subaru Outback. It has been popular with local government fleets thanks to the five star ANCAP rating and this is why there are many loyal Subaru buyers. I enjoyed driving it and would happily own one.
With a new novated lease you want the car to be practical for your family, so adding some accessories at the start is a great way to wrap them all int... Read more