– By Rod Fuller – 
Years ago I owned a RX-7 and is was a fantastic car. You know one of those cars that made you smile every time you drove it. It was fast, seriously fast with a nice balance and poise that rewarded you when driving it hard.
When I climbed down into the 'cockpit' of Subaru's BRZ and pushed the start button, heard the beautiful burble of the boxer engine, selected first gear, eased the clutch out and disappeared in to the afternoon traffic – memories of the RX came flooding back. And I knew my week in the BRZ was going to be fun!
The BRZ is super sporty and fun to drive. It reminds me of cars that, not only have rewarding performance, but reward you for your performance – as a driver.
What I mean is, if you take it to a track day and you get the most out of yourself, you'll get the most out of the BRZ. The BRZ has serious track day credentials, with ultra-responsive steering and handling, a beautifully balanced chassis and the two litre boxer (152kW 212Nm) engine that just loves to rev. It has a 'track mode' setting for such days and even its own built in stopwatch (so there is no doubt about its intentions). It's a seriously fast car.
Still need convincing? The BRZ's twin sister, the Toyota 86, has its own national racing series on the support card to V8 Supercars.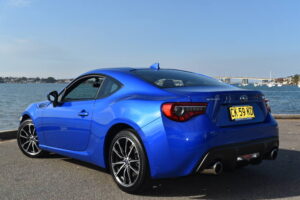 Back out in the real world, where you can't set lap times, the BRZ's performance continues to please. All the traits that make it a good track day car make it an even better sports car. From the cockpit (sorry driver's seat) all the controls are simply placed, functional and within easy reach. The gear shift has a lovely direct short throw and the clutch is well weighted. The niceties (sorry, interior features) haven't been forgotten either, with dual zone climate control, heated front seats, six speaker stereo, Bluetooth, USB connection and a 6.2 inch touchscreen display that doubles as the reverse camera display. Making the BRZ a comfortable daily driver and very easy to live with every day.
The rear seat on this car is next to non-existent, with only room for a small overnight bag or your laptop, I don't think it is meant for human occupancy. School run? Great, if you have only one child. Boot space? Not a lot better, with the spare tyre (a full size 215/45R17 Michelin) taking pride of place and dominating what space there is in the boot. But remember this is a car that you wouldn't consider if you had to ferry four kids about or have to carry large product samples every day for work. It's a car for the driver to enjoy.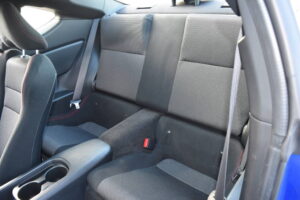 The BRZ has a five star ANCAP safety rating and Vehicle Dynamics Control (VDC) with electronic traction and stability controls as well as electronic brakeforce distribution and assist and ABS. Subaru's excellent "eyesight" system does not feature on the BRZ. Three year unlimited kilometre warranty, three year 60,000km capped price service program, 12 month roadside assist and Data Dot protection will help to manage costs and help secure your driving experience.
While I had the BRZ, I met up with a colleague (who is not a car person) for a coffee. His first comment when he saw the sexy blue coupe, was "Who do you think you are? James Bond?". I had to laugh, as on my way to meet him, I was stuck in traffic next to an Aston Martin! And as the BRZ sits so low on the road, I had to look up to see the Aston! I thought even stuck in traffic the BRZ still made me smile.
The BRZ is a car that is all about the driving experience. It has "Sunday Drive" written all over it. A car that is to be relished and enjoyed either legally on your favourite twisty road or at a track day exploring its potential. It's a car that rewards the driver and just makes you smile each time you drive it.
So when considering your next novated lease. Why not? Make every day a Sunday !
What does it look like as a Novated Lease?
| | |
| --- | --- |
| Make  | Subaru |
| Model | BRZ |
| Variant | |
| Body | Coupe |
| Fuel | Petrol |
| Trans | Manual |
| Performance | 152kw |
| RRP (including GST) | $33,990 |
| On-road Cost | $36,062 |
| Amount Financed | $32,972 |
| Residual Value | $14,837 |
| Monthly Rental | $1,069 |
| Annual Savings with a Novated Lease | $2,629 |
This data is from the 2018 Novated Leasing Guide produced by Fleet Auto News.