The exhibition space at the 2023 AfMA Fleet Conference was packed this year as a record crowd gathered to meet suppliers old and new. Looking around, it seemed liked everything was aimed at fleets looking to buy electric cars, though I found some other interesting things (and people) on display.
I caught Lee Sauerwald, vice president of AfMA, getting a great coffee from the Summit Fleet leasing and Management sponsored cart and asked about the incredible surge in delegate numbers to 700 this year from 450 a year earlier. Sauerwald attributed the increase to several things, including the green revolution happening in fleets across Australia.
"A lot of hard work from the AfMA team; they've been quite smart in approaching the corporates and the suppliers, and looking at innovative ways for them to help bring their customers along and introduce them," explained Sauerwald.
"There's a lot of change happening, a lot of uncertainty. What worked yesterday or today isn't going to work tomorrow, so there's lots of trials going on. People have to get their head around what this means operationally, what does it mean for their employees?"
"Fuelling cars now is about energy and charging and insurance and the more you look at this it's got tentacles and it goes in lots of different places. And they're all the things that we all have to deal with."
"The sands are shifting under our feet, and what we knew is changing and will be different going forward. So there's lots of great discussions and questions. This conference, and the association is all about having opportunities for people to come together and share their learnings, their failings, their concerns, their plans going forward, and it's just a great place to do it."
Pedders
Jason Moody, national fleet and government fleet sales manager at Pedders Suspension and Brakes, said the popularity of their stand at the exhibition highlights fleets' focus on safety and particularly as it relates to payload and management weight of vehicles.
"We have a lot of solutions for that," he said, adding those solutions include special equipment such as onboard scales.  "It's a focus on that OHS issue, chain of responsibility and weight on vehicles. And that's why we're here, to connect with all of our clients and meet new clients that need our support in the industry."
MFI
Stuart Needham is a business development manager at specialist body builder MFI Automotive Group that manufactures in Melbourne and has a network of installers all over Australia.
"We do a whole range of vehicles, anywhere from your dual cab utes, right through to the single cabs, light trucks, medium trucks, and we do a lot of SUVs for a whole range of industries, predominantly for commercial, government, utilities and councils. We also do a lot for emergency services. And that ranges from the vehicle body build right through to any warning system or any mine spec. We can do decals, any safety vehicle signage like this on our own display vehicle."
"We're looking to expand that. And that's part of our reason being here this week, so we can set up a New South Wales location. So we expect that to take place very shortly."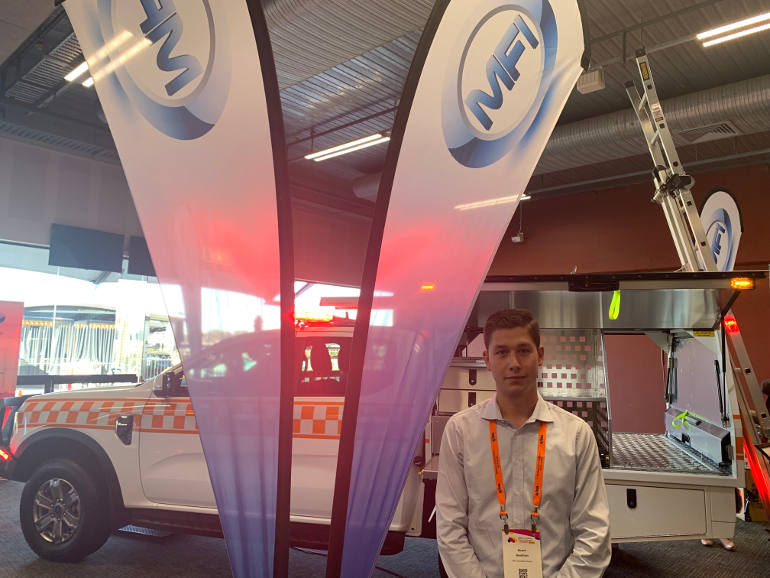 Slattery Eevee
Connor Carroll is business development manager of Slattery's new electric vehicle auction spinoff brand which is establishing itself in the emerging market for second hand EVs.
"We've had it in the works about two years, and we just launched  this week for the purpose of this event," said Connor. "It's slowly growing. We're finding that there's consumers in the market wanting to buy the EVs, but not having to spend the capital upfront. So that's where we come in."
"We're working with local governments — councils and also government organisations whose roll out is shorter.; they want to get EVs in their fleet for maybe two years, and then push them to auction. So they want to spread EVs into the marketplace. We're helping them, and we help the consumer get in."
"It's still early days, but, I think, as the battery life changes, and the technology changes, and that gets better and better, the quality of the vehicles is just going to keep going up and up. It's just going to increase the market as more people are out there looking for them and wanting to buy them."
Slattery is a family-owned business based in Newcastle, north of Sydney. It has offices in every state and territory and works with banks, finance companies, insolvency customers, and fleet management organisations.