The exhibition at the Australasian Fleet Management Association Conference was abuzz this year as a record crowd of 750 delegates gathered in the hall of the Rosehill Gardens venue every break in session to meet and learn from industry and service providers. Fleet News Group's Caroline Falls was there too and talked with a few of them.
Autosafe
Mark Sangster said his family's custom fitout business Autosafe Industries has spread to all major Australian mainland cities — Brisbane, Sydney, Adelaide, Perth and Darwin, from its beginning in Boronia, Melbourne in the 1970s.
"We specialise in making the fitouts as light as we can, particularly keeping in mind electric vehicles. We do commercial fitouts, the shelving, flooring, wall panels, window guards, and we fit a lot of security products and also safety products."
He talked about special window guards, security locks on doors and vapour partitions for drivers carrying gas, chemicals and even laundry products. Sangster said the vans they fit out are for any tradesman, including builders, plumbers and bricklayers, as well as service technicians. He said they also do a lot of work for last-mile delivery fleets, including Amazon and Australia Post.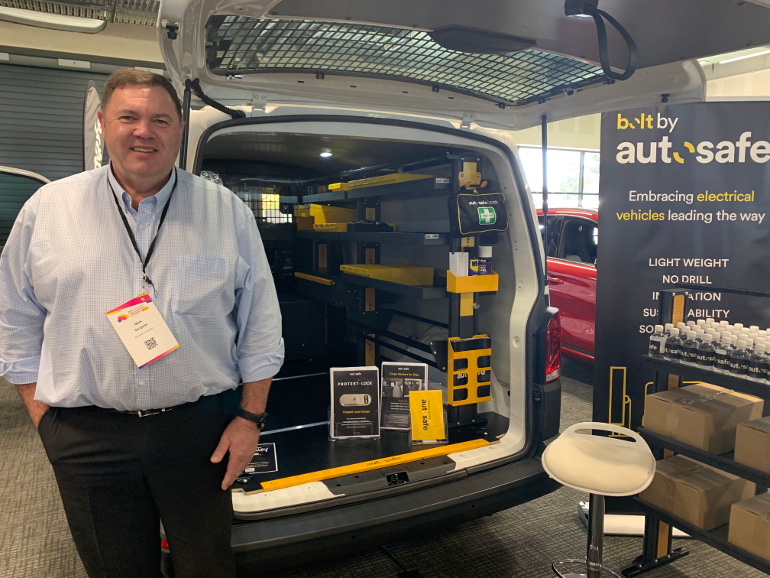 Polestar
Jae Brabender, fleet specialist (wholesale) at Polestar said all the big Australian fleet management organisations have been signed up and set up to issue the Volvo sister brand electric vehicle. "So it's just now sniping all the small ones like here today, it's getting to shake hands with the right people and making sure you meet the smaller FMOs and talk to them about what offers they could potentially have, how many cars they could potentially get on the road and get as many people into the Polestar as possible. Brabender talked about the Polestar's distinctive driving feature where the one-pedal electric drive mode, or regenerative braking, can be turned off so that it operates more like a traditional vehicle with pedals for acceleration and braking. The Polestar is also a standout for its use of recycled materials, including old fishing nets. "It's very clear to say that Polestar have shown that you can be stylish and sustainable at the same time. I think that's what we've achieved here."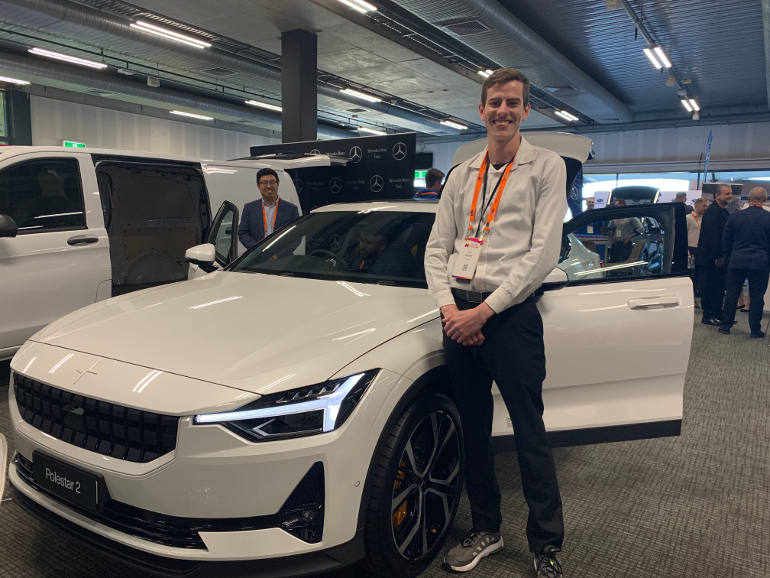 Innovation Group
Assessing manager, Bradley Henniker, explained the specialist works for fleets and also for fleet management organisations.
"We do end-to-end claims, managing the process right the way through even if it goes to an external insurer. We also manage vehicles that are under excess. And we assess them as well. We manage the skews. We look at the costings of the quotes, the accident descriptions and make sure that they're consistent with what they're quoted." We also talked about insuring EVs.
"They are starting to come on. It's just not a huge number of cars. Our repair network have got certification to repair the EVs. The only time that they don't is when they come under the Tesla badge. But every other make and model, our primary network can sort them out and there's non primary repairers that have got the certifications to do the electric vehicles. It's a little bit different because you've got amperage in the vehicles, so you have got to make sure you deactivate them, isolate them."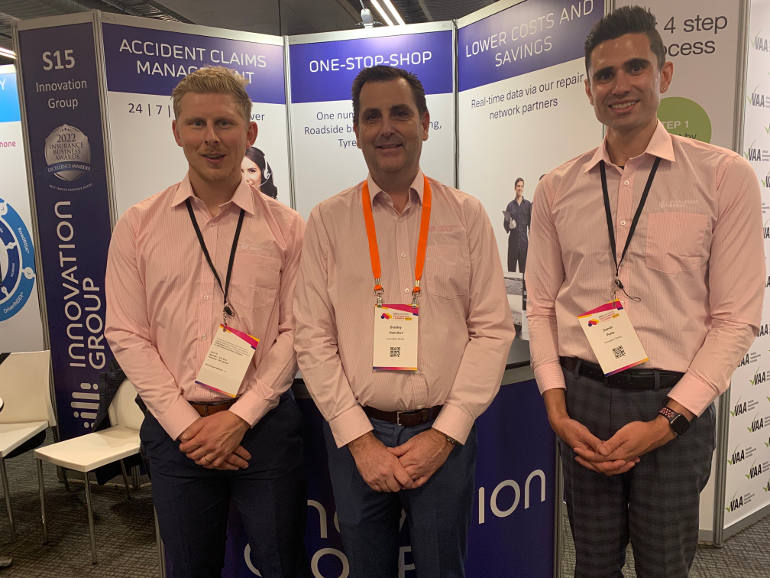 Evie
Paul Fox, chief strategist at Evie Networks, said the company he co-founded is involved in building the national fast charging project, as well as supporting company fleets including that of Hertz.
"Our network is bigger than Tesla's in terms of the number of locations that we have now, and they're all owned and operated by Evie."
Fox said Evie is all over Australia, in every state and territory. "We're able to maintain the reliability of those stations by having good processes, spares, and so forth and we're very proud of that."
Fox commented on the rise of the electric vehicle and its impacts, including at the fleet conference. "Mace Hartley, executive director of the Australasian Fleet Managers Association said electric vehicles are the biggest thing happening in the industry in 100 years. And here's the proof: there are 700 registrants at the fleet conference this year, compared with 450 last year. So people come here hungry for knowledge right? And what they're interested in is electric vehicles. There were 31 sessions on the agenda and 12 of those featured EVs. Of the 66 exhibitors here 26 of them either have an EV on their exhibit or they have some EV related content. It's really dominated the discussion here at the AfMA conference and it's been the biggest conference they've ever had."