If you're looking for fleet management trends or cost savings initiatives post-COVID-19, then look no further than your local cafe or restaurant. Forced to fight for their livelihoods when the government shutdown their businesses to stop the spread of the virus, many pivoted to takeaway and home delivery services. And they found a saviour in telematics.
On the last day of April HERE Technologies launched a free delivery app for SMEs that allowed to them to access complex route planning algorithms to streamline their home delivery services. And by chance for Sydney cafe owner Robert Reid from Casual Mondays, one of his customers worked at HERE and asked him to trial the app before the launch.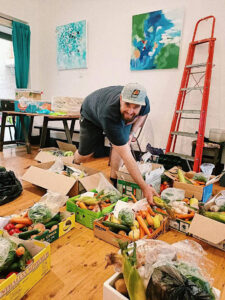 Reid saw the restrictions coming based on overseas reports and started to advertise frozen meals to his customers and introduced new products like fruit, vegetables and milk. Using social media Reid and his partner put the word out to their networks and found themselves with delivery requests from Parramatta to the North Shore which was a challenge for a business based in Balmain.
The demand increased as word got out and the team at Casual Mondays found themselves spending more time planning the deliveries than actually making them.
"As demand increased, manually mapping and planning the run was really hard and time consuming" says Reid.
"Before using the app, we were manually copying and sorting every delivery in our new grocery home delivery service. Since using HERE WeGo Deliver the admin involved for loading and organising our deliveries decreased significantly! From what took over two hours, now takes only 15 minutes.
The simplicity of exporting the orders from our online store straight to the mapping software has made the move to a delivery service so much easier for our business. The technology provides me an alternative solution to save on third party costs, and more time to focus on other business priorities that ensures I can get our meals out to more customers each delivery day."
Reid said the team at HERE listened to his feedback during the trial and were making changes based on his feedback so the app would work for other cafe and restaurant businesses that were trying to do everything themselves.
Daniel Antonello, Head of Oceania at HERE Technologies commented; "The message from Australian business owners is pretty clear – while they know delivery is likely to be a lifeline for them in coming months, they'd prefer to manage this themselves and use their own employees to sustain it. That approach could see more Australians keeping their jobs and ensure more of the local businesses we love can still exist when this is behind us."