– By Gerard Norsa – 
Nissan has been on a winner with its X-TRAIL sports utility vehicles (SUVs) tallying over 150,000 sales since launching the car in 2001. And the latest model is no exception as it consistently lands in the top three in sales figures for its category.
There are still many people who question why SUVs have become so popular in Australia but after road-testing Nissan's well-appointed new 2.5 litre petrol 4WD X-TRAIL Ti option, I would contend they are a great choice as a family car.
When matched to the tax benefits that are available to employees under novated lease it would be easy for fleet managers to steer colleagues towards the Nissan because while some of its category rivals are struggling to meet customer demand, Nissan dealers are well-stocked so buyers don't have to wait for delivery.
My road test vehicle was fitted with all of the options and proved to be a very good fit for my family. During my week in the car I covered 840 kilometres on various road surfaces in the four seasons of weather you can only get in Melbourne.
On a road trip through regional Victoria we were comfortable and entertained while having no difficulty in fitting in all of our luggage. I particularly appreciated the lane-breach and blind-spot warning systems while also wondering how any SUV driver could do without a reversing camera.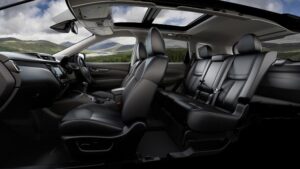 No kangaroos or wombats crossed my path so I didn't get a call from the Moving Object Detection system but I did see the rain-sensing, speed-sensitive, variable intermittent front windscreen wipers in action during precipitation that varied from drizzle to "start building an ark".
I managed to achieve a fuel economy of around 8.5 litres per 100 km (manufacturer claims 7.9L/100km) which I thought was pretty good considering most of the driving was with a full load. A 60-litre capacity fuel tank (using recommended 91RON unleaded fuel) enabled me to get to my destination and back (500 plus kilometres) without refuelling at inflated country prices.
Driving the car was a pleasure and with the 2.5 litre engine rated at 126kW of power and 226Nm of torque it had no trouble with the load.
Keyless entry and ignition is standard and automatic hatch controls add efficiency to accessing rear storage while the rear leg room was a pleasant surprise even with my long lower limbs requiring the driver's seat to be set back to its limit.
All of the cruise control and sound system adjustments are easily thumb-managed without looking through the steering wheel mounted switches, while ample drink and bottle holders are well situated with the front holders incorporating heat and cooling controls.
Digital radio is a bonus and added to the vast array of audio options including USB access for device usage and recharging.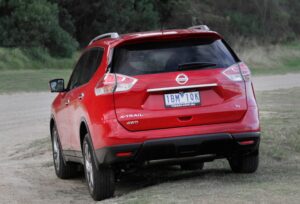 In the five seat configuration (you can also choose a larger seven-seat version), X-TRAIL boasts ample room for driver/passenger comfort and payload for luggage or recreational equipment. There-in lies the explanation for why SUVs have become such a lucrative cash-cow for automotive manufacturers.
All X-TRAIL models come with the myNissan Service Certainty package that locks-in service costs for three years as well as a three-year/100,000 kms Warranty and 24-Hour Roadside Assistance Program.
If I was a fleet manager advising personnel within my organisation on their SUV choice under novated leasing programs, I would have no hesitation in recommending Nissan's X-TRAIL as an affordable and practical choice in a crowded market-place.