Kia Australia has once again worked through the constraints posed by COVID to ensure the EV6, its most exciting model ever, is as well-matched to Australian roads as possible.  
As with the recently launched all-new Sportage, the highly anticipated EV6 – Kia's first dedicated BEV – has been subjected to Kia Australia's rigorous Ride and Handling Program, and Kia is sharing a behind-the-scenes glimpse into its recent testing around regional Victoria. 
For Kia's Chief Operating Officer, Damien Meredith, persevering with the program which has once again been challenged by COVID, reinforces Kia's commitment to an activity which is now somewhat expected by Australian car buyers.
"Kia Australia's local tuning program is an important process for our product range and once again, despite the constraints thrown our way by COVID, our local product team and Graeme Gambold, along with our colleagues in Namyang, have worked together to customise a product to best suit Australian roads and driving styles." said Mr Meredith.
"The last twelve months has been a very exciting time for Kia in Australia with a wide range of new products arriving including Stonic our first light SUV, the latest generation of our well known and much-loved Carnival, another first with our entry into the domain of green vehicles with the introduction of the Niro range and most recently, all-new Sportage which really is a package capable of taking the medium SUV segment by storm.
"The next twelve months will be even more electrifying and please excuse the pun! With the imminent arrival of our first EV6 variants, Sorento Hybrid, next-generation Niro and the much talked about performance EV6 GT variant, Kia will well and truly be making its mark on the electric vehicle offering available in Australia."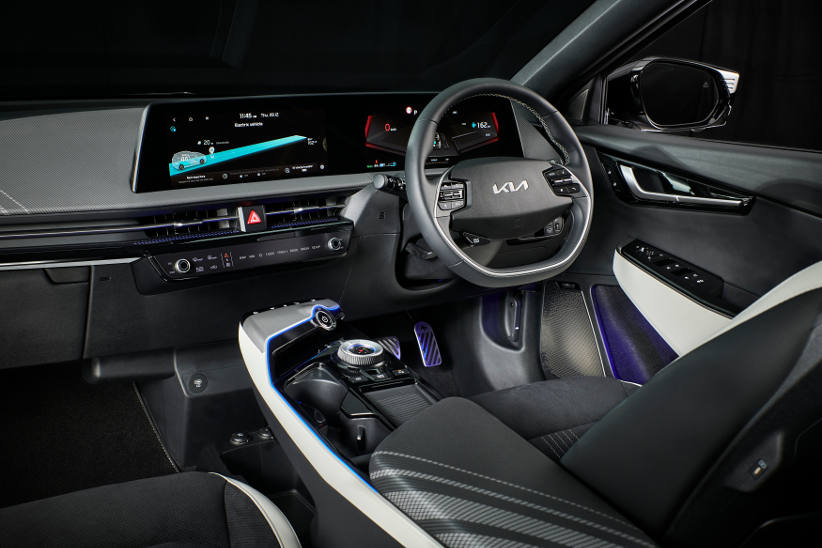 Kia Australia's Ride and Handling Engineer, Graeme Gambold, who has localised the ride of over 50 Kia models during the last 10 years, came away astonished by the performance of the EV6.
"I just love driving the Kia EV6, it's a car that just wants corners. It is so engaging and so rewarding to drive. Great car. Best car Kia has ever made!"
"Personally, as a chassis dynamist, I think the biggest part of that enjoyment is the width of the battery in the car. A typical ICE vehicle has an engine and a drivetrain that has a high centre of gravity but it's all in the centre of the vehicle therefore it works like a moment in roll. But with a dedicated BEV, it has a big flat battery in it, so it has to lift the energy on the inside to actually upset the car, creating a very flat roll dynamic.  This makes the EV6 feel very light, nimble and responsive.
"One of the things we are always tuning for in Australia is large body movements on country roads at 100kms per hour and that is always manifested with a high centre of gravity roll dynamic in conventional cars. Electric cars don't have as much of that, they have a lot of vertical movement, because of the weight but they don't have the lateral roll, so we can use that as a bit of a tuning tool." Graeme explained.
General Manager of Product at Kia Australia, Roland Rivero, is very proud of Kia Australia's commitment to its Local Ride & Handling Program.
"Our local tuning program is part of our DNA and a key component to Kia's success in Australia. We've aimed to inject a fun-to-drive character in our products, but most importantly give drivers the feeling of control and confidence when driving a Kia in a variety of conditions." said Rivero.
"I believe it's now an expectation when car buyers are considering Kia products that this has been done and so, despite the unprecedented circumstances of COVID-19, we didn't give up on the program and particularly not for our new brand halo, the EV6.
"It certainly helped that we've been on this journey with Namyang's Ride and Handling Teams for a long time and we also have an established relationship with the team in ZF Sachs. They have travelled to Australia so many times in the past and have a thorough understanding of our local conditions, so during lockdown our history with them was vital, as it made the process of tuning via correspondence achievable.  Otherwise, if it was a case of sight unseen, the process of conveying our desired compressions and rebound forces would be difficult for them to understand, particularly as our tune is unlike any other region." he added.
The EV6 is the first dedicated Battery Electric Vehicle (BEV) produced by Kia using the all-new Electric-Global Modular Platform (E-GMP) and forms the first part of Kia's transition to the new era of electrification under the new brand slogan, 'Movement that inspires'. 
EV6 is the first of 11 new BEV models due from Kia arriving by 2026 with seven built on E-GMP architecture and four derivative EVs based on existing models.
Kia has freshly stunned onlookers at the AutoMobility LA with the reveal of the next addition to its new-generation EV lineup with the all-electric SUV concept, the Concept EV9.
Along with the EV6, the Concept EV9 represents the brand's recent leadership in designing and developing desirable, high-tech, zero-emissions vehicles and recently set out its vision to become a truly sustainable, responsible, and innovative mobility solutions leader, announcing a commitment to achieve carbon neutrality by 2045.
Local interest in the EV6 is unmatched, with the expressions of interest tally exceeding all previous Kia models before it and equally shared between existing and new Kia customers. 
Around 500 units of the EV6 (in base and GT-Line trims) have been earmarked for Australia during 2022 and like all Kia models, the allocation will be staggered throughout the year. Kia Australia is in continuous dialogue with head office about this number with hopes of increasing it.
EV6 will be sold through the Kia dealer network and a fair allocation will be worked out. Over 90% of the Kia dealer network is currently set up to sell and service EV6.
The EV6 will initially be introduced in Australia with the long-range (77.4 kWh) high-voltage battery pack only and offered in two grades; base in rear-wheel drive only (RWD) and GT-Line with RWD or all-wheel drive (AWD) options – the latter offering enhanced dynamic capability in even the most challenging conditions.
The performance 'GT' version of the EV6 with follow in late 2022 or early 2023.
Further details on local specifications for the EV6 will be announced during the Australian Open 2022, of which the Kia brand has been a major partner for the past 20 years, with the official launch of Kia's EV6 base and GT-Line scheduled for later in quarter one.