Isuzu has wrapped-up another strong showing at the 2016 Australasian Fire and Emergency Services Authorities Council (AFAC) conference and exhibition. This year's event in Brisbane on 30th August and 1st September saw Isuzu Trucks join forces with the Isuzu Engines team to deliver the largest and most comprehensive exhibit to date.
Isuzu's long association with AFAC has gone from strength-to-strength in recent years, particularly off the back of the growing reputation of Isuzu's off-highway offering within the emergency services sector.
Taking pride of place on the Brisbane stand this year was a landmark prototype Isuzu FTS 139-260 4×4, equipped by Bell Environmental with a four cylinder, direct injection 4LE2PW10 water-cooled ancillary engine and coupled with a GAAM MK 300 pumpset.
Generating plenty of interest in Brisbane, the prototype is the outcome of a unique collaboration with Isuzu and Bell Environmental, who specialise in emergency services safety equipment and custom engineered solutions.
IAL's Engines Manager, Dean Whitford, said working in tandem with Bell on the FTS project was an excellent learning experience and continues to position Isuzu's off-highway offering favourably within the emergency sector.
"Our association with Bell Environmental on this project is the result of a lot of hard work behind the scenes in continuing to  reveal exactly what our product range is capable of," Mr Whitford said.
"The annual AFAC event and exhibit is arguably the most important date on our calendar in terms of showcasing the range, and we've seen a solid take-up across this sector in recent times. It's been really encouraging to see."
Isuzu's FTS 139-260 4×4 Crew has enjoyed an illustrious history as a proven firefighting platform, but the prototype vehicle took on a slightly different shape at AFAC, sporting a custom-built safety cabin with rear access that's able to withstand a roll or burn-over.
The AFAC FTS 4×4 also comes equipped with a compressed air foam system (CAFs), the second Isuzu prototype vehicle to feature this cutting-edge fire suppression technology.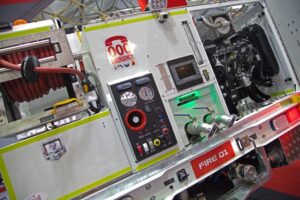 IAL National Fleet Sales Manager, Les Spaltman, said the FTS prototype stands as an industry first, and one that has tongues wagging in what remains an extremely competitive market.
"At IAL we've worked hard in recent times to continue to diversify and improve our Special Purpose range and especially those proven models such as our NPS 75/45-155 4×4 and of course the larger FTS 4×4," said Mr Spaltman.
"The AFAC prototype has a re-rated GVM of 14.2 tonne, up from 13.9, which essentially equates to greater load capacity. And when you're fighting wildfire, any advantage, whatever shape it may take, is always welcome.
"We've enjoyed a mutually beneficial association with the emergency services sector over the years, and we've taken on their feedback.
"We'll continue to respond to the needs of the industry, and we'll continue to deliver the sort of reliability and dependability our customers have come to expect and indeed demand."