Most suppliers haven't been able to visit customers locally or interstate since the start of the pandemic. So when the 2022 IPWEA Fleet Conference was announced, they jumped at the chance to attend and setup a display in the exhibition hall.
Caroline Falls from Fleet Auto News was in attendance and found out why they love this event.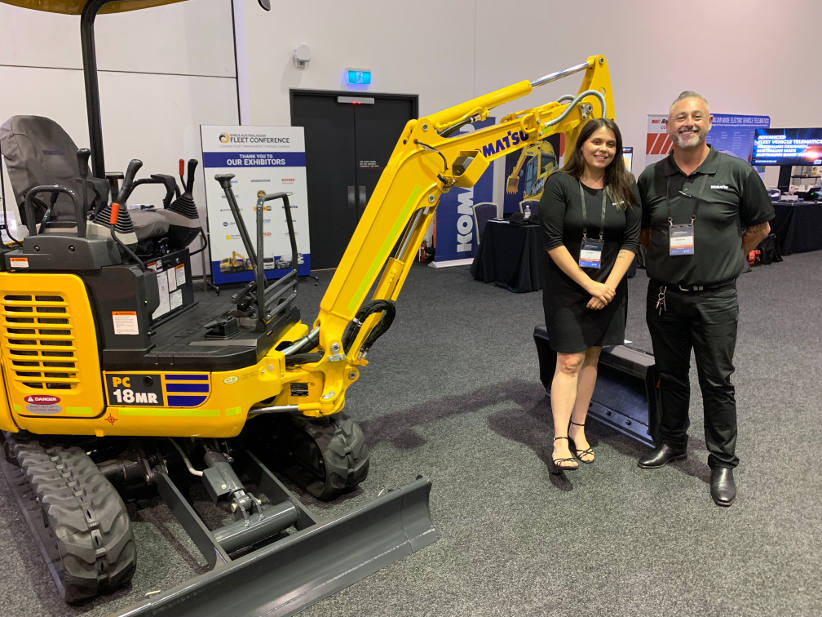 At the Komatsu booth, from left to right, is Jorden Worthington, account manager for central Qld, and Matthew Watton, sales manager, northern region Qld. They are in front of a mini hydraulic excavator, or digger, model EC18 MR-3.
Komatsu have been a longtime sponsor of the IPWEA Fleet conference. "It's the industry we are in," said Matthew, adding, "We support local government so it's beneficial for us to be involved and we get some really good buy-in from local governments around the country."
Meanwhile, delegates were looking forward to visiting Komatsu's new Innovation Hub at the end of the speakers' program. The hub is in Wacol, adjacent to Komatsu's new Distribution Centre southwest of Brisbane city. The  DC and Innovation Hub has taken over two years to build and it was opened this year to coincide with Komatsu's 100-year anniversary.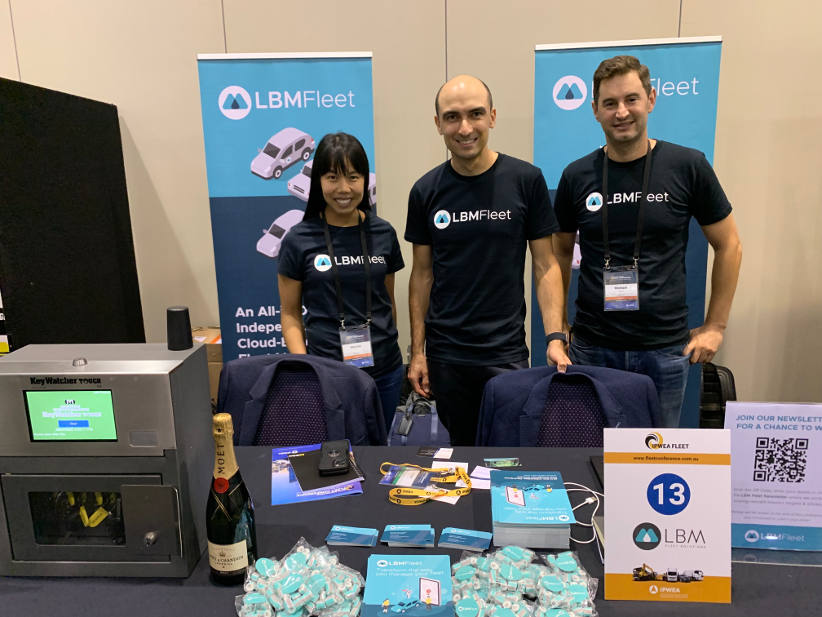 At the LBM Fleet Solutions' exhibit from left to right are Melissa Quah, head of customer solutions, Gerard McLennan, founder and CEO, and Michael Hasten, chief commercial officer.
This was LBM's first time exhibiting at the IPWEA fleet conference. Why? "Because we want to show what we do," said Gerard. "We have councils and state government among our clients."
LBM also has banks and ASX listed companies as clients. McLennan founded LBM in 2013 as LogbookMe. "It was founded as a log book. I got carried away. What we are trying to do is basically build technologies off the shelf so you can get the results relatively easily. At the moment no-one's getting results because it's too hard, because you're looking at 50 pieces of data and you have to do all the manual work. We're just like software as a service."
It's not strictly telematics, nor strictly fleet management, it's in between, explained Gerard. "We are adding value to that middle section. It's about fleet optimisation."
For example, a fleet may have 60 vehicles. LBM software will analyse the fleet data, all the vehicle movements, and show the organisation really only needs 42 vehicles, saving a lot of money.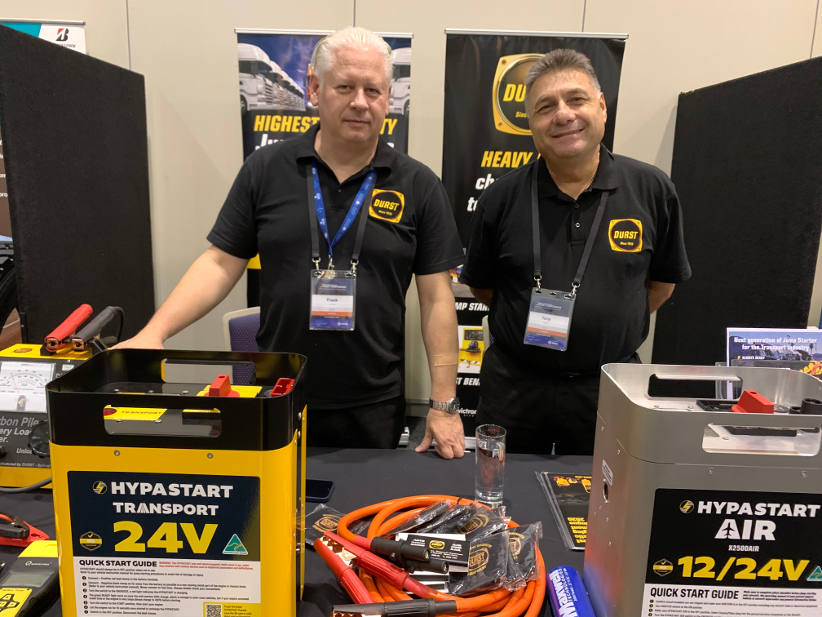 At the Durst Industries booth are, left to right, Frank Luksic, technical sales and product developer, and Tony Forte, channel sales manager.
Durst Industries is named after a Swiss engineer John Durst who started the Durst Electric Motor Co in Australia in 1918. Today, the Sydney-headquartered group, sells its products worldwide.
Products include jump starters, battery chargers, and diagnostic equipment. Durst also provides service, repairs and spare parts.
Durst has been exhibiting at the IPWEA fleet conference for several years. "We deal with a lot of councils with our products and fleet is right up our alley," said Frank. "Normally we would deal via the phone or email so being here gives us the opportunity to see our customers face to face, to put a face to a name."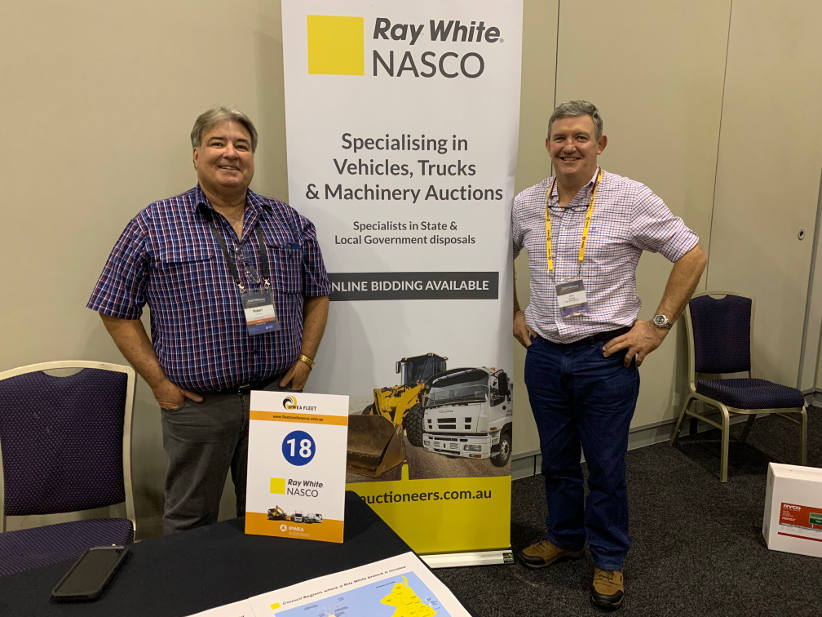 At the Ray White Nasco booth were, Robert Webster (left), national business manager, and Jim Mitchell, general manager.

Nasco, a vehicle disposal and auction group, teamed up with Ray White rural franchise a couple of years ago to offer clearance sales on vehicles, trucks and equipment when rural properties are sold.
"We still do all our local council and government business as well," said Robert, adding, "In Queensland we would do the majority of local councils."
He said they were at the IPWEA exhibition to network with their vendors, particularly from the local government sector. Webster said leasing companies and finance companies are also among key market sectors for them.