The next phase for the Genesis brand in Australia has commenced with the arrival of an all-new luxury SUV. The GV80 shrugs off the old family ties with an eye catching style that you would expect from a flagship model.
"Now that Genesis is established in Australia as a maker of high-quality luxury cars, we are delighted to introduce the brand's first SUV in the form of the all-new GV80," said CEO of Genesis Motors Australia, Jun Heo.
"With the benefit of the Genesis-To-You concierge service and our all-inclusive ownership experience, the stylish and highly equipped GV80 SUV treats our customers to unprecedented luxury," he said.
FAN was at the media launch in Canberra during the first days of November and the level of luxury and performance made an impression on the team. We'll publish our drive impressions on the locally tuned suspension and luxury feel soon. In the meantime, here's the full specifications and marketing spiel from the Genesis team.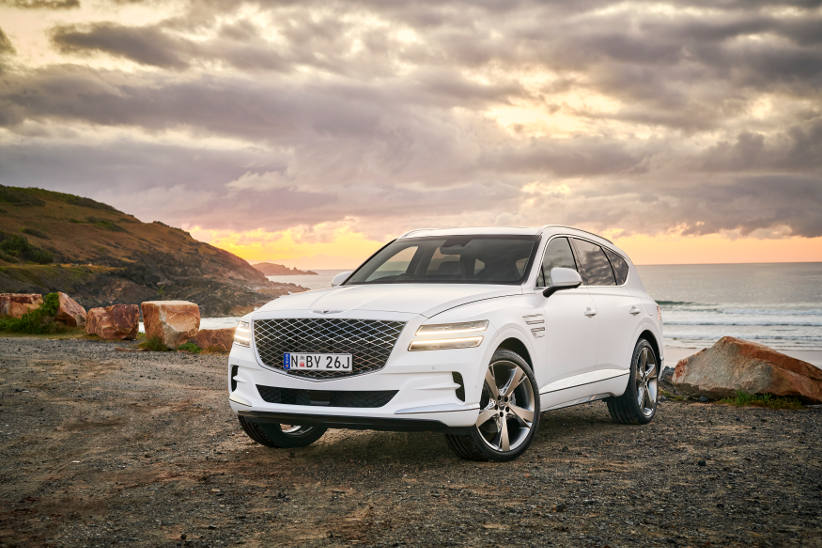 GV80 MODEL RANGE
The Genesis GV80 is offered in four variants, with three powertrains, rear-wheel drive and all-wheel drive, five or seven seats, and an optional Luxury Package.
GV80 2.5T opens the range, featuring an all-new 2.5-litre 4-cylinder turbo petrol engine (224kW & 422Nm), 8-speed automatic transmission and rear-wheel drive.
Standard luxury appointments include a mood-lit cabin with leather and real wood-finished trim, a 14.5-inch HD touchscreen multimedia interface, panoramic sunroof, 20-inch alloy wheels and a power-operated tailgate.
In addition, there are 10 airbags and the Genesis Active Safety Control suite of technologies, including multi-function Forward Collision-Avoidance Assist (FCA), Driver Attention Warning (DAW), Blind-Spot Collision Avoidance-Assist (BCA), Smart Cruise Control (SCC) with Stop & Go and Machine Learning functions, and a Surround View Monitor (SVM) with 3D function.
GV80 2.5T AWD pairs the petrol turbo with all-wheel drive, and inside the cabin brings a third row to take seating capacity to seven. GV80 3.0D AWD introduces the refined all-new straight six turbo diesel engine boasting 204kW and a generous 588Nm. The flagship GV80 3.5T AWD is headlined by the all-new, powerhouse 3.5-litre turbo petrol V6 producing 279kW and 530Nm.
The seven-seater 3.0D AWD and 3.5T AWD deliver the enhanced ride and refinement of Road Preview Genesis Adaptive Control Suspension (GACS), and heightened dynamic capability, courtesy of an electro-mechanical limited slip differential (e-LSD) and 22-inch alloy wheels wrapped in bespoke Genesis 265/40 Michelin tyres.
A Luxury Package is offered on each of the four variants and brings features such as Nappa leather trim, a 12.3-inch full screen instrument cluster, three-zone climate control, soft close doors, 18-way power adjustable driver's seat with Ergo Motion massage function, heated and ventilated 2ndrow seats.
AUSTRALIAN TUNED CHASSIS
The Australian chassis tune for all-new GV80 was "one of the most comprehensive ride and handling programs we've put cars through," said Genesis Product Planning & Development Specialist, Tim Rodgers.
As part of a programme that lasted more than six months, Genesis engineering in Australia was "heavily involved early on, particularly with the dampers," he said.
"We spent time in Korea for the first portion with very early prototypes and then completed the rest of the tuning in Australia. Ride and handling engineers from headquarters in Korea were embedded with us locally to finalise the tune."
GV80's all-new platform and the complexity of the Road Preview Genesis Active Control Suspension in upper GV80 variants gave the development team new challenges, along with the scope to develop a highly dynamically-capable SUV.
"It involved a lot of people and a lot of time," Rodgers said. "We tuned the hydraulic damping in the same manner as we do for every model, and then there was the electronic portion. Finally, there was the Road Preview tune, which we developed in collaboration with an entirely separate team of engineers who flew in to Sydney from HQ."
"We benchmarked our key competitors, but in doing so we didn't really want to create something that was a facsimile of them. We wanted a vehicle that was not only highly capable, but distinctive in character."
"We've honed in on giving GV80 the character we like all of our vehicles to have –supreme comfort along with surprising dynamic ability. And with the platform and technology made available to us, we've been able to dial that right up, to an extent we've not seen previously with our local tuning programme."
GV80 has a distinctly sporty side, but not at the expense of comfort or refinement.
"You can put these GV80s in sport mode and just drive them all the time. It was extremely important that sport mode is not tiring."
"We didn't want a superficial sportiness where sport mode is definitely harder, but equally is not realistic or useful on most of our roads. You never want to get out of the vehicle and feel exhausted as a result of harsh, hard or noisy characteristics. We think we have done a good job in bypassing the potential fatigue of such setups, while still creating an engaging and sporty drive."
With this focus, the team of Australian and Korean engineers polished GV80 by spending a large proportion of the development time on challenging gravel roads, as well as on the bumpiest and harshest of bitumen B-roads.
"We believe GV80 feels at home across the broad spectrum of Australian conditions," said Rodgers.
DRIVING TECHNOLOGY
All-Wheel Drive (with E-LSD in six-cylinder variants)
GV80's all-wheel drive system provides stable driving performance on slippery or rough roads. Six-cylinder variants adopt an electro-mechanical limited-slip differential (E-LSD) that optimally apportions torque between the rear wheels according to the conditions.
As well as enhancing dynamic on-road performance the E-LSD allows GV80 to apply power and drive away in extreme off-road situations, such as when a diagonally opposite front and rear wheel are not touching the ground.
Road Preview Genesis Adaptive Control Suspension (GACS)
Road Preview Electronic Control Suspension comes standard on six-cylinder variants, it uses GV80's front camera to detect speed bumps or potholes and then controls damping force to optimise ride comfort and minimise impact.
Drive Mode and Multi-Terrain Mode systems
GV80's Drive Mode system provides user-selectable settings to suit a range of on-road driving conditions and styles.
GV80 also features a Multi-Terrain Mode system that offers a range of settings suitable for various off-road driving situations, according to the driver's preference and the prevailing conditions.
The system variously applies integrated control to the AWD system, E_LSD, engine, transmission and brakes to realise optimum performance when driving on sand, mud, snow or rocks.
Visual confirmation of mode selection is provided via pop-up graphics on the cluster and AVN screen.
Integrated Electric Booster (IEB)
An Integrated Electric Booster (IEB) is utilised in GV80 in place of a conventional vacuum brake booster system.
The unit brings a range of benefits, including the ability to provide rapid braking performance and feel without pedal vibration, easy integration with automatic brake control for performing ADAS / autonomous driving functions, and robust failsafe performance.
BODY STRUCTURE
GV80's body structure is rigid and safe, through the employment of advanced materials, technology and design and manufacturing techniques in its all-new platform. With cabin compartment safety as the top priority, engineers developed a body structure of the utmost rigidity.
As well as providing a high level of crashworthiness, GV80's strong structure underpins its dynamic on-road handling and off-road driving capability. Body average tensile strength is maximised through the extensive use of advanced high tensile strength steel.
In addition, GV80 features 23 body components manufactured using the hot-stamping process, which increases the ultra-high strength properties of the material by rapid cooling after high-temperature moulding.
Weight savings are achieved through the use of aluminium doors, bonnet and tailgate. Structural rigidity around the sunroof opening is optimised through the development of an integrated ring-reinforcement structure with all-round hemming.
Improved passenger compartment side protection is achieved using an enlarged, integral side reinforcement component around the front and a section of the rear door apertures.
GV80 achieves a highly competitive coefficient of drag of 0.33 through a range of aerodynamic enhancement measures. These include front wheel air curtains and an active air flap, a rear spoiler and side garnish, and the application of undercovers for the front and rear wheels, engine compartment, transmission and centre floor, as well as front and rear wheel deflectors.
NVH-reduction measures in GV80 include improved sound absorbing and insulating for the front bulkhead, cabin underfloor, and rear wheel arches and quarter panels. In addition, GV80 incorporates the latest design of NVH-reducing engine mounts, optimised windscreen and front door glass sealing, and tyre-noise-reducing in-wheel resonators.
POWERTRAINS
A potent and efficient 2.5-litre turbocharged engine produces 224kW and 422Nm in range-opening petrol GV80 variants, teamed with an eight-speed torque converter automatic transmission and a choice of rear- or all-wheel drive.
A dual fuel-injection system (port and direct injection) provides the optimal injection strategy according to the driving conditions and balances robust torque production with fuel use. The 2.5-litre four-cylinder achieves 9.8L/100km on the official combined cycle and powers GV80 from rest to 100km/h in 6.9 seconds.
A split cooling system optimises coolant flow to the cylinder head and engine block to reduce frictional losses as well as knock tendency.
Diesel GV80 is powered by an all-new 3.0-litre turbocharged engine that produces 204kW and 588Nm, paired with an eight-speed automatic and all-wheel drive. The 3.0-litre in-line six-cylinder uses 8.8L/100km on the official combined cycle and powers GV80 from rest to 100km/h in 6.8 seconds.
A variable geometry ball-bearing turbocharger improves boost response through reduced friction (compared with a journal bearing turbocharger).
The flagship GV80 features an all-new powerhouse 3.5-litre turbocharged engine producing 279kW and 530Nm, backed by an eight-speed automatic and all-wheel drive.
A water-to-air intercooler provides improved throttle response compared with an air-to-air unit by shortening the intake air path. The twin-turbo V6 adopts a centre-mounted GDi injector layout to the benefit of both fuel economy and combustion stability. It uses 11.7L/100km on the official combined cycle and powers GV80 from rest to 100km/h in 5.5 seconds.
The range-standard in-house developed eight-speed automatic transmission contributes to GV80's low NVH through the adoption of a Centrifugal Pendulum Absorber (CPA) that acts in the reverse direction of the engine rotation to offset torsional vibration.
The torque converter unit features a wide gear ratio span for improved fuel economy as well as acceleration, and features paddle-shifter control for sporty driving.
SAFETY
GV80's highly rigid body structure cocoons occupants with the safety of 10 airbags, including a pioneering centre side airbag, which prevents or reduces injuries caused by head clashes between front occupants in the event of a side collision.
In addition to possessing superb passive safety, every GV80 features an extensive standard suite of advanced Genesis Active Safety Control technologies.
GENESIS ACTIVE SAFETY CONTROL
Blind-Spot Collision Avoidance-Assist – Rear/Side (BCA-R/S)
The BCA-R/S system uses the windshield-mounted camera to monitor GV80's positioning within the lane, as well as radar sensors on either side of the rear bumper to detect vehicles next to and diagonally behind GV80.
If a vehicle is present in the GV80's blind spot, BCA-R/S displays an alert in the exterior mirrors and the Head-Up Display (HUD). If the driver activates the corresponding turn signal lights, a flashing warning is provided and an alert is sounded.
The system also scans for vehicles approaching rapidly from the rear, and uses the same warning measures to alert the driver of vehicles approaching at a high speed, which may soon enter GV80's blind spot. In each instance, if the GV80's driver does not initiate preventative action BCA-R/S will apply differential braking to prevent or reduce the severity of a potential collision.
Blind-Spot View Monitor
The innovative Blind-Spot View Monitor gives the driver a video image of blind-spot zones when GV80's indicators are activated.
Driver Attention Warning (DAW) including Leading Vehicle Departure Alert
The Driver Attention Warning (DAW) system uses the windshield-mounted camera to continually monitor the GV80's position within the lane, whilst also tracking steering inputs, brake pedal inputs, and elapsed driving time.
Should the system detect careless driving (such as sudden steering/braking inputs and/or the inability to keep within a lane), the 'Attention Level' display in the instrument cluster will be progressively engaged. Should the level decrease below a pre-set threshold, the DAW system will recommend that the driver takes a break.
The system features Leading Vehicle Departure Alert, which monitors the vehicle ahead when GV80 is stopped in traffic. If the vehicle drives off, and the GV80 driver fails to accelerate away, the system will sound a chime to alert the driver.
Forward Collision-Avoidance Assist-Car/Pedestrian (FCA-Car/Ped/Cyc w/ JT/JC, LO/LS & ESA)
The Forward Collision-Avoidance Assist-Car/Pedestrian/Cyclist system, when active, utilises the front radar sensor and windshield-mounted camera to detect and monitor vehicles, pedestrians and cyclists in front of GV80.
If a potential collision is detected, the system's Forward Collision Warning (FCW) function will sound a warning chime and display a warning in the instrument cluster or Head-Up Display (HUD).
Where driver intervention is not detected after a FCW system warning, the FCA system will automatically apply the vehicle's brakes and/or engage Evasive Steering Assist to avoid or reduce the severity of a potential collision.
In addition, the FCA-JT/JC function detects oncoming vehicles in an adjacent lane when preparing to make a right turn at a junction, as well as vehicles in a perpendicular lane when preparing to cross an intersection and, in the event a collision appears likely, applies the brakes to stop GV80.
The FCA-LO/LS function assists through corrective steering input in the event a collision appears likely with oncoming vehicles in an adjacent lane or, in lane-change and lane-departure situations, vehicles approaching in the same direction in an adjacent lane.
High Beam Assist (HBA)
Using the windshield-mounted camera, the High Beam Assist (HBA) system scans the road ahead, monitoring for street lights as well as any other lights, including headlights of oncoming vehicles as well as taillights of vehicles ahead. Upon detection the system automatically adjusts headlight range, switching between high and low beam.
Lane Keeping Assist – Line/Road-Edge (LKA-L/R)
Lane Keeping Assist (LKA-L/R) uses the windshield-mounted camera to detect lane markings and/or the edge of the road and monitor the vehicle's position in the lane.
Should the vehicle stray from the intended lane without the turn signals being activated, a visual alert will be issued in the instrument cluster and Head-Up Display (HUD), along with a haptic (steering vibration) alert. LKA-L/R is momentarily deactivated whenever the turn signals or hazard lights are active.
Lane Following Assist
Lane Following Assist helps keep GV80 centred in a lane by detecting lane markers as well as the position of vehicles ahead, and adding minor steering adjustments as required.
Multi-Collision Brake (MCB)
The Multi-Collision Brake system operates to prevent or reduce the severity of a secondary collision. The system is activated after the airbags have deployed and, where brake or accelerator pedal input is not detected, applies the brakes to bring GV80 safely to a stop.
Pre-active Seat Belt (PSB) – front seats
Providing further occupant protection, the Pre-Active Seat Belt (PSB) system works in tandem with other active safety technologies to detect collision risks.
Events such as rapid brake application, aggressive change of direction or activation of the FCA system, will trigger PSB to tighten both driver and front passenger seat belts, limiting longitudinal and lateral movement for maximum safety. For further convenience, the PSB system will take up any slack in the belt if required, after it is fastened.
Rear Cross-Traffic Collision Avoidance-Assist (RCCA)
The Rear Cross-Traffic Collision Avoidance-Assist (RCCA) system monitors for traffic approaching on either side of the vehicle when reversing out of perpendicular parking spaces, using the rear view camera and rear ultrasonic sensors. Should RCCA detect a vehicle approaching, a warning will be displayed in the instrument cluster and a beep will sound. If the risk of collision increases even after the warning, braking will be initiated automatically.
Rear Occupant Alert (ROA)
The Rear Occupant Alert system monitors the rear seats using an ultrasonic sensor to detect the movements of the rear occupants. ROA reminds drivers to check the rear seats when exiting the vehicle and, if the system detects movement in the rear seats after the driver has left the vehicle it will sound the horn.
Safe Exit Assist (SEA)
The Safe Exit Assist (SEA) system monitors the vehicle's surroundings and provides warnings to improve the safety of occupants exiting the vehicle. SEA utilises radar sensors on either side of the rear bumper to detect vehicles approaching from the rear, and is active when the vehicle is stopped.
If one of GV80's doors is opened while an approaching vehicle is detected, the system will sound an alert and display a warning in the instrument cluster. The system also prevents the rear doors from opening if the driver unlocks the electronic child safety lock, to let the rear occupants out, when the car has detected an approaching car.
Smart Cruise Control with Machine Learning (SCC w/ ML)
Smart Cruise Control automatically maintains a safe following distance during cruise control driving, by using the front radar sensor to monitor the speed and distance of vehicles ahead. The Stop & Go function works in stop/start traffic, bringing the vehicle to a complete stop when appropriate, and automatically (if within three seconds) accelerating it back up to the original set speed.
If the vehicle is stationary for more than three seconds, SCC will prompt the driver to continue the Smart Cruise Control conditions by pressing the steering wheel resume switch, or by depressing the accelerator pedal. In addition, Machine-Learning (ML) technology is incorporated to provide comfortable operation of the SCC system by mimicking the driver's acceleration and following-distance tendencies.
Surround View Monitor (SVM) with 3D surround view function
The Surround View Monitor (SVM) system provides a 360° view of the vehicle and any potential obstacles, utilising a pantoscopic camera at each side of the vehicle and a state-of-the-art system algorithm.
The SVM system allows the driver to select from top, front, rear, side and a new adjustable 3D surround viewing mode, where the driver can rotate the view of a 3D rendering of the vehicle and nearby objects, all designed to maximise confidence during low-speed manoeuvres.
When reversing, dynamic guidelines are displayed on the screen to help the driver steer GV80 into tight spaces. The SVM system automatically operates when reversing and can be conveniently switched on during low-speed driving.
COMFORT, CONVENIENCE & CONNECTIVITY
12-inch Head Up Display (HUD)
Vehicle information is projected onto the front windshield within a 12-inch image featuring optimised (10,000cd/m2) brightness for excellent daytime visibility.
14.5-inch HD touch screen display
A 14.5-inch high-resolution (2560×720) LCD touch-screen system provides a user-friendly interface with near-cinematic quality.
The unit incorporates a state-of-the-art wide Graphic User Interface (GUI) that allows users to zoom in and out of the touchscreen, and a split-screen function that can present various displays in a user-customisable format. Key functionalities include the ability to create personalised profiles, customise the home screen, and connect multiple devices via Bluetooth.
Navigation with Augmented Reality (AR) function & Live Traffic updates
Augmented reality technology displays three-dimensional road guidance information, as well as warnings associated with Navigation and ADAS.
Genesis Integrated Controller with handwriting recognition
GV80's console-mounted Genesis Integrated Controller gives front occupants an intuitive and luxurious way to access the various vehicle functions.
The concave centre of the GIC functions as a handwriting recognition touchpad, offering an easy-to-use alternative to keypad selection.
Apple CarPlay / Google Android Auto compatibility
Apple CarPlay® and Android Auto™ connectivity features in every GV80, for the seamless connection and operation of smartphones.
21-speaker, 1050W Lexicon® by HARMAN audio system
A total of 21 Lexicon speakers, with Quantum Logic surround technology, render exceptional sound quality in the GV80. Sounds are rearranged using frequency analysis to replicate the rich, stereophonic experience of a concert hall.
Wireless mobile phone charging system (Qi standard)
Wireless charging allows occupants to charge a compatible Qi-enabled smartphone without the use of a cable. An audible alert is issued if a smartphone is left behind.
Intelligent Front-Lighting System (IFS)
The Intelligent Front-lighting System in GV80 Luxury Package allows the continuous use of the high-beam headlights without risk of dazzling the occupants of vehicles in front, by utilising LEDs with individually controlled dimming. These headlights 'paint' oncoming vehicles with a blackout zone to automatically reduce glare for oncoming drivers while maintaining full beam visibility on the road ahead.
12.3-inch full screen Instrument Cluster with 3D function
A world-first 12.3-inch stereoscopic cluster headlines in GV80 Luxury Package versions, featuring the ability to recognise drivers' eyes and present various driving information in three dimensions.
Road-Noise Active Noise Control (RANC)
GV80 Luxury Package versions are equipped with RANC, a world-first noise-cancellation technology. The system uses an acceleration sensor to monitor road vibrations, which are rapidly analysed (in as little as 0.002sec) by the RANC controller. The unit then uses a Digital Signal Processor to generate a noise-cancelling inverted soundwave.
The RANC system can provide separate, tailored noise-cancelling for the driver's seat, the passenger seat, and the rear seats.
Smart Parking Assist (SPA)
When manoeuvring into and out of tight parking spaces, the Smart Parking Assist system in GV80 Luxury provides automated steering, accelerator and gear-shift control to reduce driver effort.
Remote Smart Parking Assist (RSPA) via Smart Key
An extension of Smart Parking Assist, RSPA provides Smart Key control for parking manoeuvres for users standing outside of the vehicle.
Intelligent seating
Genesis GV80 features 12-way driver and front passenger seats with a 4-way lumbar support function and a driver position memory system. The Luxury Package adds to this with 18-way power adjustment for the driver's seat and an Ergo Motion massage function.
The seats incorporate air-cells in the cushion and backrests, which allows a world-first stretch mode through control of the air-cells, as well as providing enhanced side support in connection with Drive Mode or vehicle speed.
Heated and ventilated seats
Heated and ventilated front seats are standard in GV80, joined in Luxury Package versions by a heated steering wheel and heated and ventilated second-row seats. The seat-heating elements can rapidly warm the seat in cold conditions and the ventilation function blows a stream of cool air through the perforations in the leather.
Power rear seats
The GV80 Luxury Package brings power adjustable second-row seats and, in AWD variants, power adjustable third-row seats, to ensure convenience and luxury for rear occupants.
Power door latch
Soft-close power door latches provide for the easy and refined closing of doors in GV80 Luxury package variants.
Sound-reducing acoustic glass
An acoustic laminated glass windscreen and front door glass is standard in GV80, to isolate occupants from wind and road noise.
Panorama glass sunroof
A dual-panel panorama glass sunroof is standard in every GV80 and features a power operated tilt and slide front panel for open-air driving, along with a powered sun-shade.
Rear window sun-shades
Every GV80 features rear door retractable sun-shades, to provide privacy and further heat and glare protection for rear passengers. Luxury Package versions add power operation.
EXTERIOR DESIGN
GV80's unique design identity is developed via dramatic shapes created through the paradoxical contrast between athletic and elegance.
At the front, a high-set, Genesis emblem-inspired crest grille with G-matrix pattern is flanked by slim, technical quad headlights.
GV80's confident image is reinforced by a bold bonnet volume and tough bumper designed to maximise emotional impression.
At the rear, quad taillights and clean forms emphasise GV80's broad, sporty stance and reinforce the Genesis design identity.
The upper rear styling is designed to create a clean and luxurious feel while the lower treatment develops a sophisticated style through the placement of functional elements along with a classy lettering in place of the traditional Genesis wing logo.
A crest-shaped exhaust trim is integrated into the lower bumper for petrol variants to impart a high-performance look, while diesel variants feature a clean, hidden-type exhaust treatment.
In profile GV80 exhibits perfect RWD proportions, which are emphasised by a strong beltline, dynamic and elegant 'Parabolic Line' side graphic, hockey stick-shaped DLO and sleek roofline.
GV80s attractive form is enhanced by chrome trims for gloss body finishes, and matte chrome trims complement matte body finishes.
Detailing such as a dual-line fender side garnish with side repeater function develop a precise and high-tech image, while stylish body-coloured wheel-arch garnishes create a balancing robust impression.
Flag-type exterior mirrors provide excellent visibility as well as complementing GV80's rugged image. GV80's confident and stable proportions are underlined by attractive 20- and 22-inch alloy wheels.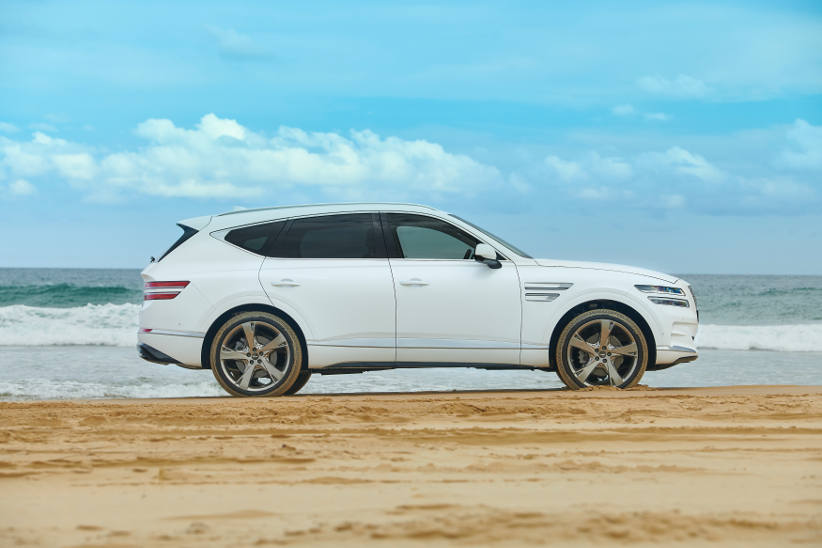 INTERIOR
GV80's cabin carefully balances function with tranquility by drawing inspiration from a Korean architectural philosophy that emphasises 'the beauty of white space'.
The dashboard design creates a spacious mood through a horizontal motif that is seamlessly integrated from door trim to door trim through the line of the crashpad, which features a slim horizontal air vent design.
High-quality premium leather finishes – including G-Matrix quilted Nappa leather in the optional Luxury Package – and real wood trims create a luxurious feel in GV80's cabin.
The technological headliners are a 14.5-inch Genesis infotainment system touchscreen multimedia unit, 12.3-inch Genesis 3D cluster (Luxury package) and 12.0-inch Head-Up Display (HUD).
In addition, an ergonomically designed Genesis Integrated Controller provides intuitive control for the various vehicle functionalities.
The classy, jewellery-inspired integrated controller and electronic Shift-by-Wire (SBW) dial complement control buttons on the stylish Genesis exclusive steering wheel to place control within easy reach of the driver.
Garnish-integrated ambient mood lighting brings a luxurious mood by applying indirect soft lighting to the crash pad, door trim, and SBW dial, with a user-selectable choice of 64 colours.
One-touch air conditioning control via the AVN gives front occupants convenient and high-tech control of the three-zone climate control and first- and second-row heated and ventilated seat function.
The AVN also allows convenient second- row seat adjustment, as well as remote folding of the second and third row seatbacks and headrests. The 40/20/40 folding second row delivers a first-class experience with powered slide, tilt and recline functions as well as a one-touch relax mode, with a 50/50 folding third row behind, designed to maximise cabin utility.
Occupant visibility is also enhanced through design features such as relatively slim A-pillars and specially shaped windscreen upper corners.
Similarly, the tailgate glass upper corners are shaped to increase rear visibility, and second- and third-row side glass are designed to give rear occupants an open feel and excellent forward visibility.
COLOURS & UPHOLSTERY
Complementing GV80's striking aesthetics are a range of premium paint finishes.
These include the gloss Uyuni White, Vik Black, Savile and Gold Coast Silvers, and Himalayan Grey, as well as Adriatic Blue, Lima Red and Cardiff Green. And three matte shades – Melbourne Grey, Brunswick Green and Matterhorn White. Inside, there are five leather upholstery colour combinations – four of these featuring contrasting upper and lower areas – matched with Birch, Metallic Ash, Olive Ash and Black Ash open pore wood trims.
The two-tone combinations include Urban Brown on Vanilla Beige, Ultramarine Blue on Dune Beige and Maroon Brown on Smoky Green. There are also Obsidian Black on Vanilla Beige and the single-tone Obsidian Black.