– By Marc Sibbald – 
In August last year I attended a briefing at Kia HQ in Sydney to learn about the co-creation project between Kia and Fujitsu to develop an integrated vehicle experience that would flex the digital muscles of the state and federal police agencies in Australia and around the globe.
A simple concept though as I listened to the challenges they faced, plus the cost and time already invested in this project that was still years away from becoming a reality, I was in awe of the team pushing through the barriers of analogue thinking to get them this far.
The ideas they had blew my mind so the article didn't get written because I couldn't get the words down in a way that would make sense. Several other articles came out about the project so I put the notes in a folder for later. So I guess now, it's later.
Fujitsu and Kia are trying to solve a problem that consumers don't see. In the last decade User Experience Engineers have developed smart technology front ends (called GUIs in the noughties) to hide the ugly legacy systems from different suppliers that make up the technology architecture of many large organisations.
The reality is these systems are clunky behind the scenes and Fujitsu is trying to make them work together for the police force while adding technology from automotive manufacturers as an extra layer of complexity.
A police car today isn't a safe workplace despite the manufacturers making them meet the five star ANCAP standards. Once each state agency adds all the equipment required to enforce the law, the vehicle dynamics change because of the extra weight and the cabin becomes full of hard, sharp objects that are dangerous weapons in a collision.
Starting a current model police car sounds exhausting. There are three different computer systems, each with a different user id and password, to log into without using a full-size keyboard. So if they stop for fuel, lunch or a toilet break they need to login again. Apparently police are familiar with this process and just do it. But its not very efficient.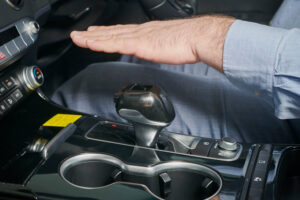 So the first thing Fujitsu have re-engineered is the gear selector. They have added a sensor that acts as a palm reader so officers can login into the different systems quickly. This makes starting the vehicle a 30 second task rather than 20 minutes which is referred to as a 'force multiplier'.
The biometric scanner looks though the skin to identify blood flow through the veins. Each one of us has an individual vain pathway and it's a system used in Brazil to access ATMs. It's the perfect way to avoid fraud. If you cut of the hand; no blood flow, no vain to read; car doesn't start.
Potential savings from using this technology are enormous. Only if a technology partner can bridge the gap between the vehicle technology (which is designed in isolation to business processes) and organisational IT systems to reduce downtime, increase efficiency and eliminate cyberattacks.
Another future development (which has already been promoted by Hollywood) is to combine vehicle sensors and cameras with AI software to monitor the surroundings while officers are outside of the vehicle. Changes in crowd behaviour, or facial recognition of suspects, could identify potentially dangerous situations and warn officers so they have time to react.
With no current supply contracts for this technology, Kia and Fujitsu are definitely playing a long game which will be interesting to watch during this decade of tremendous change for the fleet industry.