As the COVID restrictions were easing across NSW, Conroy Motorsport were able to book a test day at Sydney Motorsport Park for a new driver, 20-year-old Reece Chapman, to get used to the front wheel drive Hankook and DBA sponsored Kia turbo.
Conroy Motorsport team owner Terry Conroy said he was really impressed with Chapman's first hit out in the car because he posted some fast and consistent lap times.
"It's great to be back at Sydney Motorsport Park after the recent isolation," says Conroy. "I'm hoping to see racing and track days get back to normal in the second half of 2020 and then some fast racing in 2021 with a full calendar."
The team will compete at the Bathurst Six Hour which was postponed in April and will now be held on 13th-15thNovember 2020.
In a six hour race you need three drivers. For Conroy Motorsport they will be Daniel Daquino, Alan Letcer and Reece Chapman. Daquino had the chance to test the car before the COVID lockdown. And Letcer is an experienced front wheel driver racer based in Perth.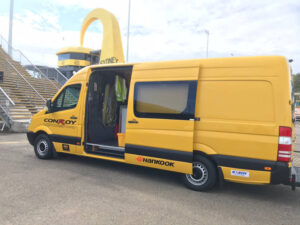 Conroy is excited about having a mix of young and old drivers to tackle the mountain for a seventh time with a production car. After three years in a Honda the team switched to the Kia turbo and have had great success in their class.
After the first session Chapman was excited about his first experience in a race car with the power coming from the front end.
"Being front wheel drive it's more technical to drive than the rear drive Aussie race car." said Chapman. "You notice it most in the corners but once you get used to it on a flowing track like this, the oversteer on the rear makes cornering really exciting."