Macquarie Telecom, part of Macquarie Telecom Group (ASX: MAQ), has signed a new deal with Australian interstate vehicle transport service Carways to supply mobile, voice, SD-WAN and business NBN data services.
The solution has improved safety for drivers by increasing the uptime of network services while also enabling Carways to develop a new application to simplify tasks such as receiving jobs, inspecting vehicles and obtaining customer signatures. The company has also cut its telecommunications bill by around 30 per cent since making the switch from Telstra.
Carways is a family-owned vehicle transport operator with a fleet covering Queensland, NSW, the ACT, Victoria and SA. The company started with just two trucks almost 50 years ago and continues to expand its business. It decided to switch from its outdated and complex Telstra network to improve safety, reduce costs and futureproof its business.
"I'd dealt with the large telcos for a number of years and you don't get the same level of commitment. The customer service Macquarie is providing – particularly in its mobile division – has completely revitalised our network and innovative drive," said Patrick Kashani, IT Manager, Carways.
"We were suffering from regular network outages, which could potentially leave drivers unable to contact us in an emergency, a particular concern for drivers working overnight. Since the switch to Macquarie, we've had zero outages across our network."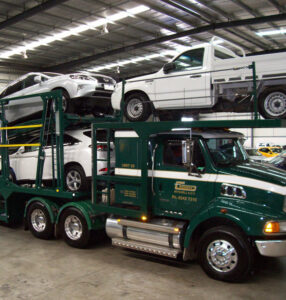 The solution from Macquarie Telecom will also help Carways better manage fatigue management, a huge issue in the industry and one compounded by the fact that each state has different regulation for hours drivers can spend on the road, the number of breaks required, etc.
"Currently, there is no effective application that monitors drivers' fatigue management as they travel interstate," added Kashani. "But we expect this to change soon, and we needed to ensure we had the right network in place to support this kind of application."
Macquarie's solution has also encouraged and enabled the company to develop its own mobile application to simplify and automate processes. For example, drivers can now use the app to electronically receive jobs, survey vehicles and receive confirmation of delivery signatures.
Further, Carways has actively been promoting Macquarie's services to its suppliers and sub-contractors, as the company has identified it can achieve further savings in its partner contracts if both parties have better coverage and are on the same network configuration.
The data services being provided by Macquarie Telecom include its business class nbn services and mixed carrier networks to suit specific site requirements. This will transition to a full nbn network as NBN Co's rollout continues.
"Carways is unfortunately yet another Australian company being abandoned by a tier one telco," said Luke Clifton, Group Executive, Macquarie Telecom. "Left with a complex, outdated network, unnecessarily high costs, poor customer service and other issues such as complex billing, the company was put in a position where its drivers' safety could be compromised and innovation stifled.
"We've worked closely with Carways to develop a network that aligns to its needs, ensuring drivers are supported, cutting unnecessary costs and futureproofing the company's business to deliver the services its customers, suppliers and sub-contractors need."