– By Rod Fuller – 
Ford's introduction last year of an upgraded Ranger is really paying dividends with over 18,000 units sold in the first half of this year, helping Ford Australia to the best sales growth of any vehicle brand over the same period. And after driving the new 'Smarter' Ranger I can see why.
I drove the base XL model and apart from good old rough and ready vinyl floor and steel wheels for the government and fleet markets, there was nothing base about it.
It's a practical, comfortable and incredibly well appointed vehicle. The Sync 2 system is standard across the range and is simple to use, with voice control of your phone and stereo functions, meaning you can keep your hands on the wheel where they belong.
The 12V outlets abound and even a 240V outlet in the rear as well. So no one's laptop, phone or iPad will run out of power again. All the vehicle's controls are easy to reach and the instruments are attractively illuminated at night. I especially liked the A/C Max function – one click you're in Antarctica!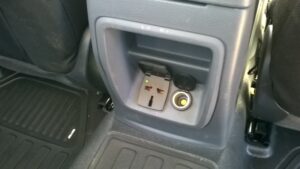 The new front end design combines subtle elements of aggression, toughness and style which gives it a very strong and unmistakable presence. I feel it's the best looking vehicle in its class available today.
However, form is nothing without function and the practical touches provided by the Ranger are numerous. Inside the cab there's cup holders galore, console compartments, door pockets and even under seat compartments!
But the simplest and smartest feature you can only see at night. The high mount stoplight above the rear window, doubles as a cargo lamp for the load area. And it turns on, every time you unlock the vehicle as part of the 'lights on' feature – smart!
You sit up high and comfortably driving a Ranger (thanks to a drivers lumbar support), with excellent forward visibility and plenty of room for five adults. Ranger now has electric power steering and it feels very light, making parking easier, yet provides plenty of steering feel.
On the road it's the most comfortable riding truck both on and off road when compared to the Nissan, Toyota, Mitsubishi and Mazda equivalents I have driven recently.
The 3.2 litre (147kw /470nm) five cylinder turbo diesel coupled with the six speed auto cruised effortlessly on the open road, is very spirited, and has more than enough power to tackle any off-road challenge or towing up to 3.5 tonnes. Fuel economy is listed as a respectable 8.8 litres/100km combined, but I can testify to having personally exceeded 800km on a tank.
It is quite a high vehicle there's a climb to get into and out as there are no side steps as standard on this model which would make life a bit easier. But with mining, forestry and other off-road fleets as target customers I understand why they're an optional extra.
What I don't understand however, is why a reversing camera is not standard on such a large vehicle with such limited rearward visibility. Seriously, if Hyundai can put one in an i30, and Ford themselves can put one as standard across the entire Falcon range, why are they only optional in the Ranger?
Ford advertise this vehicle as the 'Smarter' Ranger, well it certainly is more powerful than the Nissan, more comfortable than the Toyota, more advanced than the Mazda. Not to mention better looking than all of them. Ford Ranger MKII…….Ranger ON!!