With so many demands on our time in this modern world, it's often the simplest life lessons that begin to fall by the wayside.
It's fair to say nutritional education is one such issue that's had less of the limelight in recent times, trumped by the workings of tablet devices, snapchat or navigating the Netflix menu.
Alarmingly, many of our children are completely unaware of what foods are healthy and which to avoid. According to the Australian Bureau of Statistics' 2018 National Health Survey, almost one quarter (24.9 per cent) of children aged 5-17 years were overweight or obese in 2017-18.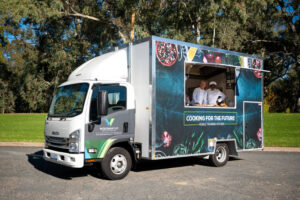 This trend is exasperated in our rural regions too. But all is not lost – enter the team at Wodonga TAFE, in northern Victoria. Led by the Cookery Department's Sarah Whitling, the team now regularly sets out in their brand-new Isuzu NPR 55-155 Mobile Training Kitchen to surrounding rural hamlets such as Rutherglen and Tallangatta amongst others.
On arrival, they meet with local students and set up the 'on-wheels,' fully-functioning kitchen, demonstrating and teaching valuable hands-on lessons in nutrition and cooking – all skills the students cannot learn by swiping a touch screen.
It's demanding but highly rewarding work, and a challenge the Cookery staff at Wodonga TAFE relish in.
The idea is to build not only nutritional knowledge but also help supply highly skilled and knowledgeable workers into the cookery, hospitality and catering industries. Indeed, Wodonga TAFE prides itself on bridging the gap between education and the real world. So when opportunity came knocking in the shape of a government grant, the team took their ideas to the drawing board, literally, and began designing a mobile learning kitchen based on the tried and tested Isuzu NPR 55-155 platform.
The grant was a success and so the next step was to book a meeting with General Sales Manager, Richard Telfer at Blacklocks Isuzu, to help bring concepts and designs to life using Isuzu's Sales Information System (ISIS), which helps build accurate  representations of Isuzu models and body options.
It was at this stage that Blacklocks nominated the best truck for the application and the project progressed from there.
"It was a really straight forward process. Blacklocks arranged everything for us, drove the truck all the way down to Moorabbin in Melbourne where the body was fitted by Cooks Bodyworks and brought it back here to Wodonga."
"Richard was amazing throughout the process and any question I had, he was always there to answer it. They did all the hard yards for us," Sarah said.
With the addition of the Isuzu Mobile Training Kitchen to their arsenal, Sarah and her team have seen a rise in interest in the culinary and associated trades.
"Everywhere we go there is a lot of interest. People are coming up to us asking if we are selling food or just simply interested in what we're up to," Sarah said.
"At the moment we work two locations in Rutherglen and Tallangatta, but popularity is growing, and we've had interest to expand in Myrtleford, Bright and Yarrawonga. It's a Victorian Government funded project but we're even getting interest from places in NSW."
"After seeing the truck, people have enquired about enrolling to the course, high schools have asked us to set up workshops and going forward, we have a lot of community events asking us to set up at their events as well."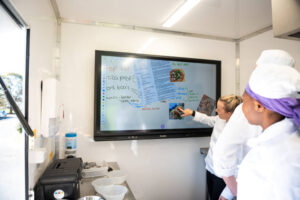 "Right now, we're probably 80 per cent teaching and 20 per cent 'pop-ups. It's been a really good marketing tool for us," Sarah exclaimed.
Proving its worth already, the NPR provides excellent drivability, visibility and safety for those longer rural runs. Combining a GVM of 5,500 kg with Isuzu's Automated Manual Transmission (AMT), Sarah says the driving experience resembles that of a car.
"The truck is really easy to drive, to be honest," Sarah laughed. "The other trucks we have access to at Wodonga TAFE are used for the truck driving courses, and are not suitable for our purposes."
"There's absolutely no dramas with driving the truck through the hills around Wodonga – it carries everything really easily. The Isuzu is a breath of fresh air. It's really just like driving a car."
And with safety credentials including ABS, ASR traction control, electronic brake force distribution (EBD) driver and passenger airbags and Isuzu's Electronic Stability Control (IESC), Sarah and her team are always in good hands.
So, what's next for the Wodonga TAFE Mobile Kitchen?
"Moving into next year, there's a possibility of seeing the truck used for more community-based things like working at events or even supporting on campus delivery for students here at Wodonga TAFE."
"Right now, we're just really happy to be able to get out to students who don't have the flexibility and transport to come to TAFE – and give them the skills and opportunity for paid employment in the future."