Toyota has supersized its commitment to zero tailpipe emissions by adapting its advanced hydrogen fuel-cell technology for use in heavy-duty trucks.
The company has scaled-up its proprietary fuel-cell technology from the ground-breaking Mirai passenger car to develop a strong yet silent power source for a 36-tonne semi-trailer.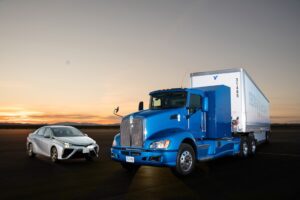 Known as Project Portal, Toyota will use the concept truck to conduct a feasibility study into the potential of fuel-cell technology in heavy-duty applications.
The hydrogen-fuelled truck will haul cargo between the bustling ports of Los Angeles and nearby Long Beach – quietly, quickly and without producing any tailpipe emissions.
Project Portal is the next step in Toyota's effort to broaden the application of zero-emission fuel cell technology that can serve a range of industries.
It is a fully functioning heavy-duty truck with the power and torque capacity to transport cargo between the two ports while emitting nothing but water vapour.
The truck generates more than 500kW of power and almost 1800Nm of torque from two Mirai fuel-cell stacks and a 12kWh battery.
The concept's gross combined weight capacity is more than 36.2 tonnes (80,000lb) and its estimated driving range is 320km per fill, under normal drayage operation.
Toyota's fuel-cell technology offers zero tailpipe emissions with the convenience of today's conventional vehicles, yet it runs on hydrogen instead of petrol or diesel.
Project Portal underscores Toyota's on-going commitment to fuel-cell technology and the potential of a hydrogen society.
Late last year, Toyota Australia unveiled a mobile hydrogen refueller that enabled three demonstration Mirai fuel-cell sedans to go anywhere in Australia that a conventional car can be driven.
The local company continues to work with governments, industry and other key stakeholders in Australia to fast-track the development of the refuelling infrastructure required to support the widespread sale of fuel-cell vehicles.
Mirai is sold in Japan, the United States and Europe in areas supported by refuelling infrastructure. Testing will start in China from October this year to determine the feasibility of selling Mirai in that market.
Announcing Project Portal, Toyota Motor North America executive vice president Bob Carter said Toyota believes hydrogen fuel-cell technology has tremendous potential, which also includes fuel-cell buses in Japan.
"Toyota is a leader in expanding the use of versatile and scalable zero-emission technology," Mr Carter said. "With Project Portal, we're proud to help explore the societal benefits of a true zero-emission heavy-duty truck platform."
Port officials and representatives from California Air Resources Board (CARB) and the California Energy Commission (CEC) applauded Toyota's initiative.
CARB chair Mary D. Nichols said Toyota is taking a leap into the future of technology, just as it did with the Prius petrol-electric car and the Mirai fuel-cell sedan.
"By bringing this heavy-duty, zero-emission hydrogen fuel-cell proof-of-concept truck to the port, Toyota has planted a flag that we hope many others will follow," Ms Nichols said.