– Article/Photos by Rod Fuller –
In the words of Toyota's Global President Aiko Toyoda "I believe that if it is not fun, it is not a car". Well Mr Toyoda, I most certainly can say that, the 86 is a car and not surprisingly is a LOT of FUN also! Just what you want from a novated lease.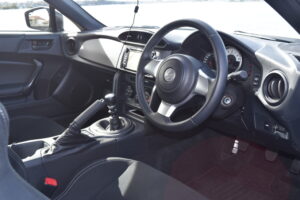 The 86 is "Old Skool Cool". Front engine and RWD, 86 is a classic sports car, bringing the best of the past into the present and taking you into the future. A Raw Driving® experience, that's exhilarating and even liberating for the driver. It's rewarding and allows the driver to push themselves and the 86 to the limits of its and their ability (only on a track of course).
I drove the 86GT with a six speed manual transmission and the optional 'Dynamic Performance Pack' (17" alloys and 215/45R17 Michelin tyres, Brembo brakes and SACHS suspension).
It's not a quiet car; with a throaty roar, the 2.0 litre Boxer engine (152kW/212Nm) note dominates when driving. But that's part of its charm being loud and proud, as a sports car should be. Inspiring a rush of adrenalin as you accelerate through the gears (very nice short positive throw on the shifter), confidence when you stand on the brakes and satisfaction feeling how well balanced and responsive the chassis/suspension is when you tackle your favourite winding road.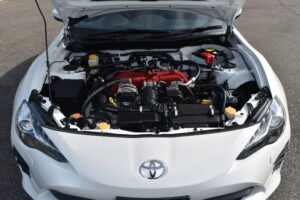 86 is the car you want, when you want to drive. A fiery little performer with a proven racing pedigree, (the Toyota 86 race series produces some of the finest and most competitive motor racing in Australia) it's just FUN to drive!
But Sunday isn't everyday. Sports cars by their very nature can't be all things to everyone. This is not the car for you, if you need to ferry the kids about or carry large loads. But with enough modern conveniences, the Toyota 86 is a car you can comfortably live with everyday.
86 has 'Hill Start Control' saving you from rolling back on those pesky hill starts (a six speed auto is also available). A 6.1" touchscreen is provided for the Sat Nav, radio and stereo controls, and doubles as the display for the reverse camera. Bluetooth connects your phone and voice control, means you can keep your hands on the wheel. The steering wheel however, is devoid of any control buttons, being purely for steering – how 'Old Skool' is that!
A/C, fan and vent controls are all rotary dial control knobs. Very tactile, simple to operate and virtually no need to look at, when you are driving. It helps to keep your eyes on the road where they should be!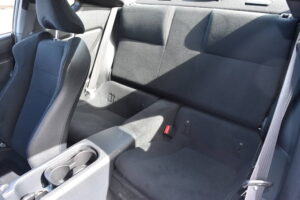 Interior space is at a premium, but cup-holders are still provided, the back seat folds down to give extra boot space. USB and 12V outlets, plus a little space to put your mobile in, helps make the 86 an everyday option. Toyota provides a space saver tyre or a tyre re-inflator kit.
86 requires 98 premium unleaded and likes a good drink of it at, 8.4Lt/100km combined. But after a Sunday run on your favourite stretch of bitumen, you won't be remembering the cost to fill the tank (50 litres) but rather the adrenalin rush you felt when driving it.
Toyota offers a three year 100,00km warranty on 86, capped price servicing at nine month or 15,000km service intervals and 24hr/365 day roadside assistance.
Considering a novated lease? Want a sports car that's so much FUN to drive, inspiring the journey, not the destination? Then consider the 86 GT and find some spare time on a winding road.
What does it look like as a Novated Lease?
| | |
| --- | --- |
| Make  | Toyota |
| Model | 86 |
| Variant | GTS |
| Body | Coupe |
| Fuel | Petrol |
| Trans | Auto |
| Performance | 152 kw |
| RRP (including GST) | $38,940 |
| On-road Cost | $41,162 |
| Amount Financed | $37,622 |
| Residual Value | $16,929 |
| Monthly Rental | $1,140 |
| Annual Savings with a Novated Lease | $2,611 |
This data is from the 2019 Novated Leasing Guide produced by Fleet Auto News.
[news_box style="1″ display="category" category="6″ count="5″ show_more="on"]