– By Marc Sibbald – 
I've always wanted to do this – an exclusive photo of a yet to be released vehicle. A car that everyone was waiting to see and FAN sees it first being tested undercover in Australia before it's global release. Unfortunately this photo doesn't qualify.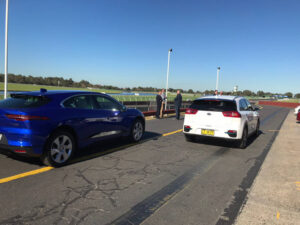 I was actually following the Kia Niro back into the city after driving it at the AfMA Safety Field Day which was part of the 2019 Australasian Fleet Conference and Exhibition. The Kia fleet team had generously offered to give this stranded reporter a lift into the city from Sandown Raceway.
Released in the US last November, the Niro is expected in Australia next year depending on the mechanics of global supply and demand.
Specifications of the US version include energy and power from a state-of-the-art, liquid-cooled 64kWh lithium ion polymer battery that is packaged under the floor of the vehicle to allow for minimal passenger space intrusion. It boasts a 201-horsepower (150kW) electric motor with 291 lb.-ft. (395Nm) of torque. Combined Charging System (CCS) DC fast-charge is standard equipment providing approximately 100-mile recharge in 30 minutes or 80 percent total battery capacity in 75 minutes. Level 2 charging at 7.2 kWh (240v which uses a normal household power point) needs approximately 9.5 hours for a full charge. So you just charge it overnight at home.
At the field day there was a short course that covered some road sections and then a squirt down the main straight like Scott McLaughlin in a Mustang Supercar. It was so normal, but so quick off the mark. You could see the beaming smiles from pit lane everytime someone took it for a lap.
The best part is the Virtual Engine Sound System (VESS) which emits a noise similar to an idling engine at low speeds. Like everything Korean it's happy and perky without trying. It passed me numerous times that day and it made me smile every time. I don't know why, or how, but the sound played with my emotions in a harmonious way that left me feeling positive and optimistic.
Internally it's a big car as well. Somehow the engineers have created the equivalent of large sedan space for rear passengers. On a comparison image it's slightly smaller than a Sportage though feels much bigger. And the boot hasn't been compromised. As a novated lease vehicle you could fit a pram and your shopping easily.
I think it's still five years before supply becomes regular and vehicles like the Kia Niro are widely available at reasonable prices. The good news is they'll continue to get better. Watch out petrol stations!