– By Rod Fuller –
Driving this car recently I was reminded how versatile the wagon option really is. When comparing this mid-sized wagon to other mid-sized sedans I have driven, the wagon option just makes sense in so many ways for a fleet driver, offering the load space needed to work on the road as well as retaining sedan like comfort and driveability.
The i40 Active Series II Tourer model I drove was equipped with the 1.7 litre CRDi diesel engine and seven speed dual clutch automatic transmission. There is no mistaking this engine is a diesel, with that typical diesel engine note, which while noticeable isn't too intrusive into the passenger cabin.
The CRDi cruises along very nicely with tremendous torque (up to 340nm) allowing effortless acceleration at highway speeds but is rather slow off the mark or at slow speeds and this isn't helped by the transmission's propensity to keep the car in higher gears. This obviously helps the engine's fuel economy, which is very impressive (5.1 litres per 100km as quoted by Hyundai) and easily allows over 1,000kms to a tank.
The seven speed transmission has three drive modes (normal, sport and economy) as well as the option to change the gears manually, either via the sequential shift on the gear lever, or the paddles mounted behind the steering wheel. Both ways are a novelty and fun to play with. But I soon got bored with them just like most drivers will after battling traffic all day and left the transmission in drive.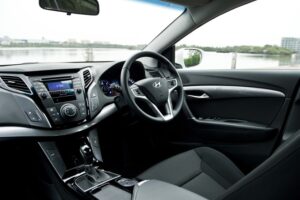 In the front the i series dash and instruments wrap around you which feels cosy but not cramped or small. Though this is where you realise it's a medium sized car unlike the roomy full sized Sonata.
The benefits of the wagon are obvious with a high and wide opening tailgate, making loading and unloading easy (complete with a stainless steel scuff-plate which I liked). A 60/40 split rear seat helps for even larger loads.
A neat feature is the built in cargo barrier net that was fitted into the same spot as the rear cargo blind. Most fleets required a cargo barrier to be fitted in wagons so this may save some costs.
Another thing that struck me about the car's interior is the sheer number of little storage compartments and hidey holes to squirrel away things into. They are everywhere, underfloor storage and side bins with underfloor storage in the cargo area, cup holders, door bins, door pockets, front console side bins, there even is a concealed compartment inside the rear seat armrest that is a perfect place to store the kids ipads or tablets away out of sight. Just when you think you have found all of these compartments you are bound to find another.
The visibility out of the vehicle is very good and the driving position quite comfortable with enough adjustment in both the steering height and reach as well as the seat height/distance/recline for most drivers to find that "just right" position for themselves.
However, still no lumbar support (available as a power adjust on the Premium models) for the driver. Personally, I'd prefer a simple manual adjust lumbar support for the driver seat any day on the road, rather than playing with paddle shift gears when the car has a diesel engine.

Having said that, the car is very good to drive, corners well and rides comfortably on the 16" alloy wheels fitted with 205/60R16 92V Hankook tyres, including a full size spare.
Hyundai continues to set an impressive standard with interior equipment in it's base models and the i40 Active Series II Tourer is no different. Bluetooth, quality sound system, touch screen display, reverse camera, USB ports and 3 x 12V outlets, 1 front, 1 rear and 1 in the cargo area (perfect for a car fridge, for those family picnics, or someone who takes their lunch with them when working on the road).
The i40 Tourer is backed by a 5 year unlimited km warranty, 5 Star ANCAP safety rating, 15,000km service intervals and complimentary 24/7 roadside assistance for up to 10 years. This vehicle should please any fleet manager with its excellent combination style space and comfort, fuel economy and its sheer versatility.