– By Henry Bailey – 
If I'm honest, it's probably the word beer that caught my attention before I read electric truck. Either way it's a good news story about the transition to zero emissions last mile delivery from one of Australia's largest transport and logistics providers.
BevChain is trialling electric vehicles with major customers, and in March introduced Sydney's first electric beer truck to the BevChain Lion fleet.
The Fuso eCanter will deliver kegs and packaged Tooheys New and other Lion beers from BevChain's award winning automated warehouse to pubs, bars, and clubs in metropolitan Sydney.
Based on anticipated usage, at least 60 tonnes of carbon dioxide equivalent emissions (CO2-e) can be avoided annually compared to the same size Euro 6 diesel powered truck.
BevChain President, Misha Shliapnikoff said the truck's operation is underpinned by BevChain and parent company Linfox Logistics' Leading the Way 2025 business strategy, as the transport and distribution leader strives to Act Sustainably through the GreenFox program.
"BevChain is excited to introduce the first electric truck for Lion. This truck will be powered by clean energy from our automated distribution centre, which is situated strategically next to the Lion brewery in Auburn, NSW. As Lion's logistics partner, we're committed to working with Lion to reduce carbon emissions and meet our shared sustainability targets."
Linfox is trialling electric vehicles with a number of its customers, and also introduced two all-electric trucks to the Bunnings fleet for the first time in March.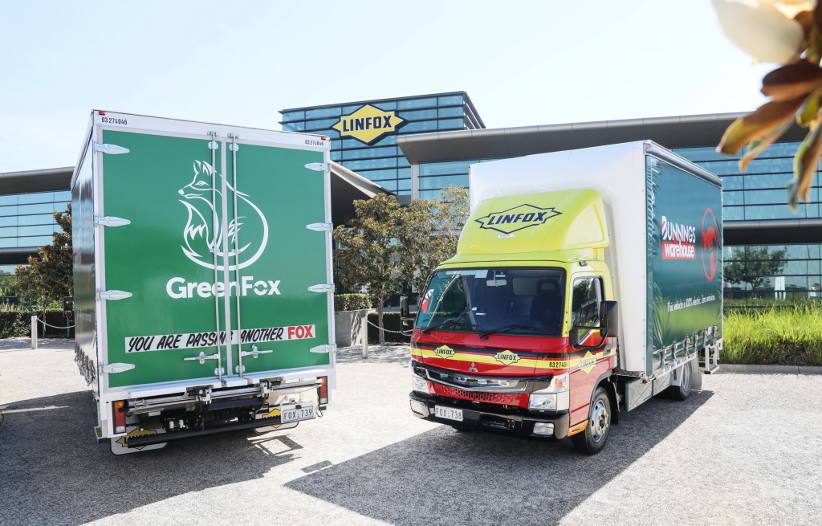 Built by Daimler, the Fuso eCanter will recharge using a fast charger at Bunnings' Laverton distribution centre. It can be recharged to 80 per cent capacity in an hour using a 40kW DC fast charger or fully charged in four hours.
Daimler Truck and Bus Australia Pacific President and CEO, Daniel Whitehead, said the electric Fuso eCanter was perfectly suited to help Bunnings achieve its sustainability targets.
"We are thrilled Bunnings will use Linfox operated zero emission Fuso eCanters as part of its clear commitment to reduce carbon emissions and address climate change," Mr Whitehead said.
"The eCanter is a practical workhorse and its full suite of active safety features, including Advanced Emergency Braking System (AEBS), allows fleets to look after the planet and their workers at the same time."
These aren't the first electric trucks for Linfox, in September 2021 they announced the addition to its fleet of a Volvo FL Electric refrigerated vehicle for Woolworths to deliver fresh produce to stores metro Melbourne.
The new Volvo was one of two operating in Australia from the limited release of 75 globally. It has four batteries to deliver a 200kWh of capacity and 425Nm of torque via two speed transmission. The range is 200km and the truck will be 'boosted' with a charge while being unloaded at the Melbourne Fresh DC.