– By Caroline Falls – 
Exhibitors at the trade and equipment show accompanying the third annual IPWEA Australasian Fleet Conference held in March 2019 at the Royal International Convention Centre in Brisbane said their decision to participate was because it gave them access to fleet decision makers, particularly those in local government. Fleet Auto News' Caroline Falls talked to some of the exhibitors and shot the following pics for this photo story.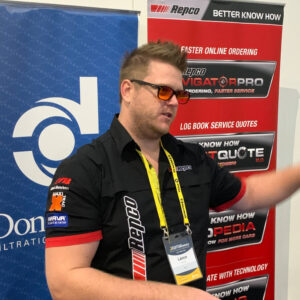 Lance Boxall is Repco's industrial and commercial business development manager for northern zone based in Brisbane. Repco is Australia and NZ's largest automotive parts supplier. "We have close to 400 Repco branded stores," said Boxall. Boxall was a co-creator of a managed inventory program, which fleets can use to have Repco customise and hold their inventory. "We have customised every aspect of it, all the way down to where we now have integration into their IT management programs, all the way out to managing their parts in-house within Repco so they don't have to hold any inventory."
Andrew Day, national business development manager, and Chris Palfreyman, national recruitment coordinator, from Up2scratch— a national mobile vehicle repair business. "We have a fleet of 76 Mercedes Benz Vito vans nationwide," said Day. "We do scratches, dents and wheel repairs. So instead of losing your car in a panel shop for a few days or longer we can come to you and repair the vehicle on site in a matter of hours. We guarantee a faster turnaround time. When we come to you, you gain efficiency because you're not losing the car, you're not having to worry about sending that car away, who's going to do the ferrying, all you basically need is one spare parking space on your property for our van to park. If you want to keep your fleet looking good, keep your brand looking good at the end of your fleet's life, we can come in and repair those much cheaper than a standard panel shop. Up2scratch was created two years ago, using the repair methods used in Europe. We've grown astronomically. There are a few competitors but no-one with our size and capability. We have vans everywhere except in the Northern Territory."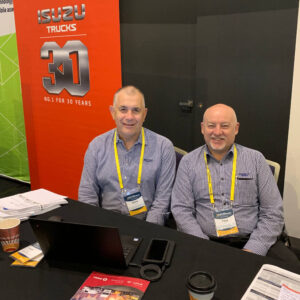 Isuzu's Stephen Goulding, NT and Qld fleet manager, and Tony Kerr, national fleet sales manager. Kerr presented some data showing Isuzu trucks beating competitors on fuel efficiency, residual values and spare parts prices. "You really have got to look at the whole of life cycle," he said, when pricing replacement fleet vehicles. Kerr said studies showed Isuzu trucks achieving 5-10 percent better fuel efficiency than competitors, a basket of Isuzu 26 parts was 46 percent cheaper when compared with alternative brands, and residual values were 20 percent better than competitors. Isuzu has been Australia's top selling truck brand since 1989. Kerr was named Isuzu's fleet manager in August last year capping a 30-year career in the truck and transport industries.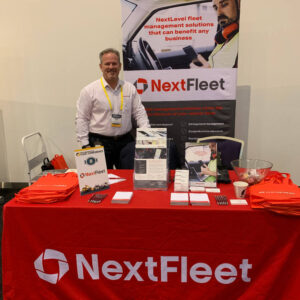 Matt Gibbens from Australia's newest fleet management solutions provider NextFleet. The Brisbane-based business is wholly owned by Mitsubishi Corp. and is the first dedicated fleet management business unit of the Japan-based conglomerate. "They've chosen to start in Australia because the fleet industry here is unique," said Gibbens. "Fleet companies here have to look after everything from passenger vehicles to light to heavy trucks. In most other regions people focus on a particular sector. They've picked Australia and said let's start there and progress throughout the world. We have just over a dozen staff here now."