The RAV4 hybrid has been so popular with fleets that the wait list has bulged out to nine months. The demand has been so great from all types of buyers that Toyota has begged HQ for more supply. Now Toyota has confirmed that the next-generation Kluger will be available as a hybrid when releases in the first half of 2021.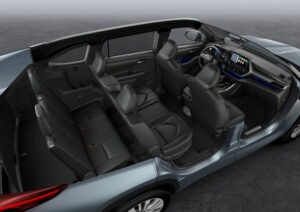 The new seven-seat Kluger embraces a similar dual-powertrain strategy to that adopted by the Yaris Cross SUV due later this year and the latest-generation C-HR and RAV4. It will be the first time a hybrid powertrain has been offered on Kluger in Australia with the hybrid range now accounting for more than one in every five Toyota sales.
Built in the United States, the newest Kluger will provide customers with the choice of a 2.5-litre new-generation hybrid system or a 3.5-litre V6 petrol engine. Kluger's total hybrid system power output is expected to be 179kW* when it arrives in Australia, with excellent fuel economy and low emissions.
Its performance is supplemented by electric motors and a hybrid battery located under the second-row seats. The powerful quad-cam V6 is expected to deliver 218kW* to the road through a direct shift eight-speed automatic transmission.
All-new Kluger will also offer front and all-wheel-drive (AWD) traction alternatives for the V6, with the hybrid drivetrain equipped exclusively with an intelligent AWD system that incorporates front and rear electric motors.
The fourth-generation Kluger sits on the Toyota New Global Architecture GA-K platform, providing multiple benefits for dynamics, safety and styling. It has enabled engineers to develop a lightweight and highly rigid bodyshell with a low centre of gravity – features that provide the new SUV with nimble handling and comfortable driving around town and on the highway.
The new Kluger will be equipped with advanced Toyota Safety Sense active safety technologies designed to help prevent or mitigate collisions across a wide range of traffic situations.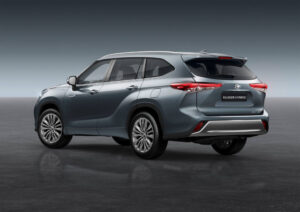 Kluger's new platform has also allowed designers to craft a longer, more distinctive body that delivers a more flexible interior with expanded cargo space and a more tailored ambience.
Toyota Australia Vice President Sales and Marketing Sean Hanley said the hybrid Kluger is a logical step for a company that has sold more than 15 million hybrid vehicles globally, including in excess of 135,000 in Australia.
"The all-new hybrid Kluger is the result of combining Toyota's hybrid leadership with extensive experience in SUVs, along with an unrivalled reputation for quality, durability and reliability," Mr Hanley said.
* All figures and features are preliminary and subject to final homologation.