– Article/photos by Rod Fuller –
Electric vehicles (EV's) are here, now, and they're more a norm in the market than a novelty. As technology improves, so is the markets willingness to embrace them. With charging infrastructure for them growing, it'll soon reach the point, where EV's are viewed as just cars, assessed purely on how they perform and what features/benefits they offer just like any other car. How they're powered will largely become immaterial.
Hyundai's IONIQ is right now I think probably the best example today of EV/Hybrid vehicles, offering hybrid, plug-in hybrid or EV options across the range.
Recently I drove IONIQ EV Premium and was amazed at what a capable and practical car it is. Yes it's all electric and that's what makes it different, but it's how 'normal' it is that makes it exceptional.
IONIQ EV is a small hatchback offering all that you would expect from a car in this segment. Inside, there's plenty of room for both front and rear seat occupants (although rear seat headroom is a little compromised due to the roofline of the car) plus ample luggage space.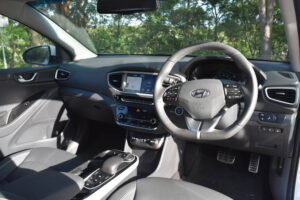 Leather seats feature in IONIQ Premium (heated/ventilated in front with power adjustment and memory settings for the driver) along with heated steering wheel and sunroof. Climate control, two 12V and one USB outlet, eight inch touchscreen, Bluetooth, Sat Nav, DAB radio, Apple Car Play/Android Auto and eight speaker Infinity stereo are provided.
Safety features/driver aids abound with Hyundai's Electronic Stability controls and SmartSense standard on all IONIQ models. Including:-
Autonomous Emergency Braking with pedestrian detection
Blind Spot Detection
Forward Collision Warning
Lane Change and Lane Keeping Assist Systems
Rear Cross Traffic Alert
Smart (Radar) Cruise Control.
IONIQ EV is a car that is very easy to live with everyday; it's push button motoring –literally. The first thing you find after starting the car, is you just push a button to go forwards or backwards- there's no gearbox! (IONIQ EV uses a reduction gear). Three drives modes are available (Sport, Eco and Normal) to enhance the drive experience as well as an 'Autohold' function for hillstarts/heavy traffic.
On the road, it rides comfortably with 205/55R16 Michelin tyres fitted (no spare tyre though, only a repair/inflator kit) and is quite pleasing to drive. The electric 88kW/295Nm motor provides all the power you need and it feels very zippy. Put your foot down and it goes, really goes. It drives and handles just like any 'normal' small car does because that's what it is. But with one distinct difference, the only noise you hear from this car – is the stereo!
IONIQ EV goes a long way to addressing range concerns (about 230km in real world conditions) as battery technologies advance, so does its range. An economical driving style helps as well for efficiency, just as it does in a petrol/diesel vehicle. Drive harshly, lessen the overall range on that charge. Drive more smoothly and economically and easily see 200+ kilometres on a single charge.
Regenerative braking features, to capture braking energy from IONIQ's deceleration to recharge the battery. It can be set at three different levels via the paddle shifter on the steering wheel. The highest level of regenerative braking almost feels like you are applying the brakes from the moment you lift off the accelerator.
Decreasing charge times and the availability of more fast/super charging stations is helping ease range anxiety. A typical super charger will provide up to 80% battery charge in 15-20 minutes, and many of the charge stations are free. I personally re-charged the IONIQ from 40%-80% at a charge station in 12 minutes. Not much longer that you'd expect to stand in a petrol station.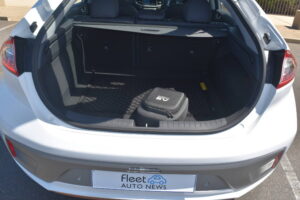 Hyundai offers an 'emergency' charge pack, which is an adapter to allow the car to plug into an ordinary 10amp 240V outlet. Charging this way can take up to 10 hours. But I found, if you get into a routine of 'plugging' the car in when you get home each night, it'll be ready to go for you in the morning with no 'down' time at all. Just like having a petrol station at home!
Pricing for IONIQ EV, starts at $49K for Elite and around $54K for Premium. But remember you'll never pay for petrol again. Hyundai offers a five year unlimited km warranty and complimentary roadside assistance when coupled with their lifetime service plan.
IONIQ EV is an exciting vehicle which 'normalises' EV technologies encapsulating them into an everyday vehicle that looks, feels and drives just like a normal car, because it is one! And being a 'zero emissions' vehicle, probably comes as close as you can to the perfect small car for city driving. Hyundai IONIQ EV, Tomorrow has arrived.
What does it look like as a Novated Lease?
| | |
| --- | --- |
| Make  | Hyundai |
| Model | IONIQ |
| Variant | Electric Elite |
| Body | Hatchback |
| Fuel | Electric |
| Trans | Auto |
| Performance | 88 kW |
| RRP (including GST) | $44,990 |
| On-road Cost | $47,392 |
| Amount Financed | $43,302 |
| Residual Value | $19,485 |
| Monthly Rental | $1,136 |
| Annual Savings with a Novated Lease | $2,100 |
This data is from the 2019 Novated Leasing Guide produced by Fleet Auto News.