More power and torque, more gears, more comfort and more safety than its rivals, that's what Hino Australia's first 300 Series 4×4 light duty truck will deliver when it lands in dealerships later this year.
Hino Australia has revealed the full specifications of its much-anticipated 300 Series 4×4 ahead of the display of the new vehicle at this month's AFAC conference for fire and emergency service professionals in Sydney.
"Quite simply, we believe this is the best light duty 4×4 truck on the Australian market," said Daniel Petrovski, Manager, Product Strategy for Hino Australia.
Devised in response to the demands of Australian customers for a better light duty 4×4 truck and comprehensively tested in an Australian field test program over a number of years, the Hino 300 Series 817 4×4 sets a new benchmark for light duty 4×4 truck specifications and driving performance.
The Hino 300 Series 4×4 is available in single cab and crew cab configurations, both powered by a 165hp (121kW), 464Nm, 4 litre diesel engine mated to a 6-speed manual overdrive transmission and a dual range 4×4 transfer case – this driveline combination offers exceptional flexibility and efficiency both on and off-road.
Operational safety is class leading with the standard inclusion of Vehicle Stability Control (VSC), a first for a Japanese-built truck in this category, together with 4-wheel-disc brakes and a reversing camera.
More gears
The Hino 300 Series 817 4×4 combines a six-speed manual transmission with a dual-range transfer case and selectable 4×4.
"With a six-speed overdrive manual transmission mated to a Hino transfer case with superior low range gearing of 2.2:1, the Hino 300 series 4×4 has the widest spread of ratios and the lowest crawl speed in its class.
"This means the 300 Series 4×4 can crawl slower off-road than its rivals providing better vehicle control in tricky off-road conditions, which is a key measure of performance in that market.
The driveline combination also improves fuel efficiency, reduces noise levels and increases comfort levels during long distance driving by lowering the engine rpm at highway speeds.
When 4×4 is engaged via the transfer case, drive is delivered 50/50 to the front and rear axles.
Free-wheeling hubs are a standard feature and are manually locked, once engaged 4×4 can be selected on the move by the driver, via a button on the dashboard.
High or low range is also driver selectable via a button on the dashboard – the vehicle must be stationary to change ranges.
The selection of 4×4 and high low range are indicated to the driver within the vehicle's instrumentation display.
More safety
"The Hino 300 Series 4×4 is now the safest Japanese-built truck in its class, with an impressive list of standard features including driver and passenger SRS airbags, Vehicle Stability Control, cruise control, 4 wheel disc brakes and reverse camera," continued Mr Petrovski.
Moreover, it is the only 7,500kg Gross Vehicle Mass (GVM) 4×4 truck in Australia with VSC and reverse camera as standard features.
Working in conjunction with the brake and engine control systems, VSC helps prevent the truck from potentially rolling over when entering a corner too fast by monitoring the steering angle, wheel rotation speed, yaw rate and lateral G forces.
The VSC can take the appropriate action required such as reducing engine power and/or applying individual brakes with the intent of keeping the vehicle upright and safely negotiating the corner.
VSC is also able to enhance vehicle stability on slippery surfaces and other such situations by autonomously reducing engine power and applying the brakes to individual wheels, helping to prevent the truck from sliding in a direction contrary to where the driver is steering.
"The Hino 300 Series 4×4 will be the only 7,500 GVM 4×4 with 4-wheel disc brakes, which reduce stopping distances, and increase servicing efficiency, which we know is key for our customers in remote locations.
Adding further to the best safety package in class, a reversing camera that includes night vision and a microphone, to assist the driver when manoeuvring the vehicle is fitted as a standard feature.
Driver and passenger SRS airbags complete the safety story.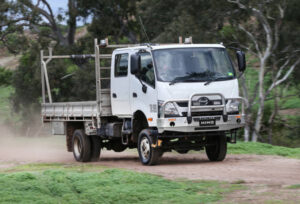 More comfort
Based on the familiar Hino 300 Series design, the 300 series 4×4 has significantly increased ground clearance over a standard 300 series 4×2 model, this facilitates greater approach and departure angles, and increases ramp over angle for off-road driving.
When designing the vehicle, driver comfort was a priority – the ergonomically designed interior features a magnetically dampened driver's suspension seat and updated instrumentation and switches for 4×4 operation.
Importantly with the increase in ride height, a great deal of work went into ingress and egress, the Hino 300 Series 4×4 features a surefooted step arrangement and long hand grips for three points of contact when entering and exiting the truck via the slip resistant access steps.
Another design feature is the new model's 840mm wide chassis with rivet-less top flange and grid hole design, which allows for easier body fitting.
The 300 Series 4×4 is tailored to the harsh applications that it will operate in, with reinforced multi-leaf front and rear suspension tuned for occupant comfort, performance and durability, on and off-road.
More power and torque
The Hino N04C 4 litre diesel engine delivers 165hp (121kW) at 2500rpm and 464Nm of torque at 1400rpm, both of which are more than its Japanese 4×4 competitors.
The Hino N04C engine is Euro 5 ADR 80/03 emission compliant and utilises the Hino Diesel Particulate active Reduction filter (DPR), which has proven its reliability in Australian applications over the past 10 years.
"The Hino DPR captures over 95% of the exhaust particulates (soot) and is designed to be automatically self-cleaning (regenerating) without the need for driver intervention"
Made 4 Australia
The extensive in-field Australian testing that the Hino 4×4 has undergone underpins its 'Made 4 Australia, Made 4 Work' positioning.
"Selected Hino customers have been evaluating prototype trucks on and off-road on some of Australia's harshest bush tracks, trails and roads over a number of years, and they haven't missed a beat," continued Mr Petrovski.
"Together with Hino Motors Japan, we have developed and delivered a truck that incorporates our customers' specific requests and requirements.
"For instance, in response to customer feedback, the Hino 300 Series 4×4 will be the only 7,500kg GVM 4×4 truck with 4-wheel disc brakes, which reduce maintenance costs and replacement complexity when compared to the brake drums of our major competitors.
"The Hino 300 Series 4×4 will set new market leading levels of on-road  and off-road performance, safety specification and driver comfort exceeding anything offered in the market today," he concluded.
The Hino 300 Series 4×4 will be begin arriving at selected Hino dealerships in October 2017 and comes with a 3 year/100,000km warranty (whichever occurs first) For more information, visit www.hino.com.au