– By Caroline Falls –
You would think that working in the power sector the biggest risk to Essential Energy's 2900-strong workforce would be electricity itself.
"That's the one that gets the most attention," said Chris Dhu, head of fleet for one of Australia's largest distribution networks. But, he went on to add that the biggest safety risk facing his workforce is related to motor vehicles and travelling on the roads.
"Road travel and motor vehicle activity: by every metric it far outweighs many of the risks in our business."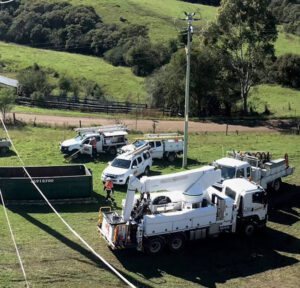 Essential Energy's field team employees drive some 40 million kilometres annually, said Dhu, speaking on a webinar hosted by Jerome Carslake, transport safety leader at Australian Road Research Board. I had to rewind my recording of the webinar to check that. "Our employees travel 40 million kilometres each year," Really? Yes, that's what he said. Check!
"Safety is an absolute investment not only for our company but for everyone who we share the roads with," said Dhu. "We ask an incredible amount from our field workers. It is quite the challenge, certainly working with a mobile workforce. When we start a shift, that's when our first risk starts, not when we arrive at the electricity service point."
Essential Energy's fleet comprises some 3,500 mobile assets, mainly vehicles, many customised to carry special equipment for testing and maintenance of power lines, and also things like cranes.
These assets are deployed to maintain some 377 zone substations, 140,000 distribution substations, and 184,000 kilometres of overhead powerlines spread over 95 percent of NSW and parts of southern Queensland states.
Dhu has presided over a review of the fleet management function at Essential, and moved the fleet function from one that was outsourced and predominantly transactional (licenses, payments, fuel management) to one more aligned with principles of asset management, where risk and performance are measured and inform decision making. One where data on everything is collected and used to make better choices, including fit-for-purpose vehicles that are safer.
Dhu had a lot to say about how transformational the review has been for the company and particularly for how their drivers have been involved in discussions and decision making on everything from radical vehicle redesign, to developing a custom app to meet demands of the job.
Key lessons from the review included:
It is critical to balance the mass of the vehicle to get all the specialised equipment onto a service vehicle. "Vehicle mass gets a lot of airtime across our organisation."

"The review confirmed the anecdotal things we were seeing [from driver and customer complaints] was real."
"We can outsource tasks but we cannot outsource risk."
Because vehicle weight is so important all frontal protection features are built from carbon, with steel phased out.
Dhu managed a ground-up build of a typical field fleet vehicle, guided by safety considerations. One of the bigger findings was every human is different. "We found that while we could get consensus on the skeleton of the vehicle, the interior was emotive," said Dhu. "We've been able to build in some options, but we've stopped unauthorised modification, that was a eureka moment that was important to us. Safety features we don't modify."