– By Steve Nuttall – 
Volkswagen's installation of software to make its diesel cars emit more pollution on the road than in official tests is an unmitigated disaster on many levels for both the company and the wider industry as questions are raised about the diesel technology that so many OEMs have invested in.
The market value of the company has fallen by around 40%, a €6.5 billion (AU$10 billion) charge has been booked in the third quarter and earnings targets for the full year have been revised accordingly. The chief executive has resigned and an internal investigation is underway, while regulators dig deeper to uncover the full extent of the scandal.
The ultimate litmus test is what will be the longer term impact of the crisis that is engulfing VW on vehicle sales across the range.
The issue is admittedly only limited to around 11 million cars worldwide, specifically type EA 189 diesel engines, which are used to power small and midsize cars in the VW range. There are approximately 1.1 billion cars in the world so that's 1% of the global car parc.
Some would say that this is a relatively small change in the overall scheme of things – but as signs show that consumers have been quick to turn their backs on VW, has the automotive brand's reputation been destroyed? The company has already been knocked off the top spot for global car sales by Toyota after taking it from its rival earlier this year.
In Australia, VW was ranked in 8th place at the mid-point of the 2015 sales year and poised to overtake Nissan. In the light of recent events, we polled 1,000 Australian adults to understand how they view the scandal and the impact this might have on their future vehicle purchasing intentions. The results are summarised in the infographic below.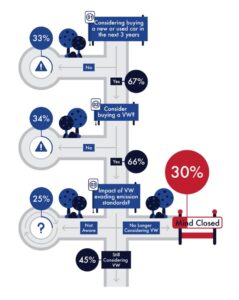 What is most striking is the proportion of prospective car buyers who previously included VW in their consideration set that are now brand rejecters in the light of the scandal.
Almost one in three (30%) VW considerers are now rejecters of the brand. This shows that considerable damage has been caused to the brand's reputations and ambitions to be one of Australia's top five automotive brands may have to be scaled back as the emissions-rigging scandal takes full effect.
We will continue to monitor the health of the VW brand so watch this space for future updates.
ACA Research regularly conducts research with consumers and businesses across the Australian automotive market. Click here to download our latest reports on market trends or contact us if you have any specific research needs you wish to discuss.