– Article/photos by Rod Fuller
The A8 is the 'top of line' for Audi. This fourth generation A8 brings with it an astonishing array of luxury and exciting technology features that set it apart and clearly points the way to the future.
A8 is the world's first production car capable of level three autonomous driving. Australian laws currently don't allow drivers to hand over control of the vehicle, so the A8 models sold in Australia won't have this feature enabled.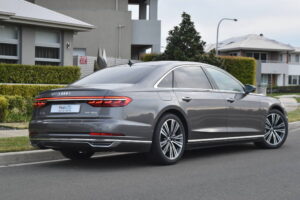 That said, the technology that makes autonomous driving possible (in some markets) also powers nearly 40 driver aid and assistance systems. Numerous sensors including a world first laser scanner, long-and mid-range radars, front camera, 360 degree cameras and ultrasound sensors are continually monitored/managed by A8 so it can make decisions or warn the driver.
I drove the A8L 55 TFSI and the benefits of its technology are immediately apparent. Lane Keep Assist, Blind Spot Warning, Autonomous Emergency Braking, Adaptive Cruise Control, Rear Cross Traffic Alert, Parking System and Intersection Crossing Assist all standard. Options fitted included, all-wheel steering, night vision assist and laser headlights (which can project light ahead of the car up to 600m).
Driving or riding in A8L is a luxurious experience. As expected, it's oh so comfortable and ride quality is sublime, enhanced by adaptive air ride suspension with 265/40R20 Goodyear tyres fitted.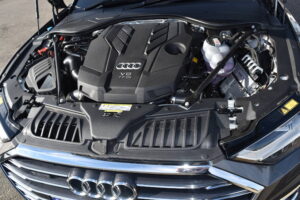 Power delivery from the 3.0lt 6 cylinder turbo 48V MHEV (250Kw/500Nm) engine (with stop/start function) is very smooth and quiet. Combining an eight speed tiptronic multi-mode transmission and Audi's legendary quattro®all-wheel drive system, A8L is very sure-footed, responsive and a dream to drive. Fuel economy is very respectful for such a large car, listed at 8.2lt/100km combined (although the best I saw was 8.7lt/100).
Behind the wheel, there's a digital instrument cluster and head-up display, two large touch screens with acoustic and haptic** feedback controls; for all infotainment functions and the four-zone climate control. Apple Car Play/Android Auto phone connectivity is provided along with wireless charging and voice control.
Inside A8L is where you really appreciate the quality and luxury this 'flagship' Audi provides. Seriously, there aren't enough superlatives to describe how good it is.
Starting with electronically self-closing doors and front and rear heated/ventilated and massaging leather seats. Luxury know no bounds with A8L. Rear seats recline and with the Executive Package the front passenger seat slides forward creating additional room, a foot rest and foot massager! Just the thing CEO's need to relax after a hard day in the board room, as they check email's or watch the news on the tablet TV's.
Front and rear sunroofs, seat controls, power operated side and rear window blinds; the best car stereo system I've ever heard and amazing colour interior illumination (30 colours) that can all be operated remotely from the rear seats via a small tablet. Brilliant!
About the only thing that's not provided is a fridge. There's a 12V in the boot for a car fridge though! Boot space is very good, but only a 'ski-port' is provided as the rear seats can't fold down.
Audi offers a three year unlimited kilometre warranty, but extended warranty options are available.
A8L 55 TFSI starts at $210,000, but with options on the vehicle I drove (all-wheel steering, night vision, upgraded 23 speaker Bang and Olufsen 3D stereo and Laser headlights) and the Entertainment, Premium Plus and Executive packages, that price jumps into the $285K range. At that price point A8L remains the preserve of luxury limousine fleets and top executives.
It's a remarkable vehicle and testament to Audi's forward thinking and technological advances. Simply, if you have the opportunity to ride in or drive it, skip first class and take the A8L.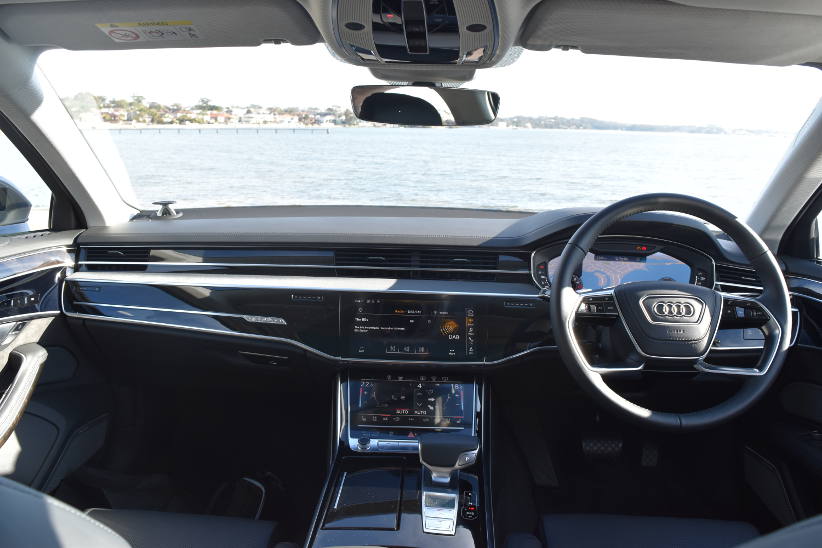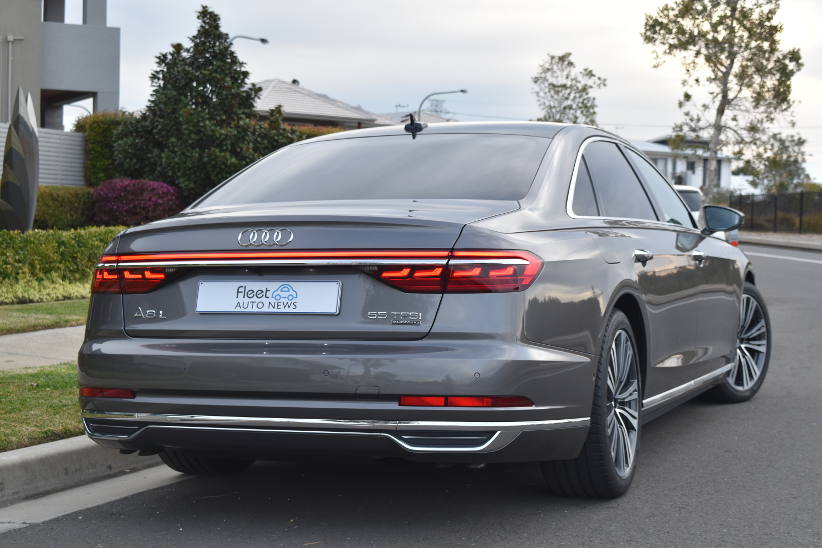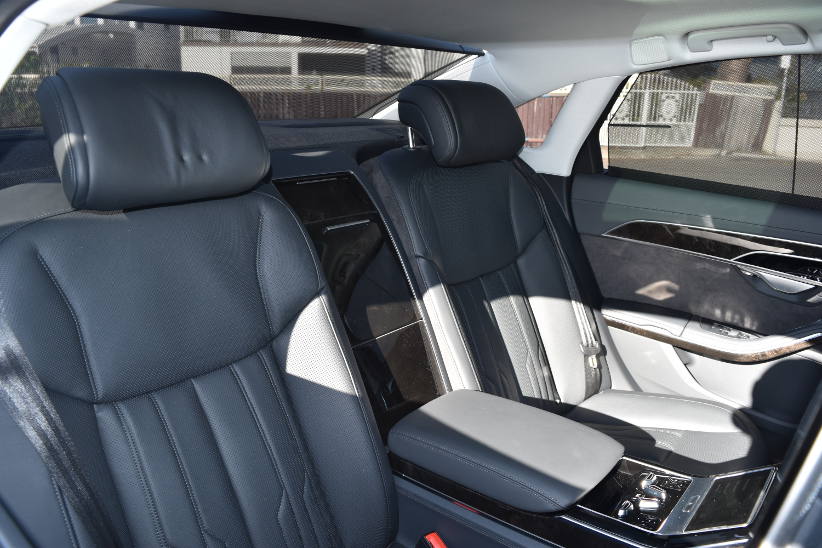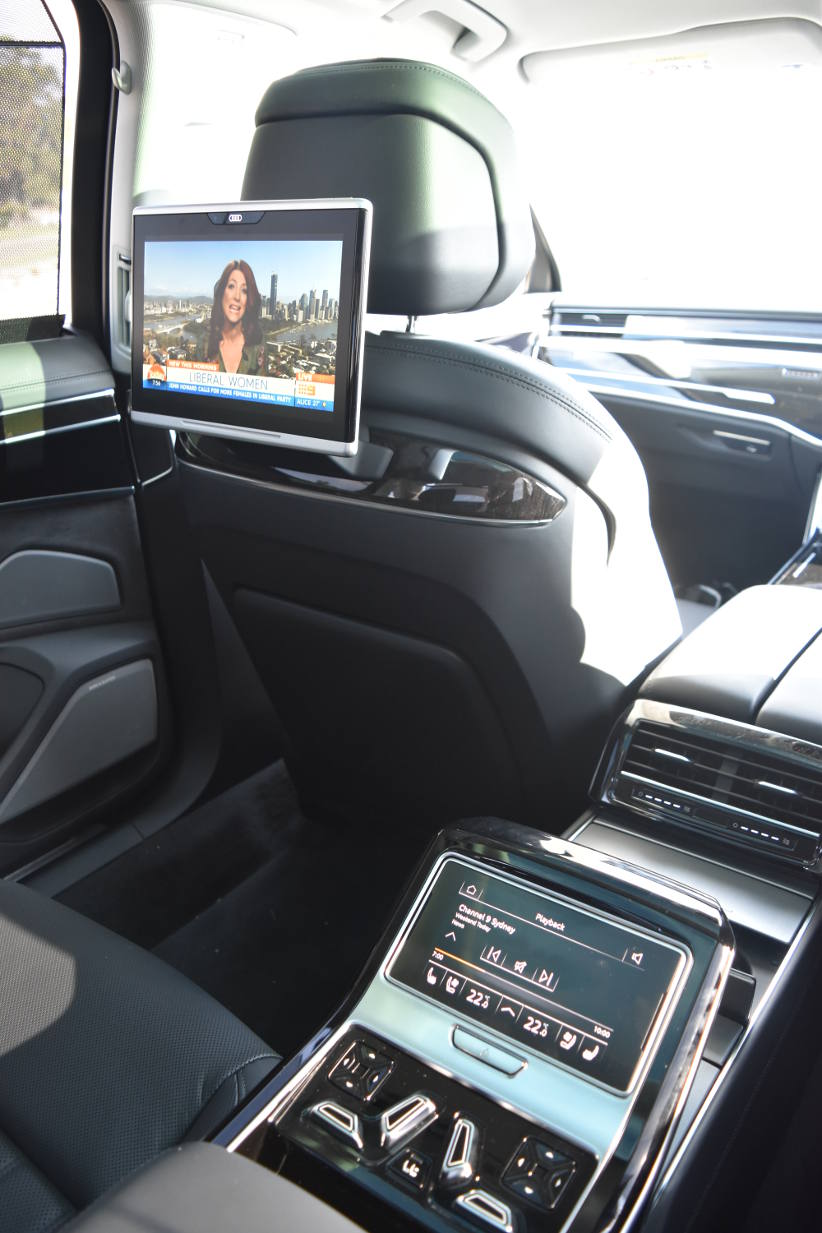 ** The decisive strength of the MMI touch response technology is its haptic feedback. When a finger touches the display glass, it does not immediately activate a function – to do this, the user must press gently with a defined pressure. The driver feels a mechanical pulsation which serves to confirm that the function has been successfully selected. This is created by means of an electromagnet moving the spring-mounted display minimally to the side by roughly the width of a human hair. At the same time a small loudspeaker emits a click sound. Here, Audi is opening a new chapter in terms of the user experience.