– By Rod Fuller –
Last week at the 2018 Australian Formula 1 Grand Prix in Melbourne,  Fleet Auto News spoke with AT&T's Jason Yu, Director of Strategy and Innovation, Australia and New Zealand, and Zoe Chilton, Aston Martin Red Bull Racing's Head of Technical Partnerships, to discuss the partnership between AT&T and Aston Martin Red Bull Racing. And how AT&T's communications platform, 24/7 support and innovative technical solutions assist Aston Martin Red Bull Racing compete in the world's most technologically advanced sport.
In Formula 1, speed is everything, success can be determined by one ten-thousandth of a second. Decisions need to be made in seconds and all decisions "need to be based on data and not gut feel".
A major factor behind the team's success has been the help from AT&T in providing a vehicle to assist Red Bull Racing with their ever-improving levels of telemetry and analysis. AT&T, the global leader in communications technology, is Red Bull Racing's rapid response unit.
F1 is a data driven business, and Jason explained that data is the oxygen or lifeblood of the team, and how quickly it (data) can be communicated, analysed and interpreted was key to the team's success. The more data gathered, the more comprehensive the analysis can be, and ultimately the more accurate decisions are in the development of the cars and during the race.
Zoe Chilton from Aston Martin Red Bull Racing explained also the logistical and technological challenges they faced from competing in 21 different countries in a single season and how they rely on AT&T's expertise to find new technical solutions to these challenges and to solve issues.
With only about 60 of Red Bull Racing's 700 plus strong team are allowed trackside. Live connections feeding information back to the team's headquarters in Milton Keynes in virtually real-time, is essential. "Connectivity is critical" said Zoe. And using 100 plus sensors fitted to the car and live connections back to the UK and the teams other principal suppliers, AT&T empowers Red Bull Racing's engineers and technicians to make the right decisions, to support the team to gain that winning edge.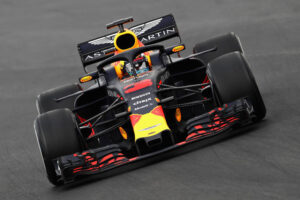 "Thanks to AT&T, our Team stay connected throughout the race weekend, wherever they are in the world. Back in the UK, the Operations Room team play a critical role in analysing live telemetry from the cars, and have a direct and time-critical impact on our race strategy. The speed of connection, alongside an array of unified communications capabilities from AT&T, make their jobs possible" said Zoe.
Furthermore Zoe stated that AT&T was the "Best in business" and that the level of support they provide to the team was critical to the team's success. I put to Zoe that AT&T's dedication and innovation seemed to be 'ahead of the curve' in what the team required, like 'AT&T was delivering tomorrow, today'. Zoe agreed "exactly".
AT&T as a partner to Aston Martin Red Bull racing, provides support in four key areas:-
1 – Global Network
Wherever the race is, AT&T's advanced network (Global VPN) provides Aston Martin Red Bull Racing with virtually real-time data and connects the team to its base in Milton Keynes, its engine supplier in France and its wind tunnel in Bedford.
2 – Security
Enhanced security services provided by AT&T helps keep Aston Martin Red Bull Racing's information and assets safer, helps to reduce risk, helps increase reaction and response times to security issues, and help the team to mitigate threats and deflect unwanted activity in its network.
3 – Unified Communications
AT&T provides Aston Martin Red Bull Racing with a unified communication and collaboration solution to encourage a closer working relationship between the race team and the factory. This features instant messaging, IP-based phone services, telepresence, and video conferencing.
4 – Mobility
Aston Martin Red Bull Racing's mobile devices are managed with an EMM (Enterprise Mobility Management) solution provided by AT&T. This enables engineers to exchange highly secure crucial race information directly with the factory using their smartphones or tablets.
Jason from AT&T further explained that that AT&T have major plans to further help develop, expand and protect the team's data and IT systems, with plans to virtualize 75% of their network by 2020 through cloud based functions and whitebox technology.
Given F1 is at the 'cutting edge' of what is possible in technology, it is exciting to see what AT&T and Aston Martin Red Bull Racing are using now and developing into the future. Communications, telemetry and data analysis are already in use in many parts of the fleet industry. The level of technological sophistication in F1 is ever increasing and it won't be long before that level of technology will start finding its way into more vehicle fleets.
The collaboration between AT&T and Aston Martin Red Bull Racing has been very successful, as they share common values: speed, precision and innovation. It can be said that AT&T are, through their support of the team in technology, providing Aston Martin Red Bull Racing with an Intelligent Edge.