– By Rod Fuller – 
October this year will see the end of an era in Australian motoring history, when the final Ford Falcon rolls off the production line at Broadmeadows and after 56 years the Falcon name will be retired forever.
A car that has a rich history in Australia, as a Bathurst winner and muscle car icon, a workhorse for tradies and farmers alike, the rep's racer, police special and taxi stalwart, as well as the vehicle of choice for Australian families for decades.
I guess you could say that I bleed blue, and that would be true, from the day the old man drove home in an Ford Falcon XY GTHO Phase III, I was hooked, and have been ever since. I've owned many and driven so many more Falcons over the years that I've lost count how many there have been, from Falcon sedans and wagons, to XR's, Fairmont Ghia's and even an RTV ute! I've driven them all and driven them all over the place. So when I was given the opportunity to test drive the final Ford Falcon, the FG-X, I jumped at it.
The FG-X is a very comfortable vehicle to drive, either in the city or on a country road, plenty of power and torque on tap from the 4.0lt six (195kw and 391nm), yet it still manages a respectable 9.0lt/100km combined average on fuel economy (on a country trip I saw 5.6lt/100km, for a big 6 cylinder engine – wow!).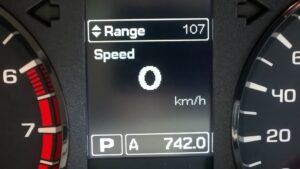 The FG-X eats up the kilometres with ease, you can get out of it at your destination feeling as comfortable as when you got in. It even has driver's lumbar support as standard.
Inside the FG-X, whilst familiar to the FG it replaced, there are some very notable improvements. The SYNC2 system is great, controlling the climate control, entertainment (including USB and BT connectivity), the standard Satellite Navigation and phone, all by voice, by pressing the voice command button on the steering wheel.
Phones pair easily with the system, so no need to touch your phone at all. SYNC2 has an 8 inch touchscreen which doubles as what I believe is the best reversing camera display on the market today. It is very easy to see how far things are behind you, and it also shows you exactly where your tyres are going to go with curving grey lines and where your towball (if fitted) will go via a curving black dotted line, brilliant! The system also allows you via USB to display your own photos on the touchscreen as a wallpaper.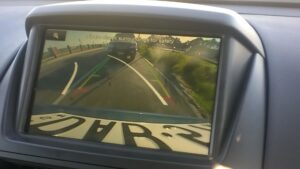 The FG-X has 215/60R16 Michelin tyres fitted, as well a temporary spare (to help increase boot space). The car rides comfortably and quietly on these tyres, but the responsiveness of the Michelins was rather lazy, and if pushed could unsettled the car slightly, but the Falcon took it all in its stride.
The FG-X offers a 3 year/100,000km warranty, 15,000km service intervals, capped price service plan and roadside assistance membership, as well as a free loan car when it is in for service.
These days, where SUV's are more popular and seen as more versatile than a sedan, people seem to have forgotten how versatile a Falcon can be. It can carry five adults in comfort, has huge boot space and a 2.3 tonne towing capacity. It offers all the latest tech and driver's aids, has a five star ANCAP safety rating and even an emergency assistance system that will call emergency services for you after an accident, if you can't. But as they say time moves on…..
The Ford Falcon remains the iconic Aussie car, a big car for a big country. It soon will pass into history, but you can still get one until October. So perhaps just like another Aussie icon Molly Meldrum would say "Do yourself a favour" and go out and order one today, before it's gone.
Disclaimer: This reviewer has been a lifelong Ford fanatic and currently drives a Falcon.